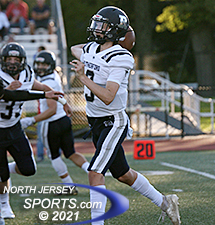 Quarterback Van Weber led Rutherford 10 a 36-0 win over Glen Rock on Friday night to build some momentum heading into this week's showdown against Hawthorne.
GLEN ROCK – After letting an early lead slip away in a loss to Hasbrouck Heights in its season opener there was a lot of frustration in the Rutherford locker room. The Bulldogs had to accept that while they have talent all over the field, wins do not just fall in their lap. With the most important game of the regular season against Hawthorne next week and facing a Glen Rock team that has been a thorn in the Bulldogs' side the past two seasons, the Bulldogs got off to another quick lead. This time they did not take their foot off the gas.
Led by the dangerous quarterback/wide receiver combination of Van Weber and Alex DeMaulo Rutherford was in complete control from start to finish. They connected for two first-quarter touchdowns and the swarming defense took care of the rest in a 36-0 triumph over Glen Rock on Friday night in Glen Rock.
"All week we were stressing to score early and not letting up any scores," said Rutherford's Connor Finan. "It's a long season and we had to play better tonight than we played in week one. It was a little tricky on defense against a team that is so spread out. We had to communicate well and get all of our checks down in the secondary so everyone was accounted for. It's about getting 1 percent, 2 percent better every single day. The work we put in during practice this week got us ready to play as well as we did."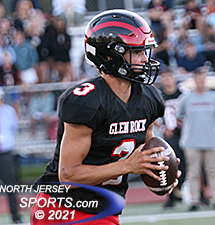 Glen Rock QB Mike McCarthy .looking for an open reciever.
Not wrapping up tackles proved to be costly in the loss to Hasbrouck Heights. Rutherford made some adjustments and did a much better job of that in this contest. They forced a three-and-out and a punt to start the game. Then on a pivotal play, the punt return was fumbled and the Panthers had two players in position for a potential scoop and score. Somehow the Bulldogs were able to land on it and take possession. Led be the strong, accurate arm of Weber and the running of Pat Cerulli Rutherford methodically marched down the field. On a skinny post, DeMaulo ran the route perfectly with Weber waiting for him to clear the linebacker before lofting the ball into open space in the middle of the end zone. DeMaulo laid out to haul it in as Rutherford grabbed a 7-0 lead.
"It was a perfect throw and I just had to look it in," said DeMaulo. "We learned a lot from last week and we kept the pressure on them."
After another impressive three-and-out, Rutherford was on the move again. A picture-perfect route and throw on a deep out from Weber to Doug Russell set the Bulldogs deep into Panther territory once again. On a third-and-goal from the nine, Weber hit DeMaulo on a quick slant. With a defender trying to bring him down and the safety ready to lay a hit on him DeMaulo lowered his head to brace for the contact. After the referees conferred they came up with the correct call. DeMaulo got an offensive targeting penalty. But since it was after he crossed the goal line, the 15-yard penalty would be assessed on the kickoff and the touchdown stood.
"I've been playing football with (DeMaulo) all my life and he's one of my closest friends," said Weber. "We've always had that connection from the time we started playing football and we showed that tonight. This was a huge game for us after a heartbreaking loss in overtime to Glen Rock last year. We know what's ahead of us and we'll be ready."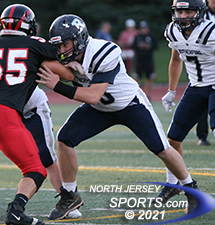 Luke Carney and Rutherford dominated up front on both sides of the ball.
Flying under the radar but making the biggest impact on the final outcome was the play of Rutherford's line both offensive and defensively. Led by seniors Connor Finan and Luke Carney along with strong performances from the sophomore duo of center Arthur Costan and Gavin McGill it gave Weber plenty of time to throw, opened holes for Cerulli, and gave the Panthers fits all game long.
On the Bulldogs' first possession of the second quarter Finan and McGill both had textbook blocks to make a huge hole for Cerulli to burst through before using his speed up the sideline for a 76-yard TD run. After yet another defensive stop, Weber hit Russell up the seam with the senior making one hard cut and then outracing a defensive back all the way to the goal line before diving for the pilon.
Glen Rock (0-1) had a chance to get on the scoreboard late in the half. After quarterback Mike McCarthy broke loose to a 48-yard run, he followed it up with another Houdini act to escape a sack and find a receiver in the back of the zone. But the play was wiped out for an illegal forward pass. Then on the ensuing fourth-down play, DeMaulo knocked down a pass in the end zone for a turnover on downs to keep the Panthers scoreless at the half with a commanding 26-0 lead.
"Every week is a new week and a new opportunity to play our best," said Rutherford's Luke Carney. "We didn't wrap against Hasbrouck Heights the way should have and we did a much better job of doing that tonight.
The intermission was only a brief respite Rutherford came out of the locker room as if the game was just starting. With revenge on their minds after an overtime loss to Glen Rock last year there the Bulldogs were not about to give an inch until the final there were all zeros on the clock and one other zero on the scoreboard.
Cerulli added another TD run and Drew Carney tacked on a 35-yard field goal in the third quarter to make it a running clock for the remainder of the game as Rutherford (1-1) got its confidence back heading into a highly anticipated showdown on the road at Hawthorne next Friday night.
With the winner getting a leg up on winning the NJIC-Liberty Division and a berth in the NJIC playoffs the Bulldogs have to appreciate the win but also wipe it from their minds with a huge task ahead of them.
"This was a big step it's just step one towards winning our division," said Rutherford head coach Steve Dunn. "The battle upfront always decides a game and we executed very well tonight. Hawthorne is legit and they have everybody back from last year. But there is always stuff to clean up. If we play the way we did tonight then we're not going to win. Hawthorne is legit. They bring everybody back from last year and they have a bunch of three- and four-year staters. The Bulldogs always like to give a good fight and we'll always play tough." 
FOR MORE PICTURES OF THIS EVENT PLEASE CLICK HERE. TO BUY A COLLECTOR'S PRINT OF THIS STORY PLEASE VISIT 4-FeetGrafix.com.