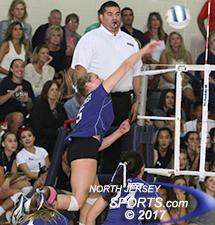 Senior Ellen Hamlin had a match-high 9 kills for NV/Demarest, which swept Old Tappan, 2-0, on Tuesday afternoon.
OLD TAPPAN - Demarest fought back from a second set, 9-4, deficit to defeat its district rival and previously undefeated Old Tappan, 25-17, 25-15, in a Big North matchup on Tuesday afternoon.
"We just had to regroup," said Demarest coach Beth Powell. "There was a delay - a lineup issue and a sub issue. Once we got calmed down and back into it I thought we started to play well again."
The Norsewomen went on a 7-2 run thanks to kills by senior Ellen Hamlin and junior Sydney Woods and two blasts by junior Ohr Yahalomi.
"They're awesome," Hamlin said of the underclassmen. "Beth (Powell) always says we're never going to win just setting me. Ohr (Yahalomi), Sydney (Woods), Gianna [Arias] and Sed [Gaard] have been doing an awesome job. Sydney played awesome today – she was killing the ball. When you have a whole offense --  middle, outside and right side --  you can beat any team when you set [the ball] all around."
"Most of the girls had a role last year," added Powell. "They were sophomores and learning what it was all about. This year they've got a bigger role and they're stepping into their shoes. I'm so proud of them – they did a really nice job. Sydney (Woods) got a few kills – she's really competitive and really coming along."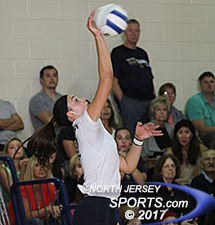 Old Tappan senior Alexandra Trouilloud led the Knights with five kills.
Demarest finally caught up, 11-11, on an Old Tappan attack error, one of 13 such errors in the match. The Norsewomen took the lead for good as sophomore Madison DeMartini tallied seven consecutive service winners.
The Norsewomen closed out the match with a 14-4 run as Arias, Gaard and Yahalomi finished with four kills apiece. Woods had eight and Hamlin led all scorers with nine. Old Tappan senior Alexandra Trouilloud led the Knights with five kills, sophomore Gianna Fasano had four kills and eight digs, while senior co-captain Lizzie Chu had 10 digs.
Old Tappan is reconstructing its lineup after the loss of senior middle blocker and co-captain Julia Passante, who is out for the season with a knee injury.
"Obviously, it's a huge loss anytime you lose a veteran, a returning starter the caliber of a player like Julia Passante," said Old Tappan coach Melissa Landeck. "That being said, we're not in the business of making excuses either."
The Golden Knights led early in the first set, but a thunderous kill by Hamlin broke a 9-9 tie and gave the Norsewomen the lead for good. Three points later Hamlin blasted another kill off an Old Tappan back row player.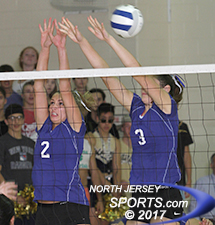 Sydney Woods (2) and Ohr Yahalomi each had strong games for Demarest, which is now 5-0 on the season.
"I just go up there and want to crush the ball," said Hamlin. "My goal is to knock out someone. My dad always says, 'try to knock somebody out.' I get really excited when the set is perfect. I just want to put it down."
Demarest improves to 5-0, while Old Tappan suffered its first loss to fall to 4-1.
"I really don't care about our record," said Powell. "It's just nice to have this win today. Actually we played well. If you come into this game [and lose] but you play well, it still feels crummy to lose but it feels way better if you played well."
"It is satisfying, but I want to keep going," said Hamlin. "There are a lot of really good teams out there so I'm definitely not satisfied, I want to keep going. We've been playing really well. We have to be a team, everyone together, us against them. But I'm so happy we won. It's our last year – for me, Rachel [Suter], Sam [O'Donnell], Erin [Pah] and Christi [Sed]. We wanted this forever, since freshman year. It's the best feeling in the world, beating Old Tappan, finally, after three years."
TO BUY A COLLECTOR'S PRINT OF THIS STORY PLEASE VISIT 4-FeetGrafix.com. FOR MORE PHOTOS FROM THIS GAME CLICK HERE!