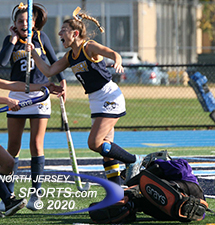 Claire Corriston celebrates her goal in the waning seconds of the game that gave Ramsey a share of the result in a 1-1 tie on the road at Wayne Valley on Saturday.
WAYNE – Despite the success of both Wayne Valley and Ramsey during the 2020 field hockey season there were glaring questions heading into their showdown on Saturday.
Wayne Valley has ripped through the Passaic County portion of its schedule and was the last unbeaten, untied upon team in North Jersey. But were they for real and how would the Indians hold up against the reigning Bergen County champions? After losing a two-goal lead in the final four minutes of regulation and then losing in overtime to Johnson Regional, how would Ramsey respond and could it thrive in a late-game situation?
While the end result was not what either was ultimately hoping for they did have the aforementioned questions answered in a positive manner.
Wayne Valley looked every bit the part of a team that is going to be a force for years to come. However, it was Ramsey standout Claire Corriston who made the biggest play of the game when her team needed her most.  Her goal with 15 seconds left in regulation helped Ramsey earn a 1-1 draw with Wayne Valley on Saturday afternoon in Wayne.
"Wayne Valley is an excellent team that plays with a ton of energy and has fantastic defensive support, we were fortunate to come away from this game with a tie," said Ramsey head coach Becky Mills. "I knew it was going to be a pretty even game. We had a lot of chances in the first and fourth quarters but we're still working on putting a full game together."
Ramsey came out of the gate aggressive and it showed with a dominant first period. Only several big saves from Wayne Valley goalie Amelia Vacca and some big stops along the goalmouth by Kaitlyn McNutt kept the game scoreless.
Angelina Pietropalo's third quarter goal had given Wayne Valley a 1-0 lead.
The Indians started to get their legs underneath them in the second quarter by moving the ball quickly and being dangerous throughout on the counterattack. Rams' sweeper Sam Ducey was awfully busy but kept her poise to make one clear after another with the score 0-0 at halftime.
Wayne Valley kept the pressure on in the second half and finally cashed in. Joanna Liput picked off a failed clearing attempt and carried the ball into space. When the defense shifted in her direction she slid a pass to sophomore Angelina Pietropalo, who one-timed a shot into the back of the cage with one minute left in the third quarter for a 1-0 lead.
The urgency that Ramsey played with in the first quarter returned following the go-ahead goal. Led by Corriston and fellow senior captains Libby Solleder and Janey Ratto the Rams went on the attack. Vanessa Rigoglioso took over in goal and was quite busy in the fourth quarter with several sprawling saves from point-blank range. The Indians actually had a chance to ice the game twice in the final six minutes only to be stonewalled by Ramsey goalie Erica Babitts. That loomed large as the Rams made one last push in the waning seconds.
Corriston navigated her way through traffic in front to get off a shot. Rigoglioso made a diving save but the rebound popped right back to the senior forward. She made good on a second chance to score with just 15 seconds remaining to force overtime.
"We broke down late in the game against Johnson and we had to keep our heads up better today," said Corriston. "With this season being so uncertain we have the mindset that every game could be our last. I thought we played like that today and we never gave up. No matter what we kept playing hard until we scored the tying goal."
Ramsey had the better of play in overtime with Corriston having two chances to add a game-winner to her late tying goal. Vacca (11 saves) returned in between the pipes and made a pair of saves, including in a one-on-one situation as the teams had to settle for a tie.
Corriston scored her team-leading 12th goal of the season for Ramsey (5-1-2). Babitts finished with seven saves.
With no Passaic County Tournament this season, Wayne Valley (8-0-1) now has set its sights on making a run towards a North 1 Group 3 state section title.
"It would have been nice to get the win but I'm very happy with the way we play," said Wayne Valley head coach Kaitlyn Struss, who is currently the all-time leading scorer at Montclair State University. "In the bigger games you have to capitalize on your scoring opportunities because don't get nearly as many of them. This is a team that feels we can compete for a section title. We're not afraid to play anybody and it is these types of games that make you better in the long run."
FOR MORE PHOTOS FROM THIS EVENT CLICK HERE. TO BUY A COLLECTOR'S PRINT OF THIS STORY PLEASE VISIT 4-FeetGrafix.com.