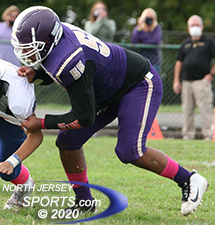 Omar Reyes led a Garfield defense that pitched its third shutout of the season in 6-0 victory over rival on Lodi on Saturday.
GARFIELD – Garfield head coach Pete Santacroce tries to prepare his team for virtually any situation that might arise over the course of a football game, but for his senior-laden squad Saturday's game against rival Lodi would be different than any other they have played in.
It was chippy, it was physical, and, in a rarity, it was scoreless heading into the fourth quarter. With a fortunate break, the Boilermakers finally had an opening to paydirt and took full advantage.
Jarred George rumbled into the end zone for the game's lone touchdown and fellow senior Zach Cook picked off a pass to seal a hard-fought but ugly 6-0 victory over Lodi on Saturday afternoon at Garfield High School.
"The second half we kept our heads cool and didn't let anything affect us," said Garfield's Omar Reyes. "We couldn't focus on the refs or making mistakes. To come together it had to be a total team effort and we got that in the second half."
Lodi's only scoring opportunity over the first three quarters came on the game's opening series. Six-foot-4 senior wideout Aaron Moravick high-pointed the ball on a deep pass from Joey Velardi for a 38-yard catch to the Garfield 32. The Rams shot themselves in the foot with four consecutive penalties which led to a fourth-and-35. The drive remarkably stayed alive on a roughing the punter penalty. It was a theme for the entire first half as the teams combined for 16 penalties. Any time either team gained any sort of momentum it was immediately wiped out by a flag on the next play.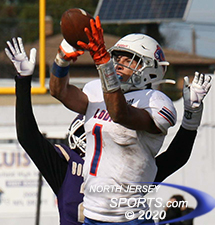 Aaron Moravick was Lodi's most explosive player in the passing game.
That was an area Santacroce knew he had to get cleaned up quickly if the Boilermakers were to avoid a second straight loss.
"We felt like we should have been up at halftime but mistakes we made cost us," said Santacroce. "We were doing a great job defensively but we didn't keep our composure and that was the difference."
As the game settled down after a chaotic first half (albeit with no points) Garfield started to win the battle at the line of scrimmage, which allowed them to win the field position battle. That led to the game's only score in the fourth quarter.
Omar Reyes was a two-way beast at the point of attack. His third-down sack deep in Lodi territory forced the Rams to punt and Garfield took over with its best field position of the day at the Lodi 35. 
Behind the hard running of Cook and George, the Boilermakers methodically moved into striking distance with George bulldozing his way into the end zone from two yards out with 5:53 to play for a 6-0 lead.
"Our coaches staying poised and the longer we stay calm, this is the result we're going to get," said George. "It comes down to just executing and playing Garfield football. Every Monday we get to work and prepare for the team ahead of us. Lodi is a tough football team and we knew what to expect. We felt going into the second half if we got in the end zone that our defense would hold up and we'd get the win."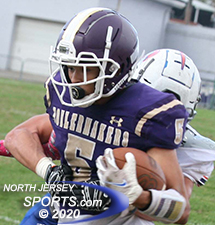 Zach Cook ran for 88 yards for Garfield, which improved to 3-1 on the season.
The Rams responded with their best drive of the game. Velardi marched them down to the Garfield 17 where they had a third-and-two. Garfield came up with big stops from Alfredo Hernandez and George to turn the ball over on downs. Lodi (2-2) got one last chance in the final minute but a deep pass was picked off by Cook as Garfield bounced back after a heartbreaking one-point loss to Waldwick/Midland Park with their state-leading third shutout of the season.
Cook finished with 88 yards rushing and George had 85 for Garfield (3-1). The two teams combined for a staggering 28 penalties.
In the resurgence of Garfield football, any win is something to build momentum off of for the next week.
"We talk about grit all the time and football games aren't always pretty," said Santacroce. "These are the types of games as a high school football player that you remember for the rest of your life. We were pushed to the brink and we faced a situation that wasn't easy but we grinded it out. We don't try to trick anyone. We do what we do, we're going to come at you, and we're going to play Garfield football."
FOR MORE PHOTOS FROM THIS EVENT CLICK HERE. TO BUY A COLLECTOR'S PRINT OF THIS STORY PLEASE VISIT 4-FeetGrafix.com.