PASCACK HILLS' BRANDON SIEGENTHALER
Male Athlete of the Season:
Brandon Siegenthaler, Pascack Hills Baseball
After a breakout junior season, Siegenthaler raised his game a level both on the mound and at the plate for his senior year. Having lost two starting pitchers to graduation there was more pressure on the shoulders of Siegenthaler, last year's closer, but that suited him just fine.
He emerged as a big bat in the middle of the lineup for the Cowboys, finishing with a team-highs of 31 RBIs, 29 runs scored, and four homers. But it was on the bump where Siegenthaler was truly dominant.
The hard-throwing righty won all nine of his starts. His mixed speeds effectively and spotted his fastball that was consistently clocked in the high 80s. He walked only 10 batters and allowed just three earned runs all season. Siegenthaler, headed to Villanova in the fall, saved his best for last in the Group 2 semifinals. He struck out eight and did not walk a batter in twirling a two-hit shutout over Madison. Siegenthaler finished with a paltry 0.37 ERA, 84 strikeouts in 56 2/3 innings and a perfect 9-0 record.
Runner-Up:
Tommy Bourque, Ridgewood Lacrosse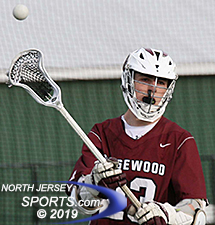 RIDGEWOOD'S TOMMY BOURQUE
Bourque contributed to the Maroons' success on both ends of the field. His athleticism and vision allowed him to be both a facilitator in the attack as well as a threat to score every time the ball was on his stick.
He got his season off to a good start with a career-high six goals in a win over Ramapo. Bourque really made his mark come tournament time with consistently solid performances in both the Bergen County and Group 4 North state tournaments.
The junior middie had three goals and an assist in the Bergen County final to lead Ridgewood to a 10-4 win over Northern Highlands. That carried over into the state tournament where the Lehigh commit notched 11 goals and three assists in three state tournament games.
Honorable Mention:
Josh Cohen, Indian Hills Baseball
Luis Peralta, Passaic Track
Shane Paradine, Bayonne Baseball
KC Hunt, Ramapo Baseball
Kyle Hess, St. Peter's Prep Baseball
Chikaya Sato, Cresskill Tennis
Mark Berry, Fair Lawn Volleyball
Max Paparozzi, Northern Highlands Lacrosse
Jacob Denner, Bergen Catholic Baseball
Sam Favieri, Ridgewood Baseball
Kyle Teel, Mahwah Baseball
Ryan Sisti, Ramapo Lacrosse
Joe Carmosino, Emerson Baseball
Ryan Ramsey, Pascack Hills Baseball
Gil Zyndorf, Fair Lawn Volleyball
Juju Wu, Tenafly Tennis
Nick Argenziano, Northern Valley/Demarest Baseball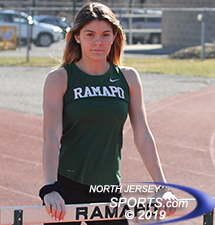 RAMAPO'S GRACE O'SHEA
Female Athlete of the Season:
Grace O'Shea, Ramapo Track
O'Shea was an absolute force all season for the Green Raiders. Coming into the season with lofty goals knowing she would face top competition in her respective events, the University of Pennsylvania-bound senior O'Shea put together one of the finest seasons ever by a Bergen County track athlete.
She became the first girl this season in New Jersey to crack 14 seconds in her featured event, the 100-meter hurdles, with a 13.84 showing in the Bergen County Championships which broke a 15-yard meet record. O'Shea followed that up with a victory in the 200-meter dash, a 58.2 split on the winning 4x400 relay and a second-place effort in the 400-meter hurdles to earn the Female Track Athlete of the Meet.
The was a prelude to the New Jersey State Meet of Champions where she concentrated on her best event.
Facing off against South Jersey stars Claudine Smith of Atlantic City and Tionna Tobias of Winslow Township, O'Shea distanced herself from them both figuratively and literally. She ran a PR of 13.55 to win easily and close out her career in style with a T of C title.
Runner-Up:
Jackie Wolak, Ridgewood Lacrosse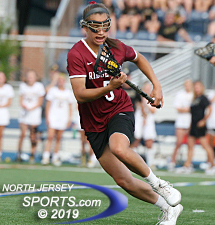 RIDGEWOOD'S JACKIE WOLAK
Wolak has been a consistent offensive force from the time she entered high school. This year, she diversified her game by improving in other aspects and becoming the leader of a team ranked No. 1 in New Jersey and top ten nationally for most of the season.
Her quickness, drive, and athleticism going to goal were on display all season. Wolak was virtually unstoppable with the ball on her stick. She had at least two goals in 23 of 25 games this season and had at least one assist in 24 of those games.
The Notre Dame-bound senior finished the season with team-highs of 79 goals, 121 points, 135 draws won, 106 ground balls and was second on the team with 50 forced turnovers.
Honorable Mention:
Victoria Sebastian, Ramsey Softball
Ryleigh White, IHA Softball
Molly Dunphey, Ridgewood Lacrosse
Devin Thompson, Indian Hills Lacrosse
Yoona Kim, IHA Golf
Taylor Hill, Passaic Valley Softball
Caylee English, Immaculate Conception Softball
Annie McCarthy, Ridgewood Lacrosse
Cat Thomas, IHA Softball
Faith Camilleri, Immaculate Conception Softball
Olivia Marinelli, Hasbrouck Heights Softball
Marley Scala, Ridgewood Lacrosse
Emma Cunningham, Ramsey Softball
Megan Weis, Northern Valley/Old Tappan Softball
Samantha Settecasi, Paramus Softball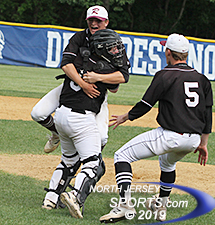 RIDGEWOOD BASEBALL
Boys' Team of the Season:
Ridgewood Baseball
Coming off a 23-5 season with a good portion of the team returning, the expectations were high coming into the 2019 season. After a lackluster 6-1 loss to Hackensack in late April the Maroons' record set at a respectable 8-3 but the tenor on the team was that they had not yet kicked it into high gear. As the weather warmed up, so did the Ridgewood players.
Once the Maroons hit their stride there was no stopping them on their way to the best season in school history. With a senior-laden lineup that was loaded from top to bottom along with Kevin Seitter and Sam Favieri dominating at the top of the rotation and a rock solid defense behind them the Maroons clicked on all cylinders come tournament time, winning 16 of their final 17 games.
Coming in as the No. 9 seed for the Bergen County Tournament, an upset over top-seeded Don Bosco Prep served notice to the rest of the county. Ridgewood proved it it was no fluke with a semifinal over eventual Non-Public B state champ St. Mary's (Ruth.) and a wild 10-7 win over St. Joe's (Mont.) to win the school's first county title.
The run to the county title just made the Maroons hungry for more hardware. They were absolutely dominant in every way, outscoring their four opponents by a whopping 44-3 margin to cruise to the North 1 Group 4 section title. Then in the Group 4 state final, Ridgewood outlasted Eastern in a pitcher's duel to win cap the triple crown of championships.
Runner-Up:
Tenafly Tennis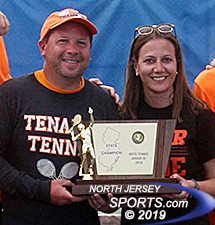 TENAFLY TENNIS
After a tough 3-2 loss to Northern Valley/Demarest in last year's North 1 Group 2 section final Tenafly was expected to take a step back with several key senior graduating. However, a talented freshman class led by Juju Wu came in and solidified a lineup that not only ascended the Tigers to new heights but put them in the conversation as one of the state's elite teams for years to come.
Even with a loaded schedule the Tigers got off to a hot start and never cooled off. They reeled off 13 straight wins, including ones over eventual section champs Montclair and a redemption win over Northern Valley/Demarest.
After winning a section title, the Tigers set their sights on winning a few more. In the Bergen County Tournament, Alex Merson and Jon Tsipunyuk won titles at second and third singles, respectively, to lead the Tigers to the team title. Then just three days later Anthony Zorovich's squad won thrilling matches over Chatham and West Windsor-Plainsboro North to secure the program's first state title in 12 years.
Honorable Mention:
Fair Lawn Volleyball
Pascack Hills Baseball
St. Mary's (Ruth.) Baseball
Emerson Baseball
Northern Valley/Demarest Tennis
Bayonne Baseball
Harrison Volleyball
Don Bosco Prep Baseball
Glen Rock Tennis
RAMSEY SOFTBALL
Girls' Team of the Season:
Ramsey Softball
Ramsey has solidified itself as the top public school team in North Jersey over he past few years with talented players who will do whatever it takes to win. This year's senior class has had plenty of achievements on their resume, including a back-to-back Bergen County titles. But it was ultimately coming up agonizingly short for a third straight title that fueled to them to the Rams' ultimate goal.
The one glaring hole on their resume was a Group 2 state title and this team was on a mission to complete that task. They had to face tough competition to do just that. The grit and determination always starts at the top and the Rams followed the lead of senior Victoria Sebastian. The Villanova-bound star battled through injuries all season. She was one of the state's top hitters  all season and clicked extremely well with battery mate Kaitlin Houser, peaking at the right time in the circle during the state tournament that included a 1-0 shutout win over Lenape Valley in the North 1 Group 2 section final..
However, she was one of many key contributors for the Rams. Two of which came within her own family as her sisters, Olivia and Bella, manned centerfield and shortstop, respectively. Another pair of sisters, Emma and Sophie Cunningham, shined defensively all season with Emma coming up with the biggest hit of her life and of the Rams' season.
With runners on the corners and one out in the bottom of the seventh, Emma Cunningham slapped a single to left that scored the game-winning run to left Ramsey to its first state title since 2015 with a 2-1 triumph over Bordentown.
Runner-Up:
Immaculate Conception Softball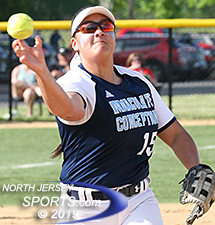 IC'S CAYLEE ENGLISH
After coming off surprise runs to the Tournament of Champions final in each of the past two seasons the Blue Eagles were not going to sneak up on anyone a third time around. They got every team's best shot but proved they were still among the state's elite with Caylee English as a stabilizing force in the circle.
As a four-year starter who has pitched in every big game imaginable on the varsity level, English threw free and easy. It helped that she had a lineup behind her that  simply mashed the ball. Led by All-Bergen selections Faith Camilleri and Angela Lignelli, the Blue Eagles had the ability to score runs in bunches every time they stepped on the field.
Although they lost to Ramsey in an extra-inning heartbreaker in the Bergen County semifinals, IC got its revenge two weeks later. After winning its eighth straight Non-Public B state title with a win over St. Joe's (Hammonton), the Blue Eagles bested Ramsey, 5-2, in the Tournament of Champions before losing to eventual winner Donovan Catholic in the semifinals and finishing the season with a 23-5 record.
Honorable Mention:
Ridgewood Lacrosse
Indian Hills Lacrosse
IHA Softball
Ramapo Track
IHA Lacrosse
Mahwah Softball
Indian Hills Softball
Ridgewood Softball
Hasbrouck Heights Softball
TO BUY A COLLECTOR'S PRINT OF THIS STORY PLEASE VISIT 4-FeetGrafix.com.