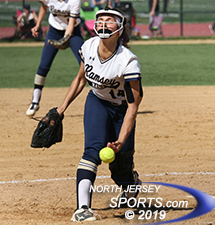 Victoria Sebastian tossed a four-hit shutout with no walks and two strikeouts for Ramsey, the two-time defending champ that reached the Bergen County Tournament semifinals with a 10-0 victory over Ridgewood on Saturday.
PALISADES PARK – As a two-time defending Bergen County champion Ramsey can feel the target on its back. Early in the season the Rams had several new faces that were still getting adjusted to having to play their 'A' game every time they stepped on the field, but just as they have done in the previous two seasons, the Rams are starting to playing their best as the Bergen County Tournament ramps up. Facing a dangerous Ridgewood team in the quarterfinals on Saturday, the Rams set the pace and never took their foot off of the gas pedal.
Emma Cunningham singled in the first and second innings and on both occasions Olivia Sebastian brought her home with a triple as second-seeded Ramsey quickly opened up a sizable lead and cruised to a 10-0, five-inning win over seventh-seeded Ridgewood at Overpeck Park in Palisades Park.
"Jumping on our opponent early is one of our main goals," said Ramsey's Alexa Kerr. "We play for us and we're a close team so we always come in focused. It gives us a lot confidence to do that every time when everyone is working together."
Ridgewood came into the quarterfinal round as the hottest team in Bergen County after a tough 2-1 win over Northern Highlands in the Round of 16 along with wins over Bergen County semifinalists Northern Valley/Old Tappan and Indian Hills in the past six days alone. Ramsey was not going to take this game for granted and made that very clear in the first two innings.
Cunningham set the table with a one-out single in the bottom half of the first and Olivia Sebastian followed with a triple off the fence in right-center to put Ramsey ahead just three batters in. The lead was 2-0 when the Rams broke it open in the second inning.
Kerr singled and scored on a two-out error that was the springboard to the big inning. Following the error Victoria Sebastian rocked an RBI double, Cunningham drove her home with a single and Olivia Sebastian recorded her second triple in as many innings with the Rams scoring all four of their second-inning runs with two outs to open up a six-run lead.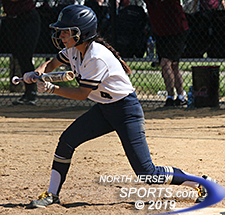 Alexa Kerr was one of three Ramsey batters to have two hits.
Ridgewood was able to put the bat on the ball against Ramsey's senior southpaw Victoria Sebastian. Fortunately for Sebastian the defense was rock solid behind her. The Rams made several outstanding plays but none more so than a catch by Kerr in foul territory in the fifth inning. A fly ball off the bat of Frankie Barbera seemed destined to fall harmlessly along the fence. Kerr got a good jump and tracked the ball the entire way before making the catch and slamming into the fence simultaneously with her teammates going crazy for the all-out effort.
"I made a mistake earlier in the game and I was looking for a little redemption," said Kerr. "Our whole team goes all-out on every play. When that fly ball was hit I was more than ready to go after that and do whatever I had to do to make the catch."
Katie Nowak, Cunningham, Kerr, and Olivia and Bella Sebastian each had two hits for Ramsey (19-3). Victoria Sebastian tossed a four-hit shutout with no walks and two strikeouts. Alli Olsen had two of the four hits for Ridgewood (16-5).
The trilogy will be completed this coming Saturday as No. 2 seed Ramsey and third-seeded Immaculate Conception meet in the Bergen County Tournament for the third consecutive season. Ramsey scored 13 unanswered runs to beat IC for the county title in 2017 and then scored an exciting 7-5 win in the semis last year on the way to a second straight title.
Will the third time be the charm for IC? Not if the Rams can help it.
"This is the time of year we play for and we're becoming more energetic as each game gets bigger," said Cunningham. "It's so much fun to be a part of this team. Everyone supports each other and everyone picks each other up. We love practice, we love playing in big games, we hang out with each other on and off the field, and we don't want this season to end."
FOR MORE PHOTOS FROM THIS EVENT PLEASE CLICK HERE. TO BUY A COLLECTOR'S PRINT OF THIS STORY PLEASE VISIT 4-FeetGrafix.com.