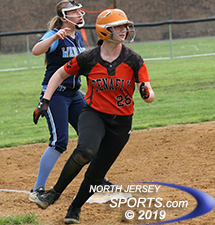 Samantha Lawrence lined a game-tying double before scoring on an error as 13th-seeded Tenafly won its first Bergen County Tournament game since 2010 with a 7-6 first round triumph over No. 20 Waldwick.
TENAFLY – The anticipation of playing in a Bergen County Tournament game is something Tenafly's Samantha Lawrence has been thinking about ever since she first put on a Tenafly uniform. Finally getting that opportunity on Saturday, the junior first baseman used her bat to help the Tigers take an early lead over Waldwick. But as the Lawrence and her teammates walked into the dugout after the top half of the seventh inning their lead was erased. The Tigers needed to make something happen and, once again, Lawrence came to the rescue.
She lined a game-tying double before coming around to score on an error as 13th-seeded Tenafly won its first Bergen County Tournament game since 2010 with a thrilling 7-6 first round triumph over No. 20 Waldwick at Tenafly High School.
"The adversity we faced and got through today was a testament to how our team battles," said Tenafly head coach Jeff Koehler. "Waldwick did not play like a number 20 seed and Ashley (Buschgans) may be the best player we've faced all year. We knew it was going to be a really tough game, but if you want to be a big time team, which we're striving to be, you have to come up big in the county tournament."
Tenafly got a boost with standout freshman Claire Guitmann back in the circle for this game. She got two quick outs before Buschgans needed just one swing of the bat to give Waldwick a lead. Her solo shot to left made it 1-0 but the Tigers answered right back with two runs in the bottom half of the inning.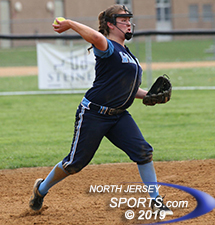 Ashley Buschgans had two hits for Waldwick, which fell to 10-6 on the season.
It was still 2-1 in the third when Lawrence stepped to the plate with runners on second and third. Even with a base open she stepped to the plate with an aggressive mindset that paid dividends immediately. She crushed a first-pitch fastball to dead center for a three-run homer that boosted the lead to 5-1.
"Early in the season I was letting a lot of first-pitch strikes go and I've worked lately on being more aggressive," said Lawrence. "Waldwick's pitcher threw hard and she was very accurate so I felt like the first pitch is the one I wanted to go after."
Guitmann did not have the blazing stuff she possessed earlier in the season, but she used her craftiness to wiggle out of a pair of jams. Waldwick showed no quit though and finally broke through in the fifth. Sweet-swinging lefty Kacie Centineo stroked a two-run double to right-center that trimmed the lead to 5-4, which it remained heading into the seventh inning.
The Warriors kept swinging away and being aggressive on the basepaths. Melanie Buschgans led off with a single and came around to score on an RBI double by Sage Rizzi to tie the game. After an intentional walk Centineo hit a hard ground ball back to the circle that was snared by Guitmann. She looked Rizzi back to third but when she threw to first Rizzi still broke for the plate and slid under the tag that put Waldwick ahead, 6-5.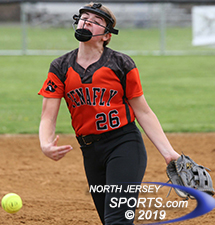 Freshman Claire Guitmann finished with 10 strikeouts for Tenafly.
After holding a lead for nearly the entire game, the Tigers were just three outs away from their Bergen County Tournament stay being a brief one. However, there was never any wavering in terms of confidence; especially with the top of the lineup coming up. Leadoff batter Gigi Linde squibbed a spinner off the end of the bat then used her wheels to beat the throw to first.
After a sac bunt by Kelsey Koehler moved the tying run into scoring position Lawrence came up and went after the first pitch. She took an fastball to right-center for a double that brought home Linde with the tying run. Alex Bugner then came up and hit a hard shot in the hole between short and third. Bugner hustled down the line and the throw to first was high. Lawrence never stopped running and came around to score the game-winning run that secured the Tigers' first BCT win in nine years.
"We were down going into the bottom of the seventh but it was now or never," added Lawrence. "With the top of the lineup coming up, it was up to us to do something and we were confident. We went out with the same approach of attacking the ball without really thinking about it.

Lawrence finished 2-for-3 with a HR and four RBIs to lead the way for Tenafly (13-5). Gigi Linde had two hits and three runs scored and Bugner added a pair of hits and an RBI. Guitmann got the win and finished with 10 strikeouts.
Ashley Buschgans, Melanie Buschgans, and Centineo each had two hits with Centineo having a team-leading three RBIs for Waldwick (10-6).
Tenafly will get a tough draw in the round of 16 Big North-Patriot Division member Indian Hills. The Tigers were beaten 11-1 in an earlier meeting this season. But with expectations already exceeded for this season and their county tournament run, they feel they have a puncher's chance to possibly pull an upset.
"Indian Hills is a great team and we know it will be a big challenge," said Lawrence, whose sister Rachel made the defensive play of the day with an outstanding diving catch at second base. "We've come so far from where we were two years ago o where we are now. The upperclassmen here haven't even played in a county tournament until today. Our freshmen have given a huge boost and this team is really coming together. We worked hard to get here and now we're here, so we're going to go for it every time we take the field."
FOR MORE PHOTOS FROM THIS EVENT PLEASE CLICK HERE. TO BUY A COLLECTOR'S PRINT OF THIS STORY PLEASE VISIT 4-FeetGrafix.com.