Cynthia Gordon's RBI single in the bottom of the sixth inning provided the winning run for NV/Old Tappn, which reached the Bergen County Tournament semifinals for the first time since 2009 with a 1-0 win over Bergen Tech on Saturday.
PALISADES PARK – After each offensive half-inning, the Northern Valley/Old Tappan softball players were all talking to each about their respective at-bats. It was a big game and they were all searching for answers against Bergen Tech right-hander Casey Calabrese, who shutout top-seeded and previously undefeated IHA last week. Calabrese kept the Golden Knights off-balance and moved the ball around effectively. Facing the prospect of being the Knights' third straight upset victim Old Tappan's senior leadership came up big in the clutch.
Gabby Ramundo tied the game with a RBI single in the fifth inning and Cynthia Gordon's run-scoring single in the bottom half of the sixth sent Northern Valley/Old Tappan into the Bergen County semifinals for the first time in 10 years with a 2-1 quarterfinal victory over No. 17 seed Bergen Tech on Saturday morning at Overpeck Park in Palisades Park.
"We were down, but we stuck together and we stayed confident that we'd get the big hits we needed," said Ramundo.

Bergen Tech loaded the bases in the second inning with Boston College-bound star Gianna Sarlo working the count full. Old Tappan's freshman pitcher Raegan Germano showed no signs of the pressure that was upon her by getting a called third strike over the inside corner to end the threat. It was only temporary though as Ashley O'Hagan scored in the third inning on an RBI single off the bat of Victoria Villanueva to put Bergen Tech front, 1-0.
It looked early on like that run would be all that BT needed as Calabrese was masterful through the first four innings, only allowing one baserunner over that span. Her counterpart, Germano, got into a couple of jams but made some big pitches to get out of them and keep Old Tappan within striking distance.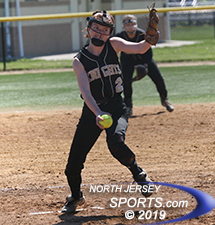 Casey Calabrese allowed just three hits and two walks in the circle for Bergen Tech.
"I knew we were going to start hitting and I had to do whatever it took to keep the score where it was," said Germano.
The Golden Knights were running out of solutions and running out of innings to find them. In the fifth inning Gordon drew a leadoff walk and was moved to second on a sac bunt by Calista Zahos. That brought up Gabby Ramundo, who has provided some stability to the bottom third of the Old Tappan lineup. She lined a single back through the box to plate the tying run.
"I think we were trying to box it up too much and tried too hard to make something happen instead of keeping it simple," said Ramundo. "She threw a pitch a little low and away and I just tried to put it back up the middle."
The momentum spilled over into the sixth inning where the Golden Knights did all of their damage with two outs. Sinead Albelli started it off with a single and Megan Weis drew a walk to put Albelli in scoring position. That brought Gordon to the plate with a chance. After spending her previous at-bats waiting for the perfect pitch, she decided to change her approach. Calabrese got ahead of hitters all day long but this time Gordon was ready. She jumped on the first pitch and roped a single to left-center that scored Albelli to put Old Tappan ahead, 2-1.
"(Calabrese) was really good at getting ahead and hitting her spots so I made up my mind going into my last at-bat that I wasn't going to wait," said Gordon. "I wanted to be aggressive on the first pitch and kind of take control of the at-bat. I got a pitch liked and gave it a good whack."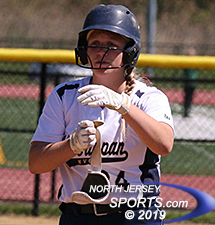 Old Tappan senior Gabby Ramundo tied the game with a RBI single in the fifth inning.
Calabrese singled to put the tying run on base with one out in the seventh. Germano has been unfazed by pressure situations throughout the Bergen County Tournament and came through again to close it out. She induced a ground ball and a fly ball to left that Carolyn Goodman squeezed for the final out as the Golden Knights celebrated a win and a run in the county tournament that has been long overdue.
Germano scattered four hits with five walks and five K's to pick up the win for Northern Valley/Old Tappan.
Calabrese took the hard-luck loss for Bergen Tech, allowing just three hits with two walks and two strikeouts. Villanueva was the only player in the game to have two hits and she reached base in all three of her plate appearances.
Northern Valley/Old Tappan, the lowest seed remaining in the tournament, moves into the Bergen County semifinals for the first time since 2009 where the Golden Knights will face fourth-seeded Indian Hills for a berth in the Bergen County final.
"This has been so much fun and we want to keep it going," added Gordon. "I don't think we expected this before the season but now we're here and we're playing with a lot of confidence. There are only four teams left and we're one of them. We have that mentality that we're here now, we want this and we have nothing to lose."
FOR MORE PHOTOS FROM THIS EVENT PLEASE CLICK HERE. TO BUY A COLLECTOR'S PRINT OF THIS STORY PLEASE VISIT 4-FeetGrafix.com.