Ariana Martoral kept her season-long hit streak going with a walk-off grand slam in Dumont's 11-1 win over New Miliford.
DUMONT – As a freshman, Ariana Martoral was overjoyed at the thought of just being in the varsity lineup for Dumont. She went along for the ride with the Huskies making an upset-laden run to the Bergen County Tournament semifinals. Martoral has been in the lineup ever since but her focus has shifted now as a senior.
No longer are the Huskies the plucky public school underdog that anyone would love to root for. Instead, they are a consistently solid program with the senior shortstop emerging as one of the best hitters in Bergen County.
Martoral had notched a hit in every game this season coming into Tuesday afternoon's tilt against neighboring rival New Milford, but going into her last at-bat, she was still without a hit. Martoral kept her hit streak alive, cleared the bases, and ended the game all with one quick swing of the bat. Her first career grand slam to dead center field put an empathatic end to Dumont's 11-1 win over New Milford at Columbia Park in Dumont.
"The group of seniors that we have try to set the example for the younger players just like the older players did for us when we were freshmen," said Martoral. "Those teams we had a few years ago set the bar and we want to keep that legacy going."
Erin O'Grady led off the game with a long double for New Milford.
Erin O'Grady led off the game with a long double for New Milford and was sacrificed to third. Dumont starter Kiera Reilly bounced back with a strikeout and a groundout out to short to end the threat. Her teammates backed her up by putting up a six-spot in the bottom half of the first inning.
Eva Eder drove across the first run of the game with a single to center before the Huskies caught some breaks with two outs. A hit batsman, a walk, and an error all in succession brought in three more runs before Brianna Perez capped the outburst with a two-run double for a comfortable 6-0 lead.
After a rough first inning, New Milford starter Carly Malone settled in and kept her team in the game. The Knights had a chance for a big inning in the top of the fifth with a baserunning miscue with nobody out allowed Dumont southpaw Heather Dloughy coming on in relief and wiggling her way out of trouble allowing just one run.
"With Eva, Kiera, and Heather, this is really the most confident I've felt when an entire pitching staff," said Dumont head coach Kendal George. "That is really a strong point for us. Our team also does a really good job of adapting to the pitchers we're facing. Along with good pitching and playing solid defense, everything is clicking pretty well for us."
With a run across in the bottom half of the frame and the bases loaded, Martoral stepped to the plate with an 1o-game hitting streak on the line. She roped a fastball over the heart of the plate over the centerfield fence, just a few feet from where her father, Ken (who is the Dumont head boys' basketball coach), was standing for her sixth homer of the year, her first career grand slam, and her first career walk-off homer.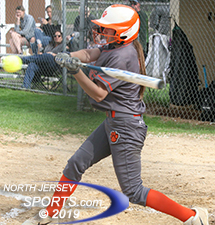 Dumont's Eva Eder drove across the first run of the game with a single to center.
"I wasn't thinking about a grand slam, I just wanted to hit the ball hard and drive in some runs," said Martoral.
Kelsey Boyhen, Gia Diaz, Dloughy, and Martoral all scored twice for Dumont (8-3). Reilly picked up the win scattering five hits over four innings of work with two strikeouts and a walk.
Meagan Correa had the lone RBI for New Milford (4-8). Correa and O'Grady each had two hits for the Knights.
Even with Division 1 hitting standouts throughout the area, Martoral is making her case to have one of the most prolific seasons in Bergen County history. After combining for just two homers and no triples over her first three varsity seasons, Martoral now has eye-popping numbers of six homers and five triples along with a .558 batting average in April alone. With her torrid bat and a steady supporting cast the Huskies are dreaming big.
"We're excited about where we are at this point in the season," added Martoral, who will not be playing softball in college but will be attending Penn State University. "We're a team that's always going to play hard and show the same intensity every game. This weekend we have a tough game against Northern Highlands (who beat Indian Hills 4-1 on Tuesday) and that's going to be a big one. My freshman year we kind of came out of nowhere but now we feel like we're expected to do great things on the field. We've helped build the high expectations that we have for this season and our team looks forward to the challenges ahead of us."
FOR MORE PHOTOS FROM THIS EVENT PLEASE CLICK HERE. TO BUY A COLLECTOR'S PRINT OF THIS STORY PLEASE VISIT 4-FeetGrafix.com.