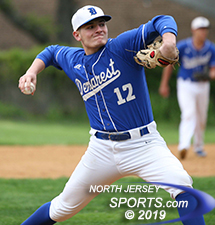 Senior Nick Argenziano needed just 74 pitches to throw a complete game 2-hitter for NV/Demarest, the No. 20 seed that upset No. 13 Midland Park, 2-0, in the first round of the Bergen County Tournament.
MIDLAND PARK – As Northern Valley/Demarest senior ace Nick Argenziano took the ball in the first round of the Bergen County Tournament for he got the feeling he was hoping for; the one where the velocity and command of all of his pitches were there right from the first pitch of the game. But that was also a feeling his counterpart, Midland Park's Dave Kruis, felt as the two pitchers were dominant.
After matching zeros through the first five innings the Norsemen finally got runners in scoring position in the top of the sixth and made the most of the rare opportunity.
Ethan Rothstein's seeing-eye single through the left side of the infield drove home the only runs of the game and Argenziano shut the door as 20th-seeded Demarest pulled the upset with a 2-0 victory over No. 13 seed Midland Park on Wednesday afternoon at Midland Park High School.
"This was definitely our most complete game of the year in every aspect," said Demarest head coach Marc Houser. "This was a big county game. We've had some bumps in the road and it's nice to get back on the left side. We settled in and we did what we needed to do."

Midland Park has been one of the biggest surprises in Bergen County this year and it was apparent why early on. Kruis ripped through the order the first time around and got some solid defense behind him throughout. Ron Sgambati made a pair of spectacular catches in right field and the Panthers played error-free ball all game.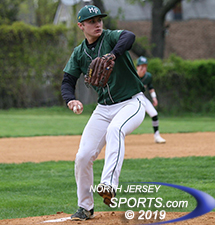 Midland Park's David Kruis allowed just four hits and one walk while striking out 8 in a complete game effort.
The Panthers' only problem happened to be the right arm of Nick Argenziano. The NYU commit consistently got ahead on the first pitch then used a variety of off-speed pitches to keep the Panthers guessing from start to finish.
With one out in the bottom of the second inning, Midland Park senior Matt Weisbrot lined a shot down the third-base line off the glove of Demarest third baseman Matt Hefter and into foul territory with Weisbrot racing in for a double. Argenziano left him stranded there with a strikeout and a fly ball to end the threat.
Demarest had a scoring opportunity two innings later with first and second and two outs, but it was halted when Midland Park third baseman Rob Chirkis made a nice play on a short-hop ground ball and stepped on third for the inning-ending force out.
With the pitcher's duel in full swing it was clear that the only way either team was going to score was by manufacturing a run. The Norsemen did just that in the sixth sparked by a leadoff single from Jackson Hecker. He then used his wheels and his instincts to force the action. The senior moved to second on a sac bunt by Hefter and the Panthers elected to walk the power bat of Joe Argenziano with a base open. Hecker then took off for third as the Norsemen used a double steal to put two runners in scoring position for Rothstein.
"It was not a sign but it's something we've been working on since Florida," added Houser. "He was working his way to do it and that's something a senior is allowed to do in that situation if he has the right read on it."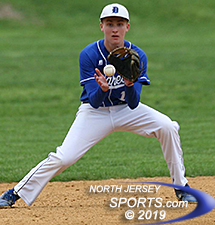 Ethan Rothstein drove in the only two runs of the game for Demarest, which will visit No. 4 Mahwah in the Round of 16 on Saturday.
After a long battle with Kruis, Rothstein punched a 3-2 curveball through the left side of the infield to plate both Hecker and Joe Argenziano to make it 2-0.
"I was just thinking of trying to elevate the ball and trusting my hands," said Rothstein. "Two games ago I was up in a big spot, I didn't elevate the ball and we lost. It didn't elevate the way I hoped it would but I was happy that it got through the hole."
Midland Park got a leadoff single from Justin Vannelli in the bottom half of the seventh but it was quickly erased. Hefter made a nice play on a sharp ground ball to third and Andy Yoo made the turn at second base on a bang-bang call for a double play. Nick Argenziano finished what he started with a game-ending strikeout to give Demarest its biggest win of the season to date.
Nick Argenziano faced just two batters over the minimum for Demarest (8-7). He threw just 74 pitchers, 58 for strikes, allowing two hits with no walks and seven K's. Kruis pitched well in defeat for Midland Park (12-2). He went the distance, allowing four hits with one walk and eight strikeouts.
The Norsemen advance to the Bergen County Tournament's Round of 16 on Saturday where they will visit fourth-seeded Mahwah. Once again they will be an underdog but that seems to be just the way this team likes it.
"As a number 20 seed we have nothing to lose," said Nick Argenziano. "We slipped a little bit lately but we've had a tough schedule and that's prepared us for this tournament. We've worked really hard, we have a great coaching staff, and we feel we can beat anyone when we're at our best. It's going to be a dogfight, but we'll be ready to go on Saturday."
FOR MORE PHOTOS FROM THIS EVENT PLEASE CLICK HERE. TO BUY A COLLECTOR'S PRINT OF THIS STORY PLEASE VISIT 4-FeetGrafix.com.