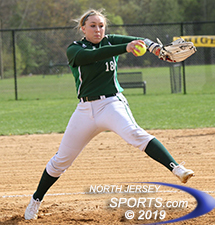 Junior Shana Donnelly threw a complete game three-hitter for Passaic Valley, which remained unbeaten with a 4-0 win on the road at West Milford on Monday.
WEST MILFORD – Passaic Valley softball has taken North Jersey by storm this spring. Not only did the Hornets win their first 10 games of the season, but they also averaged an eye-popping 13.3 runs per game during that streak.
For the Hornets' already great season to become a championship one, however, they will eventually need to find ways to win when their bats are not as hot. That falls on the shoulders of junior Shana Donnelly in the circle. Faced with that exact scenario against a West Milford team hungry for a signature win, Donnelly rose to the occasion and then some.
Donnelly allowed just three hits and got some outstanding defense behind her while being matched zero for zero by West Milford veteran Jess Perucki through five innings. The Hornets finally broke through in the sixth on a two-run single by Rachel Alecci to snap the scoreless tie and help keep Passaic Valley undefeated with a 4-0 triumph over West Milford on Monday afternoon.
"Shana was ready to go and she wanted the ball," said Passaic Valley head coach Kathy Hill. "This game is about perseverance and behind Shana she kept us in it until our bats got going."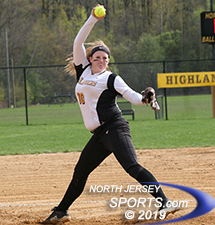 West Milford starter Jess Perucki hung zeroes for the first five innings of the game.
Donnelly and Perucki had totally different styles, but both were quite effective early on. While Perucki was bringing the heat from her first pitch Donnelly threw first-pitch strikes then mixed speeds to keep the Highlanders guessing. That cohesion with battery mate Brianna DeLuccia was obvious and gave her the confidence to throw virtually any pitch in any count.
"We were really on the same page today and Shana did a great job of keeping them off-balance," said DeLuccia. "I think our energy was great and we were focused on every pitch. When Shana is on like that it pumps our whole team up and our confidence grows."
Both had chances to take the lead in the fourth inning. Each of those opportunities with a runner in scoring position was snuffed out by solid defensive plays from their respective second basemen. With runners on second and third with two outs, West Milford's Mackenzie McGuinness ranged to her left to make a nice play that saved two runs. Devyn DiPasquale answered in the bottom half of the inning when she backhanded a hot shot up the middle to save a run.
"The bottom line is you have to hit and you have to score to win," said West Milford head coach Nikki Gwinnett. "I thought Jess pitched really well and we made some good plays defensively. Teams like Passaic Valley aren't going to give you extra outs in the field so you have to be aggressive at the plate. They took advantage of their opportunities and we didn't."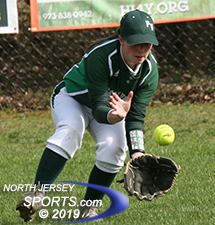 Savannah Vanwinkle lined a leadoff single to kickoff Passaic Valley's two-run seventh inning.
Another chance for West Milford (6-7) went by the wayside when Donnelly pitched her way out of a jam and got some help from a running catch in the right-centerfield gap by Jada Rodriguez. Donnelly did her part and her teammates picked her up with some run support in the top of the sixth inning.
Two walks sandwiched around an error loaded the bases with two outs for Alecci. Perucki made a good pitch down in the zone but Alleci caught up to it and lined it back through the box for a 2-0 lead.
The Hornets tacked on two insurance runs in the seventh. Savannah Vanwinkle lined a leadoff single from the nine-hole and Taylor Hill followed with a triple to make it a three-run lead. DiPasquale capped the scoring with an RBI single.
The Hornets saved one last great defensive play for the seventh inning with Hill and DiPasquale, both sophomores, turned a picture-perfect double play before Donnelly retired the final batter to make it 11 straight wins.
The games for Passaic Valley are growing in importance with each passing week. If both teams win their quarterfinal game they will meet again in the Passaic County semifinals.
Featuring five sophomores, two sophomores, and no seniors in the starting lineup, the future is incredibly bright for the Hornets, but with a torrid winning streak to start the season so is the present. After falling one run short in the Passaic County final last year on their home field the Hornets are settling for nothing less than a Passaic County title.
"This team is really close and we're on a mission this year," said Donnelly. "We're one team, one unit, and we're a pretty fierce team. This was a big game but they're all big games to us, we treat every game the same. We're the top seed (in the Passaic County Tournament) and we have a target on our backs but we're all-in. It's about sticking together as a team and doing whatever it takes to get the job done."
FOR MORE PHOTOS FROM THIS EVENT PLEASE CLICK HERE. TO BUY A COLLECTOR'S PRINT OF THIS STORY PLEASE VISIT 4-FeetGrafix.com.