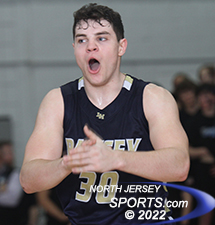 Luca Sancilio finished with game-highs of 23 points, 10 rebounds, four steals, and three assists for Ramsey, which won its third state sectional title in the last five years with a 47-40 win in front of a packed house in Mahwah.
RAMSEY – As Ramsey went through their usual team warm-up, Luca Sancilio looked up at the crowd listening to the deafening chants knowing that this night would be different from any other he has ever been a part of.
Going on the road against archrival Mahwah, a team that had beaten Ramsey in both regular-season meetings, with a section title on the line, it was a scenario Sancilio dreamed about all season. With fellow senior, center Michael Featherstone, out with an injury, it was up to Sancilio to lead his team. After a defensive struggle throughout the first half, he took over and ensured Ramsey's championship pedigree remained intact.
Sancilio had his hand in every aspect of the game. From numerous drives to grabbing boards to making steals to holding Mahwah's leading scorer without a point, he completely dominated the game. He took control in the second half and finished with a game-high 23 points as sixth-seeded Ramsey pulled off its third straight road upset to win the North 1, Group 2 title with a 47-40 triumph over No. 4 seed Mahwah in front of a packed house on Monday night at Mahwah High School.
Ramsey set a tone with three straight hustle plays on the first three possessions of the game. Later in the opening stanza, Sancilio started to make his mark. He hit consecutive threes, then Danny Veenstra found the cutting Michael Bernius for a layup in the final seconds to help Ramsey take a 10-5 lead after one quarter.
Points were at a premium as both teams locked in defensively throughout the first half. Anthony Appiah's three-point play tied the game but two free-throws from Sancilio gave Ramsey the lead going into the locker room at halftime, 14-12.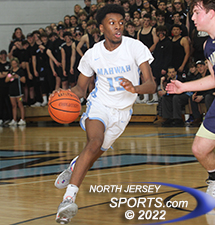 Anthony Appiah had team-highs of 20 points and eight rebounds for Mahwah, which finished the season with a 21-6 record.
"Defense wins championships and we had to get stops to get some momentum," said Sancilio. "When we had the ball, we had to be more aggressive and try to attack them inside. As soon as I got the opportunity, I was putting my head down and going to the basket. We felt like if we could open a bigger lead that it would put more pressure on them to come back and we'd have an advantage."
After often settling for outside shots in the first half the Rams committed to attacking the basket in the third quarter. Sancilio and Danny Veenstra not only found success in doing, but also opened up players in the corners for three-point looks. Connor Farrow hit one midway through the quarter before Noah Eide hit one of his own just before the third-quarter buzzer to cap an 18-9 showing in the period and give Ramsey a double-digit lead head into the fourth quarter, 32-21.
"We've all been taking big shots all season and throughout the state tournament, so when I got the look it just felt natural to let it go," said Eide. "With Luca and Danny driving the way they did all game all I needed to do was get to the open spot and knock it down when I got the opportunity."
Mahwah had to ramp up the pressure and did so early in the fourth quarter, cutting the lead to eight on four different occasions. The Rams never panicked though and Sancilio kept them calm. He drove the lane for baskets on back-to-back trips before he and Eide found Farrow underneath for wide-open layups as the third time proved to be the charm. After losing fourth-quarter leads in both losses to Mahwah this season, the Rams held on for the North 1 Group 2 section title.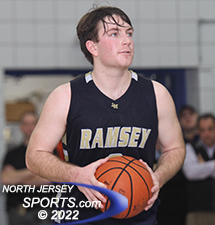 Danny Veenstra scored 8 points for Ramsey, which will play Newark Central in the Group 2 state semifinals.
Sancilio finished with game-highs of 23 points, 10 rebounds, four steals, and three assists for Ramsey (20-7). Veenstra added eight points with Farrow and Eide each chipping in with seven apiece.
Appiah had team-highs of 20 points and eight rebounds for Mahwah, who finished the season with a 21-6 record.
Ramsey moves onto the Group 2 state semifinal round to face North 2, Group 2 champion Newark Central. That game will be played at Bloomfield High School with a 5:00 P.M. tip-off. With a section title in hand, the Rams will play loose and see if they can stay on this joyride a little bit longer.
"I'm so proud of how hard we've played and how well we've played defensively throughout the state tournament," said Ramsey head coach Mark Christiansen. "We're a mentally tough team and we were well prepared for this game tonight. This has been an awesome journey to be on with these guys. It is the greatest feeling to do this with this group in my first year as a head coach. I love this team and they've earned this."
FOR MORE PHOTOS FROM THIS EVENT PLEASE CLICK HERE. TO BUY A COLLECTOR'S PRINT OF THIS STORY PLEASE VISIT 4-FeetGrafix.com
---