Lily Crowder was one of three double digit scorers for River Dell, which opened Bergen County Tournament pool play with a 53-27 win over Paramus Catholic
ORADELL – A look at River Dell's record this season makes it seem on the surface like everything has broken the right way and the Hawks are playing perfect basketball to match their 11-0 record heading into the Bergen County Tournament.
As well as the Hawks have played, however, they still have not thrown the basketball equivalent of a perfect game where they controlled all four quarters on both ends of the floor. Facing a Paramus Catholic team that was searching for a signature win, the Hawks did finally put it all together.
Kayla DePol led three Hawks in double-figures with 14 points and Sarah Vanderbeck hit a pair of three-pointers in an 11-0 first quarter run. River Dell never looked back in an impressive 53-27 victory over Paramus Catholic to open pool play in the Bergen County Tournament on Thursday in Oradell.
"That was the most complete game that we've played all season," said River Dell head coach Lindsay Steffner. "I would have liked for us to make more layups. Right out of the gate we played with intensity, moved the ball around, and made good decisions both on the fast break and in our offensive sets. In this tournament, every game is different to prepare for. We knew Paramus Catholic was an athletic team that played us in man-to-man, a 2-3 zone, and they also pressed us. Having such an experienced team helped us. The girls were able to recognize what they were trying to do and handled it very well."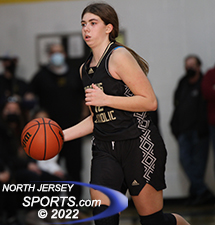 Sophomore Kylie Cabana led Paramus Catholic with 14 points.
The Bergen County Tournament temporarily moved to a new format this season with four brackets with four teams each playing three pool-play games with the winner of that pool advancing to the semifinals. With five-time defending BCT champion Saddle River Day, second-seeded Ramapo, and No. 3 seed IHA prohibitive favorites to advance, the remaining pool (River Dell, Dumont, Northern Highlands, and Paramus Catholic) was the one that was considered to be up for grabs.
Paramus Catholic's leading scorer, sophomore Kylie Cabana, scored on a drive to tie the game at 2 early. That would be both the first and the last field goal for the Paladins in the opening stanza as River Dell used a diamond-and-one press to completely smother Paramus Catholic. On the offensive end, the Hawks were equally as effective; using cuts and screens to free up players and create space, moving the ball quickly and with purpose, and passing up good shots for better ones. River Dell put on a clinic in the first quarter with Vanderbeck being the biggest beneficiary. She nailed 3-pointers a minute apart, the latter of which capped an 11-0 run as River Dell took control by the end of the first quarter, 16-3.
Alexis Strollo and Cabana tried their best to keep Paramus Catholic in the game during the second quarter. The Hawks' team defense and constant motion on offense were simply too much to handle. They methodically stretched their lead out in the second and third quarters. Isabella Gilmour had five of her seven points in the second quarter, including a conventional 3-point play. DePol added a pair of buckets in both the second and third quarters with River Dell having the game in hand with a 43-20 lead after three.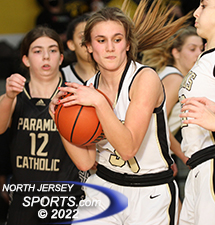 Kayla DePol scored a team-high 14 points for River Dell, which improved to 12-0 on the season.
River Dell (12-0) shot the ball exceptionally well throughout the game, shooting over 50-percent from the field and 10-11 (90.9%) from the foul line. DePol finished with 14 points, Vanderbeck and Lilly Crowder had 13 and 10 points, respectively.
Cabana was the lone Paramus Catholic (8-6) player to reach double-digits, tying DePol for game-high honors with 14 points.
River Dell will look to stay undefeated and move one step closer to advancing through pool-play when they face off against Northern Highlands. A win there could potentially set up a showdown with Dumont for a spot in the Bergen County Tournament semifinals. For now, the Hawks are focused on doing what they have done all season. Enjoying each win as it comes then prepare themselves on how to play even better for the next task ahead.
"We only lost one senior from a successful team last year and returned four starters, so our expectations were high both going into the season," said DePol. "This team emphasizes on defense, and we were locked in with that today. Our defense leads to offense and being a versatile team that can play different styles is an advantage for us. We've played together for so many years that we know if we play at our best that we can make a run in this tournament."
FOR MORE PHOTOS FROM THIS EVENT PLEASE CLICK HERE. TO BUY A COLLECTOR'S PRINT OF THIS STORY PLEASE VISIT 4-FeetGrafix.com.