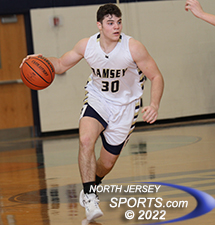 Luca Sancilio scored a game-high 17 points for Ramsey, which pulled away for a 44-28 win over Cresskill in the opening round of the Bergen County Jamboree
OAKLAND -- Fast and physical.
Three words more associated with football  as coaches try to create a tempo that their opponents are forced to match. While football and basketball are more like apples and oranges in terms of rules and how the game is played, some of the same principles can be interchangeable. That transition works well for Ramsey, which has many of its core players being starters on the gridiron as well.
Clinging to a one-point halftime lead over Cresskill, Ramsey guard Luca Sancilio got back to "fast and physical" on both ends of the floor in a dominant third quarter.
Sancilio had two steals, forced five turnovers, and scored eight of his game-high 17 points during the third quarter as No. 16 seed Ramsey pulled away for a 44-28 victory over 17th seeded Cresskill in the first round of the Bergen County Jamboree on Sunday at Indian Hills High School in Oakland.
"We left a lot of points on the board in the first half and I thought we did a good job of cleaning that up in the second half," said Ramsey head coach Mark Christensen. "Our guards are all good on-the-ball defenders, that defense is really what drives this team. Really proud of our guys and how they stepped up in the second half."
Ramsey is a team that prides itself on its defense. Cresskill was unfazed early and had its best stretch of play right off the opening tap. The Cougars hit their first four shots, including a three-pointer by Cody Song and a drive by Oliver Urena, to spark a game-opening 9-2 run. The pace slowed down considerably throughout the remainder of the first half until Sancilio's three-pointer from the wing gave the Rams their first lead, 19-18, at the half. Although the were happy with finally pulling ahead, the Rams knew they needed to play much better in the second half if they were to advance.
Cody Song scored a team-high 9 points for Cresskill.
Sancilio's on-the-ball pressure completely disrupted the Cougars' offensive sets and set a tone that his teammates followed. Following one of many Cresskill turnovers, the Rams broke out in transition with Sancilio being the beneficiary. He scored three times on driving layups as Ramsey held the Cougars to just a single field goal in the third quarter in taking control of the game.
"Our team is always going to fight and we had the energy of the crowd with us today," said Sancilio. "We knew that our defense was going to have to create our offense. We had to be more physical in the second half and we were. Once we got a few turnovers, everything started to click."
After a scoreless first half, Connor Farrow came up big for Ramsey. He banked in a three-pointer to beat the third-quarter buzzer and followed it up with another three on the first possession of the fourth quarter to make it a 35-21 lead before hitting his third long-range bomb of the half midway through the fourth quarter to put the game away.
Michael Featherstone was solid throughout in the paint with a natural double-double of 10 points and 10 rebounds for Ramsey (9-4). Song battled through foul trouble to lead the way for Cresskill (8-5) with nine points, all of them coming behind the three-point line.
The battle of Ramsey will happen in the Jambo's Round of 16 next weekend when Ramsey takes on top-seeded Don Bosco Prep. While it will take a heroic effort to pull the upset, the Rams are looking forward to the challenge.
"Don Bosco is definitely going to be a test, but we have nothing to lose," said Featherstone. "Our coaches will have us watching a lot of film, give us our scouting reports, and we pride ourselves on being a well-prepared team. We're up for the challenge and we're not scared of anyone."
FOR MORE PHOTOS FROM THIS EVENT PLEASE CLICK HERE. TO BUY A COLLECTOR'S PRINT OF THIS STORY PLEASE VISIT 4-FeetGrafix.com.