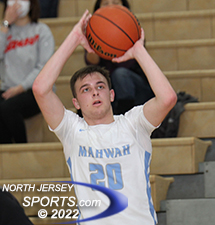 Nick Mazella hit a clutch 3-pointer to keep Mahwah in front late on its way to a 58-54 win over NV/Demarest on Tuesday.
MAHWAH – "Patience, patience, patience." It is something the Mahwah boys' basketball team hears repeatedly head coach Mike Branagh. Preaching that message to his players is not only about working the ball around and getting the best shot possible, but also about keeping calm in the eye of the storm. The Thunderbirds had to do just that against a Northern Valley/Demarest team that refused to fold after going down big early.
On a span of three consecutive possessions midway through the fourth quarter, Mahwah used the clock and the luxury of having five players on the floor who can handle the ball to its advantage.
On the aforementioned possessions, Anthony Appiah and Nico Masi had layups sandwiched around a huge 3-pointer from Nick Mazella as Mahwah held off Northern Valley/Demarest in a battle of Jambo-qualified teams for its sixth straight win, 58-54, on Tuesday afternoon at Mahwah High School.
Mahwah got going early behind the play of Masi, who scored six of his team's 10 first-quarter points. The lead would have been bigger if not for Mahwah's woes at the free-throw line. Going 1-5 in the quarter and 6-14 for the game is something that will need to be addressed come tournament time.
"We have some excellent shooters in game situations, but we haven't done well at the free-throw line all year," said Branagh. "We found a way to win today, but we can't keep leaving those points on the board like that. When you get to the Jambo that can cost you a game."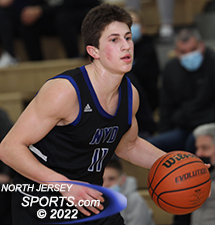 Brandon Srebnik scored a game-high 22 points for Demarest, which has already clinched its spot in the Jambo.
Despite the cold shooting from the charity stripe, Mahwah continued to roll in the second quarter with Masi hitting all three of his shots from the floor in a 13-3 to open the quarter and give the T-Birds a seemingly comfortable 23-8 lead.
Needing to force the pace and get things going in the right direction the Norsemen went to using full-court pressure to create turnovers and baskets off of them. Ryan Sabot had nine second-quarter points, seven of them in a late surge to trim the lead to a manageable six-point deficit by halftime, 29-23.
Norsemen point guard Brandon Srebnik scored on a pull-up jumper and a three-pointer from the top of the key to whittle the once 15-point lead down to a single point. Every time Demarest made a run though, Mahwah quickly responded. The game went back and forth into the fourth quarter where it was still a one-possession game.
This is where the Thunderbirds played to their strength by working the ball around and passing up shots for better ones. They took over 45 seconds off the clock on three straight possessions. The first led to an Appiah drive through the lane for a layup. After Srebnik answered, Mahwah came right back with another long possession that ended with a Mazella three from the wing. On the following possession, Masi scored on a baseline drive and lead was back up to eight.
"Our style is playing both team defense and working together on offense," said Mazella. "If we make good decisions and move the ball it's just about who gets the open shot. (Demarest) likes to play fast. When we had layups, we sped things up. But if not, we slowed it down and worked on getting the best shot we could get."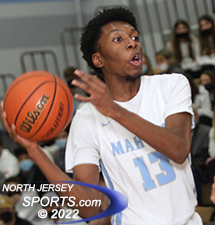 Anthony Appiah finished with 13 points for Mahwah, which improved to 13-3 on the season..
Sabot did his best to keep his team in the game with a deep three-pointer and a nifty spin move for a layup in the final minute. But the Norsemen ran out of time, and it was Mahwah who could breathe a collective sigh of relief as the final buzzer sounded.
"It was a tough game, but we had to stay patient and stay calm," said Masi. "We had to set the tempo, which isn't easy to do against their press. But if we moved the ball, we knew we would get open shots or lanes to drive to the basket."
Mahwah (13-3) had three seniors score in double-figures, led by Masi with 19. Mazella dropped a career-high 16 points and Appiah added 13.
Srebnik led all players with 22 points for Northern Valley/Demarest (9-4). Sabot shot well throughout, going 7-11 from the field to finish with 21 points.
Both teams will now gear up for a potential run in the Bergen County Jamboree. With both teams possessing senior-dominated lineups it is possible for either or both of teams to win some games in the Jambo.
"It starts on defense for us and if you want to beat the good teams you have to play solid defense," said Branagh. "It's tough to simulate in practice how another team presses and Demarest has a great full-court press. We did enough on our homecourt down the stretch to get the 'W'. This gives us a lot of momentum heading into the Jambo and we're excited for the opportunity."
FOR MORE PHOTOS FROM THIS EVENT PLEASE CLICK HERE. TO BUY A COLLECTOR'S PRINT OF THIS STORY PLEASE VISIT 4-FeetGrafix.com.