Monday, February 4, 2013
By Rich Barton
NJS.com Staff Writer
Point guard Chris Jackson handled the pressure and Pascack Valley stormed into the Jambo quarterfinals with a 62-51 win over third-seeded Don Bosco Prep in the Round of 16 on Sunday.
TENAFLY – When the brackets came out and the seeds were announced for this year's Bergen County Jamboree, there were a handful of people that not only were surprised at where Pascack Valley was seeded, but that it was seeded at all. The record that the Indians presented to the selection committee was not one that usually gets a public school team into the draw. What got Pascack Valley in was its strength of schedule and how tough it had played the top teams in Bergen County whether it was in a win or a loss.
Once they were included, the Indians were determined to make the most of the opportunity, like the one that came in the Round of 16 on Sunday against third-seeded Don Bosco Prep.
Although there was a big disparity in the seeds and the depth of the two teams, that all disappeared once the ball was tossed up. Pascack Valley knew it had experience on its side and the poise to go toe-to-toe with the best teams the county had to offer, which it did earlier this season with the top two seeds in the Jambo (Teaneck and Hackensack). But that one top-notch victory had still eluded the Indians because they were never able to put four quarters together. In their biggest game of the year to date, the Indians picked a heck of a time to play a full 32 minutes.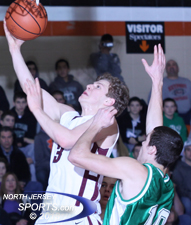 Don Bosco Prep's Paul Jorgensen scored a game-high 19 points.
Using Don Bosco Prep's cold perimeter shooting to its advantage, PV grabbed the lead early in the third quarter and withstood every run the Ironmen had to offer. Ryan Onderdonk led four players in double-figures, including going 7-for-8 at the foul line in the fourth quarter, as 14th seeded Pascack Valley pulled off a huge upset to advance to the Jambo quarterfinals with a 62-51 triumph over No. 3 seed Don Bosco Prep at Tenafly High School.
"We had the confidence that we could come in here and win, but it is another thing to execute the game plan the way we did today," said Pascack Valley head coach Al Coleman.
Pascack Valley stayed right with the Ironmen throughout an entertaining first half, hitting open shots and playing just enough defense to maintain a small advantage. But Don Bosco point guard Paul Jorgensen made three steals in the final two minutes and converted the last one into a layup just seconds before the halftime buzzer to give the Ironmen both some momentum and a 29-28 halftime lead heading into the locker room.
Don Bosco was unable to capitalize on that momentum though as Ryan Onderdonk hit a 3-pointer and a pull-up jumper as part of a big third quarter that helped the Indians seize control of the game heading into the fourth with a 43-37 advantage.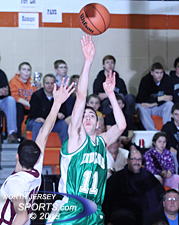 Ryan Onderdonk made 7 of his 8 fourth quarter free throws and led Pascack Valley with 17 points.
Most everyone in the gym expected Bosco to make a run, but they were unable to get a handle on Pascack Valley's 2-3 matchup zone and could not have been more ice cold from 3-point range, missing their first 13 3-point attempts of the second half. Kyle Schneider and the rest of the Indians allowed very few offensive rebounds, which allowed the Indians' point guard, Chris Jackson, to control the tempo.
"We went to a matchup zone and it brought (Tom) Sweeney into the high post, which made it easier to rebound when they missed," added Coleman. "It leveled the playing field a bit and we were fortunate that they weren't hitting when they had open looks. We knew it had to be a gutsy effort for four quarters. Being battle-tested against a tough schedule as we've been all year prepared us for this game and this situation."
The Indians led by as many as nine with less than two minutes to play but Bosco made it interesting down the stretch. Having not hit a 3-pointer since the middle of the second quarter, Jorgensen and Justin Salem finally broke the ice and connected from long-range on back-to-back possessions to quickly make it a one-possession game, 54-51, with 48 seconds to play. The Ironmen never got any closer, however, as Ryan Onderdonk was money down the stretch hitting 5 of 6 from the foul line in the final two minutes as the Indians finally earned the win against a top-flight opponent that they have been seeking all year long.
"I thought they were very patient on offense in the second half and we weren't," said Don Bosco head coach Kevin Diverio. "We needed to get Sweeney more involved inside but we needed to hit some outside shots to do that. Even when we cut to three late, I thought that we would find a way, but Chris Jackson really handled our pressure well. I thought both teams had a lot of high-percentage shots for most of the game. They made a lot of theirs and we didn't. When that happens and you don't get offensive rebounds, it makes it tough to win."
Bosco junior Tom Sweeney finished with 11 points and 8 rebounds.
Ryan Onderdonk led a balanced scoring attack with 17 points for Pascack Valley. Schneider added 13 points, Jackson had 12 points and five assists, Kyle Onderdonk had 10 points and Nick Soravilla finished with eight. Jorgensen led all players with 19 points and four steals for Don Bosco. Sweeney chipped in with 11 points and eight rebounds.
Pascack Valley moves into the Jambo quarterfinals next week at Ramapo College where it will play the opener of the quadruple-header against sixth-seeded St. Joseph (Montvale), a 66-46 winner over Fort Lee. Once again, the Indians will be a decided underdog but it's a role they are starting to relish just as they did two years ago when they made a run to the Jambo semifinals, only to be knocked off in a close game by Don Bosco.
With the revenge win over the Ironmen crossed off on their list of things to do, the Indians are looking to make a return trip to the semis. PV center Kyle Schneider was on that team that made the Final 4 in 2011and and remembers well what it took to get there.
"Making that run when I was a sophomore was a great feeling and we're starting to get that feeling again," said Schneider, who quarterbacked the Indians to the North 1, Group 3 final in football this past fall. "We made smart decisions with the ball and we were effective in slowing them down, which we had to do because we don't have a lot of depth due to injuries. I think we're starting to peak at the right time. Just like it was today, we'll have nothing to lose next week so that could work to our advantage."
FOR MORE PHOTOS OF THIS EVENT OR TO BUY A COLLECTOR'S PRINT OF THIS GAME STORY, PLEASE VISIT 4FeetGrafix.com.