DJ Lugo had 2 hits, scored 2 runs, drive in 2 others and stole 2 bases for Bergenfield in a 19-5 win over Demarest on Monday,
DEMAREST – The seeding meeting for the Bergen County Baseball Tournament is fast approaching and by the end of the week teams need to have a .650 winning percentage for automatic entry and 16 games played to be considered for one of the top eight seeds.
With parity across the competitive landscape making it hard to sustain winning streaks to put some distance between good teams and the .500 mark and the weather wreaking havoc in the games played category, there a bunch of Bergen County baseball teams in scramble mode this week.
Bergenfield, however, has placed itself comfortably above the fray. With a 19-5, 5-inning win on the road at Demarest on Monday, the Bears are now 11-3-1 on the season. With the winning percentage piece of the equation secured they need to play just one more game between now and Saturday then wait to see where they will be slotted.  And if the eye test is part of the seeding formula, then Bergenfield looks every bit like a team worthy of a first round bye.
"We are in a different position this year. We took care of business early in the schedule, so it is nice to not be in limbo," said Bergenfield head coach Chad Williams. "It was something we talked about before the season start, about not taking plays off or games off. Everything out and every inning was going to have an impact when you get to the county cutoff date and these guys stayed focused."
On Monday, the Bears waited for their opportunity and then pounced. Demarest starter Danny Bettinardi, a senior right hander, was perfect through the first two innings and was on the verge of escaping the third inning as well. Gabe Perez had reached on an error leading off the frame and Bettinardi got the next two outs, but the Bears would were not about to waste the extra out.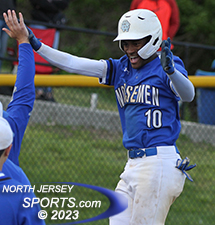 Demarest's Chris Guzman crossing the plate after his third inning home run.
Four straight two-out hits by David Almonte (1-for-4, R, SB), Brendon Pinto (3-for-4, 3 RBI, 2 R, SB), Jael Martinez (3-for-4, 3 R, RBI, 2 SB) and DJ Lugo (2-for-3, 2 RBI, 2 R, 2 SB) produced four runs and put Bergenfield in front for good. The Bears were just getting started. They sent 12 hitters to the plate in the fourth inning and scored eight times and batted around plus two in the fifth when they added seven more runs.
In all, Bergenfield wrapped out 15 hits in the third through fifth innings and no one had a better day at the dish than Jordan Martinez, who finished 3-for-4 with a home run, a double, two runs scored and a whopping 7 RBI with all of that damage coming in just the fourth and fifth innings.
"We got a big day out of Jordan today. His brother [Jael] has had a great season, he was one of the hottest hitters in New Jersey to start the year, so it was nice to see him have some success today with seven RBIs," said Williams. "That's a good day for him and a good day for is to get that production out of that spot in the lineup."
Jordan Martinez and Marcus Knowles (2-for-2, 2 R, 3 SB, SAC) combined to go 5-for-6 out of the No. 8 and No. 9 spots in the order and Caleb Garcia, who pinch hit for Knowles in the fifth and added a two-run single of his own to make it a coming 6-for-7 out of those two slots.
"I don't think I have ever had 7 RBIs in a game, definitely not, but my teammates gave me good opportunities to drive in runs and I wanted to come through for them," said Jordan Martinez, Bergenfield right-hand hitting first baseman. "We are motivated. We want to win games; we want to do the little things that add up. They made a couple of mistakes and we took advantage of them like a good team should."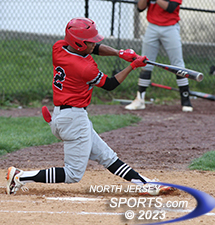 Brendon Pinto had three hits for Bergnefield, which improved to 11-3-1 on the season..
Demarest (4-9-1) did have a couple of highlights of its own. The Norsemen took a 1-0 lead in the bottom of the first inning on Trent Trevisan's RBI groundout and hung there after Bergenfield's first rally, the four spot it put up in the third. In the bottom of that frame Zach Kochnover led off with a blast well of the 345-foot sign just to the left of straight away centerfield and Chris Guzman made it back-to-back blasts with homer to left. Jake Bern drove in the other two runs for the Norsemen with a pinch hit single in the fourth.
Demarest is young. It started an all freshmen right side of the infield with Drew Greenberg at first base and Anthony Bernardez at second and sophomore Jon Hefter at short. The Norsemen have been more competitive than their record might suggest, but Bergenfield is a team built for now.
To say the Bears, who hold a one-game lead over defending Bergen County champion Northern Valley/Old Tappan in the Big North Conference -- National Division are excited for the stretch run might be a bit of an understatement.
"Bro, we are ready. We are ready, the energy is there and there is no pep talk needed," said Pinto, Bergenfield's senior shortstop. "It's within us. We have a lot of chemistry that we have built up and we are ready to play these big games coming up."
FOR MORE PHOTOS FROM THIS EVENT CLICK HERE. TO BUY A COLLECTOR'S PRINT OF THIS STORY PLEASE VISIT 4-FeetGrafix.com.