Payton Nista scored 22 seconds into the second half to break the game open as Mahwah advanced to the second round of the Bergen County Tournament with a 4-0 over Saddle River Day on Thursday.
MAHWAH – With a senior-laden roster, Mahwah did not want this trip into the Bergen County Tournament to be a short stay. Facing a young, athletic Saddle River Day side, the Lady Thunderbirds struggled to find rhythm in the first half. Like an experienced team, they never panicked and stuck to the gameplan. By applying pressure along the sidelines and stretching the Rebels' back line, they felt they would eventually break through and find the back of the net. With time winding down in the first half, they got the elusive goal, and it created an offensive wave that did not stop until the final whistle sounded.
Siena Kannenberg opened the scoring in the 37th minute. Then, just 22 seconds into the second half, Payton Nista knocked in a cross that opened the floodgates as 13th seeded Mahwah advanced to the Bergen County Tournament's Round of 16 with a 4-0 first-round win over No. 20 Saddle River Day on Thursday afternoon at Mahwah High School.
"With so many seniors playing in their last county tournament we know not to take anything for granted," said Mahwah head coach Allie Graff. "We have a lot of senior leadership and also a lot of depth, which helps in big games. This entire team is willing to do whatever it takes to get the job done. Whether it's switching positions, rotating starting spots, or helping with equipment. You name it, they do it. It's what makes this team so special."
Saddle River Day (4-2) came into the game with nothing to lose and played like it. Madison Minicucci and Tess Dorry were strong along the back line and the Rebels also had a pair of dangerous corner kicks that potentially could have put them ahead. One skipped across the goalmouth and another was saved by Mahwah keeper Micaela Tracey.
Nia Carrera and Saddle River Day are now 4-2 on the season.
In the final 10 minutes of the half, Mahwah started to use the width of the field more and found success in doing so. Jillian Gomez (a season-high 11 saves) made a pair of nice plays in net to keep the game scoreless, but they were not able to get to the halftime that way. Riley Bosticco sent a long cross into the box and Siena Kannenberg was there to collect it and score with 2:47 left to give the T-Birds a 1-0 halftime lead.
Before the Rebels even touched the ball in the second half, Mahwah had already doubled its lead. They two-touched passes right through to the top corner of the box before sending in another cross. Nista was sitting on the back post and volleyed it home to make it 2-0.
"That late goal in the first half really helped us loosen up and play our game," said Nista. "One thing led to another right out of the gate in the second half. We started connecting passes and I got a great cross from Julianna Capitanello. Just made sure I was in the right place and kicked it in."
In the 50th minute, Capitanello bent on a long shot to all but put the game away. Emma Jordan capped the scoring for Mahwah (5-2-2). Devon Tremblay and Sofia Kezmarsky had an assist each and Tracey made just two saves to earn her sixth shutout of the season.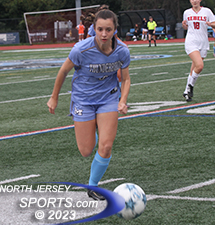 Siena Kannenberg scored for Mahwah, which will play No. Highlands in the Round of 16.
"We really lost the game on that second goal, that totally deflated us," said Saddle River Day head coach PJ Petrow. "To have that happen before we even touched the ball in the second half really hurt us. Mahwah is a talented group and deserved this result. We can only learn from this and help it makes us a better team down the road."
The competition gets much tougher in the Round of 16 where the Thunderbirds will face fourth-seeded Northern Highlands. The roles will be reversed from this game to that one, which will play next Thursday in Allendale. With nothing to lose and everything to gain, this senior-heavy squad will leave it all out there on the pitch.
"Northern Highlands is a very good team, and we have to play a full 80 minutes against them," added Nista. "We have to come out stronger than we did today. It's about being mentally prepared and doing whatever we can to score first and go from there."
FOR MORE PHOTOS FROM THIS EVENT PLEASE CLICK HERE. TO BUY A COLLECTOR'S PRINT OF THIS STORY PLEASE VISIT 4-FeetGrafix.com.