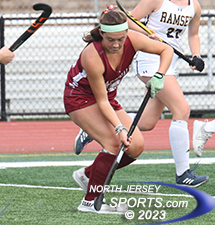 Pompton Lakes junior Krista Lilienthal has scored at least one goal in every game this season including in Pompton Lakes' 4-2 win over Ramsey on Tuesdasy afternoon.
RAMSEY – In the early portion of the season Pompton Lakes and Ramsey have shown why they are two of North Jersey's best field hockey teams. Having run roughshod through the competition, both were looking forward to getting the chance to test themselves against one another. They needed to see first-hand how they handled adversity against a quality opponent. With championship aspirations on their mind, the teams clashed in a game that was played with intensity more fitting of a county or a section final than a regular game in late September.
Trailing by a goal at halftime, Pompton Lakes came out on fire in the third quarter. Lacey Fasouletos tied the game early in the period and Sophia Torticill scored the go-ahead goal eight minutes later as Pompton Lakes kept its record unblemished and handed Ramsey its first loss of the season in one fell swoop with a 4-2 triumph on Tuesday at Ramsey High School.
Pompton Lakes junior Krista Lilienthal is the unquestionably one of North Jersey's best players and showed it consistently with her two-way play. She sliced her way through the defense on several occasions to create scoring opportunities. After dealing with constant defensive pressure, Lilienthal finally got a chance where it was all on her. On a penalty stroke early in the second quarter, the Rutgers University commit buried it in the upper left-hand corner to put the Cardinals in front.
Ramsey showed plenty of fight throughout the game and responded quickly. Bianca Aliano was a handful up the right flank all game long. She saved a ball from going over the end line and sent it back into traffic in front of the net. It somehow got through to Reese Connell, who tapped it in at the back post to tie the game. With 2:30 to go in the half off a scramble in front, Connell once again was in the right place at the right time, scoring to give the Rams a 2-1 halftime lead.
"We were a little discombobulated in the second quarter, we just needed to focus more in the third quarter," said Lilienthal. "The main thing was that we didn't switch our formation, we didn't change our style of play, and we didn't panic. Some of the best friends I have are on this team. We believe in each other, and we trust one another. It started with simply being positive and playing the way we know we're capable of playing."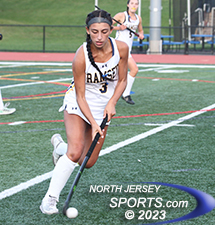 Bianca Aliano assisted on the first goal for Ramsey, which is now 5-1 on the season.
The halftime intermission was welcome for the Cardinals. After being on their heels for the majority of the second quarter, the 10-minute respite allowed them to regroup and hone in on their strategy to turn the momentum around.
"We found ourselves in this situation a couple times last year and we didn't have as much experience last year," said Pompton Lakes' head coach Tina Brindisi. "It was good for us to be in this situation today. The confidence and support that we gave each other is more second nature now. We're more comfortable in those situations and worked together to get out of it."
With Lilienthal at the controls, the Cardinals can transfer from defensive to attack mode quickly. She caused a turnover in the defensive third and broke out in transition. After carrying all the way into Ramsey's circle, Lilienthal slipped a pass to her left where Fasouletos was there to knock it home and tie the game just 2:31 into the third quarter. Then on another transition play, Olivia Trowbridge centered a pass to Torticill, who one-timed it just inside the near post to give Pompton Lakes a 3-2 lead.
"Our forwards really put the pressure on them in the third quarter, I just tried to find a spot to where I could get a good shot off," said Torticill. "We were pretty fired up going into the third quarter. Once we got the tying goal we just kept pushing until we got another one."
Down a goal with time winding down, the Rams pushed numbers forward and had a pair of quality chances to tie the game. Aliano broke free again, forcing Cardinals' goalie Bridget Leahy to come off of her line and make a sliding kick save. Then with just 1:20 to play, Ramsey was awarded a penalty stroke. However, the shot went just wide of the upper left-hand corner and Lilienthal scored at the other end in the waning seconds to ice the game.
Lilienthal has scored in every game for Pompton Lakes (6-0) and now has ten goals on the season. Leahy made six saves and picked up the win in net.Taylor Summers finished with 10 saves for Ramsey (5-1).
With the Cardinals now getting into the heart of their schedule, including a big game against rival Lakeland on tap this afternoon, they feel they are more prepared for dealing with anything that is thrown their way.
"We are really good at communicating and pulling together even when we're down," added Lilienthal. "We were down in the Passaic County final last year and pulled it together. This team to so close that we always feel we can lift each other up and find a way to win."
FOR MORE PHOTOS FROM THIS EVENT CLICK HERE. TO BUY A COLLECTOR'S PRINT OF THIS STORY PLEASE VISIT 4-FeetGrafix.com.