Freshman Alexis Barrow celebrated her 15th birthday by scoring the lone goal in Ramsey's 1-0 win over NV/Demarest in the North 1, Group 2 state sectional semifinals on Monday.
DEMAREST – It was just a little ball with some arc played over the top and then the race was on. It was Ramsey freshman Alexis Barrow against a Demarest defender and the goalkeeper and all three of them arrived at the top corner of the penalty box at just about the same time. The way the ball was spit out of the scrum carried heavy consequences for all involved and it was Barrow who provided the commentary after the game.
"I was running up the field and I was exhausted. I had been running back and forth and I went to the sidelines. I was getting ready for the moment," said Barrow, who, when that moment arrived, took off after the crafty service played in by Maya Bender.  "[The pass] was bouncing a little bit and I dove for it and it barely hit my foot. If I had gotten there a second later it would probably still be 0-0 and we would probably be in penalty kicks right now."
Instead, Barrow's goal with 12:38 left in the second half gave fifth-seeded Ramsey, the defending North 1, Group 2 state sectional champion, a 1-0 win over Northern Valley/Demarest, this year's No. 1 seed. Prior to the goal by Barrow, who was playing on her 15th birthday, Ramsey head coach Drew Strohmeyer was imploring his team to find a way in by keeping the ball on the ground and working combinations. Then Bender decided her best option was up and over instead of around and through.
"Sometimes it helps when they don't listen," said Strohmeyer, the former head boys soccer coach at Leonia, who took over as the Ramsey head coach when Kevin Sabella moved up to take the athletic director's position. "We knew it was going to be tough going today. Demarest has two really talented girls up top and the spine of that team is outstanding, so we knew we would have to play the ball out wide, keep possession to give ourselves some chances while still trying to hold them off."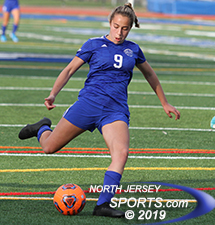 Demarest sophomore Emily Holzer was a handful up top of the Ramsey defense.
Soccer is the ultimate team game played in wide spaces, but every once in a while an entertaining one-on-one battle takes center stage and one of those took place in the middle of the field for 80 minutes between two of Bergen County's top players. Demarest's offensive target player is Emily Holzer, Ramsey's central defender is Helene Tyburczy and the talented sophomores went at it.
Holzer was effective in holding up play, retaining possession and allowing her teammates to run off of her in the transition from defense to offense and Tyburczy was adept at cutting off over passes and keeping the Rams' backline organized.
Demarest won the battle for possession, but did not have all that many clean looks on goal and when the Norsewomen did, Ramsey junior goalkeeper Emma Peters was there to bail her team out.
Thirteen minutes into the game Rachel Berg ran a give-and-go with Holzer, who played the senior striker in up the right side. Berg's attempt at a service was blocked and came right back to her feet and Berg's next try was on goal, a line drive from right to left that Peters took in with a dive to her right. Demarest came close on a couple of set pieces three minutes before and seven minutes after the halftime intermission. The first slid just by the foot of senior midfielder Casey Lam on the doorstep and the second was snared by Peters, who held her line against Holzer's free kick from just outside the 18.
Ramsey's defense was without junior center back Briana McEntee, who picked up a high ankle sprain in the quarterfinal win over Pascack Hills, which pulled versatile senior Caroline Schwanawede back from an attacking position to partnering Tyburczy. With Olivia Molinari and Emma Larson holding it down on the outside, the Rams were rarely caught out of position, but the one time they were Peters came up big in a game-changing sequence.
Maya Bender had the assist for Ramsey, which will play at Jefferson in the section final on Thursday.
Right at the midway point of the second half, Holzer perfectly timed her run on a long floating ball played forward into space and had two defenders in chase mode as he closed in on the penalty area. Peters did her best to come out and cut the angle and made a quality first save before scrambling back and denying the rebound in bang-bang fashion to keep the game scoreless.
Eight minutes later, Barrow got enough of her boot on the ball to put Ramsey in front for good. In desperation mode, Demarest got one final quality look courtesy of sophomore defender Liz Argenziano, who came up from the back as the Norsewomen threw numbers forward. Argenziano made a turn with the ball, played it out to the right to Berg, who put a shot on frame but right into the midsection of Peters.
It was a tough end for Demarest, which has been knocking on the championship door for the past two seasons. The Norsewomen fell to Ramsey in penalty kicks in last season's sectional final, earned the top seed this year and made the Bergen County Tournament semifinals in each of the last two seasons.
The upward trajectory of the program started under leadership of Brandon Silva, who coached Norsewomen for six years before moving over to IHA. Silva is back now and is committed to continuing the climb.
"The girls were not just happy to be here. We are past that. They are upset now and that means something," said Silva, whose team finished the season with a 14-4 record. "We've gone from walking out on the field with shin guards and no socks to now being on the level competitively. In terms of high school athletics, the goal is to give the kids a great experience, to teach them a little about soccer, try to win some games and get to the point that we would miss being around each other when it is all over. I think we accomplished all of that."
Ramsey lost a host of talented players from last year's team that reached the Group 2 state final, went through a coaching change and opened the season at 1-3, but has gone 14-1-1 since and is now just one win away from a second straight state sectional title.
"There is no other feeling that you can get like high school [soccer]. This feeling right now, going to the finals, and last year when we won the sectional final it is just so exciting," said Tyburczy, another player with the talent to toil solely inside the academy structure, but has prioritized the commeraderie of the high school game. "We have come together, we are a close team and now we are here. It has all worked out."
FOR MORE PHOTOS FROM THIS EVENT PLEASE CLICK HERE. TO BUY A COLLECTOR'S PRINT OF THIS STORY PLEASE VISIT 4-FeetGrafix.com.