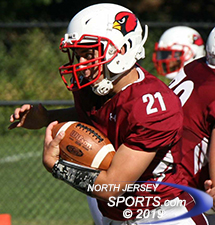 Dan Malkinski carried the ball 14 times for 112 yards and a career-high four touchdowns for Pompton Lakes, which got back to 2-2 on the season with a 35-19 win over Hawthorne on Saturday.
POMPTON LAKES – Football has a way of humbling a team, but also can bring that same team closer together after putting it through the fire. Pompton Lakes was put to the test after letting a 13-point lead slip away late in the fourth quarter in an eventual one-point loss to undefeated Lyndhurst last week that knocked the Cardinals from contention for the NJIC playoffs.
Pompton had to regroup this week and get back on pace to earn a berth in the state tournament. A solid week of practice culminated in a total team effort against a strong Hawthorne side that came in on a three-game winning streak.
P.J Latora and Jason Testino had fantastic games on both sides of the ball and helped open up holes for running back Dan Malkinski. The junior found the end zone four times and the defense forced four second-half turnovers as Pompton Lakes climbed back to the .500 mark with a 35-19 victory over Hawthorne on Saturday afternoon at Hershfeld Park.
"It was a really tough loss [to Lyndhurst] but everybody has been beating everybody in our league and we had to get back after it," said Pompton Lakes' head coach Scott Mahoney. "We finally clicked on both sides of the ball and we controlled the line of scrimmage, but it's never perfect and there are things you always work on and that's something we'll address."
The Cardinals got an early break when Hawthorne fumbled a punt return and sophomore Jesus Aponte fell on it to give Pompton Lakes great field position. Justin Garcia had a bulldozing 14-yard run and Malkinski followed with a 5-yard scoring jaunt to give the Cardinals an early lead.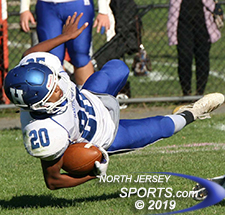 Jalen Palmer scored on a 73-yard catch and run to get Hawthorne on the scoreboard.
Three plays later, the Bears answered back through the air. Jayden Paladino faked a quick out then hit Jalen Palmer in stride on a wheel route for a 73-yard touchdown to tie the game at 7.
The Cardinals calmly responded with a clock-chewing jaunt to paydirt. The big play was a juggling catch by the tight end Latora. On a third-and-five from the Hawthorne 24, Michael Eberhart squeezed a pass through two defenders. Latora got a hand on it then alertly grabbed it while he was on his back before it hit the ground for a first down to keep the drive alive. Five plays later, Malkinski plunged over from the 1 to put Pompton back in front.
The lead had a chance to grow before the half until a heads-up play by Hawthorne's Jayden Shwed shifted the momentum. With less than a minute to play in the first half, the sophomore picked off a screen pass and took all the way down to the Cardinals' one-yard line before taking it in himself on the next play. Despite just running 12 plays and having the ball for less than five minutes in the 24 minutes of play during the first half, Hawthorne hung in and headed into the locker room down by just a point, 14-13.
"After the loss last week we knew we had to focus more and force some turnovers," said Testino. "Every play is important and we had to play every play like it was our last. No matter what happens we couldn't let up and we had to be tougher up front."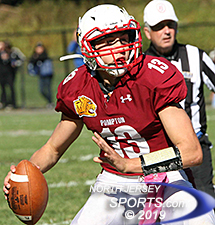 Pompton Laeks QB Michael Eberhart finished with 209 yards of total offense.
The Bears had two possessions to start the second half with a chance to take the lead. Led by Latora and Testino up front, Pompton Lakes' defense dominated the line of scrimmage in the second half forcing a turnover and a three-and-out. Sophomore Zach Maksimiak carried the ball just two times during the game but made the most of it. He broke a tackle in the hole on his first touch and raced nine yards to the end zone to pad the Cardinals' lead to 21-13.
On the ensuing Bears' drive, an option pass from Joe Aliano to Ashton Navarrete for a 32-yard gain brought the ball to the Pompton 27. Once again, the Cardinals' defense buckled down three consecutive sacks. Latora dropped Paladino on first down before Testino had back-to-back sacks to thwart any potential scoring threat.
Center Dylan Graf was a mauler up front all game long and got stronger as the game went on. Malkinski took over in the fourth quarter and often ran behind Graf on his way to two fourth-quarter TD's that put the game away.
Malkinski carried the ball 14 times for 112 yards (8 yards per carry) and a career-high four touchdowns for Pompton Lakes (2-2). Latora did a little bit of everything with five tackles, two sacks, and two fumbles forced along with four catches for 71 yards. Testino notched a career-high three sacks and Eberhart finished with 209 total yards of offense (136 passing, 73 rushing).
Joe Aliano added the final touchdown scoring on a 40-yard screen pass in the final minute for Hawthorne (3-2).
The win over a Group 2 team that was 3-1 coming into the game was especially big in terms of the United Power Rankings for the state tournament. With the heartbreaking loss to Lyndhurst now well in the rear-view mirror, the Cardinals are looking forward to getting on a roll and have it hopefully carry them all the way into December.
"We're excited to see what's ahead of us now that we're coming together," said Latora. "It's football, we have to stick to basics and just hit the guy in front of you harder than he hits you. I've never seen us play like this but now we're confident that we can do it and we've gotta do it again next week."
FOR MORE PHOTOS FROM THIS EVENT PLEASE CLICK HERE. TO BUY A COLLECTOR'S PRINT OF THIS STORY PLEASE VISIT 4-FeetGrafix.com.