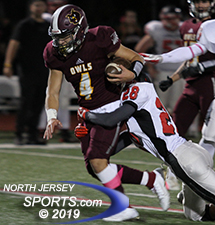 Vinny Pinto ran for two scores for Park Ridge, grabbed a spot in the NJIC playoffs with a 21-7 victory over rival Emerson.
PARK RIDGE -- Senior quarterback Vince Pinto ran for nearly 200 yards and two touchdowns and passed for 40 more yards, including a 17-yard TD strike to senior Justin Wagner, to lead Park Ridge past rival Emerson, 21-7, Friday night for a win that locked up a league championship and a spot in the NJIC playoffs.
"All week we practiced as hard as possible," he said. "For me coming back from my injury I took this the most serious than I ever have in my whole career. I love this game and I love this rivalry and I did it for the love of this game."
Pinto led Park Ridge down the field on a 12-play, 57-yard drive the first time it had possession of the ball. The drive, made up of nine running plays and three pass plays, consumed 6:22 of the clock and culminated with that pass to Wagner.
About four minutes later the Cavos tied the game thanks to the heroics, on both sides of the ball, of junior Frankie Savino.
First, as a defensive back, Savino intercepted a pass to give Emerson possession at the Park Ridge 36-yard line. Then, on offense, Savino took the center snap and pitched the ball to junior wide receiver Nick LaForge. LaForge ran to the left, stopped and tossed the ball back to Savino, who looked downfield and lofted the ball to a wide open wide receiver, junior Tyler Reissner, who caught the ball and carried it into the end zone. Reissner booted the extra point and the game was tied, 7-7.
But Park Ridge has been there before and they were determined to take back the lead.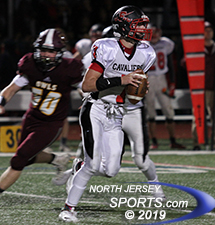 Frankie Savino intercepted a pass to set up Emerson's lone score, a TD pass to junior Tyler Reissner.
"There were plenty of times last year like in the playoffs against Cresskill in the first round, when we were down and we just kept fighting. The coaches and the players push each other to keep fighting," said Pinto. "We want to play in even bigger games than where we are now."
"That's been one of our trademarks," added Owls coach Tom Curry IV. "We got down in close games in the state playoffs last year and we came roaring back every single time. I tell them not to look at the scoreboard; the score is always 0-0. They have a pretty good tendency to do that. It's tough against a rival like Emerson with emotions running high but they did a great job."
Junior Luke Papataros returned the kickoff 33 yards to set Park Ridge up at the 35-yard line. A couple of runs and two penalties gave the Owls a first down at their own 46. Behind great blocking Pinto burst through the middle for 29 yards and a first down at the 25-yard line. Two plays later Pinto ran around right end for 18 yards and a touchdown.
"They're just work horses," Pinto said of his offensive line. "Every time we're in a specific spot, Iike this, I tell them, 'this is it, drive your feet, be relentless.' And they were relentless. There are definitely some dogs up front."
The point after touchdown was blocked but Park Ridge led, 13-7.
The Owls defense forced the Cavos to punt and Pinto drove the team to midfield. But Savino intercepted another pass and the Park Ridge defense had to come back on the field with 1:22 to go in the first half.
Savino drove his team downfield with a 12-yard hookup to junior wide receiver Michael Pressimone and a 9-yard connection to LaForge. LaForge gained 10 yards on a run and Savino bolted for 13 yards down to the Owls 23-yard line.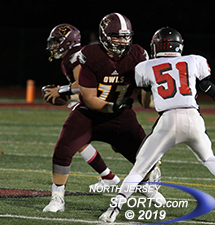 Park Ridge will play Cresskill in the opening round of the NJIC Tournament.
But the Park Ridge defense stepped up as junior linebackers Danny Kim and Brendan Hughes dropped Cavos ball carriers behind the line of scrimmage for losses on back-to-back plays. As time was running down two incomplete passes turned the ball back to the Owls with five seconds to go and Park Ridge ran out the clock to end the first half.
The Owls came out of the locker room with renewed energy and moved the ball downfield quickly. Pinto gained 12 yards, then 17 more as he kept his feet while bouncing off Cavos defenders. With a first down at the Emerson 32-yard line the Cavos defense caused a fumble and senior lineman Cole DeMagistris recovered the ball for Emerson.
"We shot ourselves in the foot a little bit," said Curry. "There were some miscues. We had a couple of good drives and we had uncharacteristic turnovers, fumbles and some interceptions. If we had maintained those drives we probably could have put a couple of more points on the board."
Instead, Emerson got the ball, but now it was time for the Owls defense to bail out the offense. And they did, forcing Emerson into a 3-and-out.
"Our defense is overshadowed by our offense because we have so many playmakers always making plays," said Pinto. "But it's crazy what our defense does every single game. They've only let up 21 points. I turned the ball over four times and I can't thank them enough for holding them (Emerson) so many times."
"It was an unbelievable job by the defense," said Curry. "Our defense played outstanding. We've been priding ourselves in that all year. Our linebackers are stellar."
But the Emerson defense was also doing a great job and they did not allow any further points until late in the fourth quarter.
"Hats off to them," said Curry. "They did a great job of taking away a lot of the stuff we like to do. They took away our throwing game, tried to slow the game down and they did. They took us out of a lot of stuff we like to do. We are a vertical passing team and they really played their safeties far back. So we took what we could and did our best. But they did a great job."
With a little more than four minutes to go in the game Owls sophomore defensive back Matthew Manning intercepted a pass to give Park Ridge a first down at the Cavos 29. Eight plays later, with Wagner and Pinto taking turns running the ball, Pinto scored with 1:03 to go in the game to put the Owls up by 14, 21-7.
"After the first couple of runs," Pinto said, "I felt we were full steam ahead. It was like arm wrestling and we were just yamming them down. I felt if we just kept running the ball there was no way they were going to stop us. And that's exactly what happened."
"We said let's get the ball into Wagner and Pinto's hands," said Curry. "Even though he (Pinto) was a little off tonight those two are our bread and butter. I'm going to go down with the best I have. Vince has been doing it for us for three years. I have more confidence in him than maybe he has in himself. But it was great to see him fight back."
With the win Park Ridge makes it into the NJIC playoffs again. And since Cresskill came from behind to defeat Butler, 39-34, the two teams will meet again in the first round of the playoffs.
"We have seen the Cougars many a time before," Curry said, laughing. "We'll game plan as best we can for them. Now the fun begins because you're playing all good teams.
"Being there last year we got a little taste of it and now we want to see if we can make that next jump in the NJIC and hopefully we can. Cresskill will be tough. It's an opponent we've seen many times but we'll have our guys ready."
FOR MORE PHOTOS FROM THIS EVENT PLEASE CLICK HERE. TO BUY A COLLECTOR'S PRINT OF THIS STORY PLEASE VISIT 4-FeetGrafix.com.