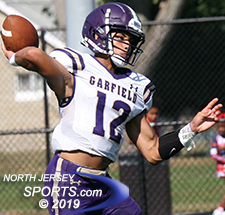 Quarterback Jason Hawes and the Garfield offense was pretty much unstoppable in a 42-20 victory over Rutherford on Saturday.
RUTHERFORD – Garfield came into the 2019 season with not many believers outside of their own locker room and understandably so. While the program has made strides in recent years, the reality is that the Boilermakers have a first-year head coach and a history that includes all of 1 playoff win in the past 45 years.
On the 70th anniversary season of the legendary 1939 national championship team, this year's squad has made it a goal to create some history of its own and the opportunity to gain some steam came on Saturday when the Boilermakers got a shot at two-time defending state champ Rutherford.
Mission accomplished.
Behind a dominating performance from the offensive line, Josue Matias ran through and around the Bulldogs' defense to the tune of 248 yards and four touchdowns as Garfield earned a long-awaited statement win with a 42-20 victory over Rutherford on Saturday afternoon at Tryon Field.
"I think we're starting to realize that our talent and our physicality will speak for itself when things are clicking," said Garfield head coach Pete Santacroce. "The big guys up front do the job on both sides of the ball and we have the skill guys that can make big plays. We still have to clean things up with all of the penalties, but this is a big win for our program."
Rutherford quarterback Evan Ward had two TD runs for the Bulldogs.
Garfield created its own breaks starting with an interception by Tommy Cruz on the third play from scrimmage. Penalties seemed to stall the drive but quarterback Jason Hawes came up clutch. On a third-and-26 near midfield, the poised senior threw a perfect strike on a deep out. Zachary Cook hauled it in and dragged his feet to keep them in bounds for a 29-yard gain that kept the drive alive. Three plays later, fullback Kenneth Richardson stiff-armed a defender and raced 18 yards to the end zone for a 7-0 lead.
After a three-and-out and a short punt gave the Boilermakers great field position, it took just three plays for them to cash in. Matias walked in untouched for a four-yard TD run to double their lead to 14-0. Garfield's third possession of the first half was also in Rutherford territory. This time it took just one play to find paydirt. Jason Hawes rolled out to his right then dropped a dime, hitting Nakie Graham in stride for a 49-yard scoring strike and a 21-point lead.
The best drive of the game for Rutherford game on a clock-churning drive to end the first half. On a drive that took nearly 11 minutes the Bulldogs nearly ran out of time but caught a break. A defensive pass interference on the final play of the half gave them one untimed down at the 2. Quarterback Evan Ward dove in for the touchdown that got the Bulldogs on the scoreboard and gave them some life. However, it took just one play for that life to get sucked right back out of them.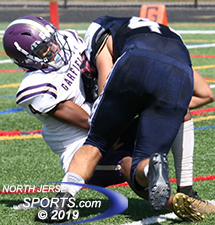 Wilfredo Marquez is a part of a stingy Garfield defense that has the Boilermakers off to a 3-0 start to the season..
On the first play of the third quarter, Matias ran through a gaping hole on the right side of the line and went all the way up the sideline for an 80-yard touchdown run. Then on his next carry, he went off the left side for a 78-yard run that set up his own six-yard touchdown that put the game away with a 35-7 lead midway through the third quarter. 
"Our O-line did an awesome job today and they deserve all the credit," said Matias. "We're so well-coached and we know what we have to do. When we execute plays the right way, natural instincts just kick in and you start seeing positive results."
Ward added a second TD run and Kris Guzman also found the end zone for Rutherford (2-1).
Garfield now improves to 3-0 on the season. This puts the Boilermakers on a collision course with Waldwick/Midland Park with a league title likely at stake. But after being overlooked for years, if not, decades, the senior-laden squad knows not to look past any opponent now that they have become the hunted instead of the hunter.
"Our goal is to put in the work every day and then go 1-0 on that particular week," said Garfield's Michael Alfonso, an anchor on both the offensive and defensive line. "Everybody here has put in the work and you can see the change in our culture. I can't what to see what we have in store for next week and for the rest of the season. Every one of our opponents is going to want a piece of us now because we're a force to be reckoned with."
FOR MORE PHOTOS FROM THIS EVENT PLEASE CLICK HERE. TO BUY A COLLECTOR'S PRINT OF THIS STORY PLEASE VISIT 4-FeetGrafix.com.