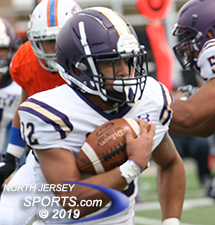 Josue Matias scored a career-high 5 TDs for Garfield, which pulled away from Lodi in the second half on the way to a 40-21 victory on Saturday afternoon.
LODI – As the Garfield players walked to the locker room for halftime they had just played a first half in which they were in complete control in all aspects against archrival Lodi. However, the scoreboard did not reflect their efforts.
A pair of identical flea flicker plays by Lodi went for long touchdowns and Garfield's lead at the intermission was a measly three points. The Boilermakers' confidence never wavered as they remained physical upfront and tailback Josue Matias doing the rest.
Matias rushed for 162 yards and a career-high five touchdowns as Garfield dominated the second half to give new head coach Pete Santacroce his first career win, 40-21, over Lodi on Saturday afternoon at Lodi High School.
"My O-line was great today and we just did what we've been taught to do," said Matias. "I just had to follow my assignments and follow my guards to get to the second level"
Lodi looked to set the tone early with a 58-yard return of the opening kickoff down to the Garfield 20. The Boilermakers' defensive line stuffed Lodi runners on three straight plays to force a field goal attempt that fell short.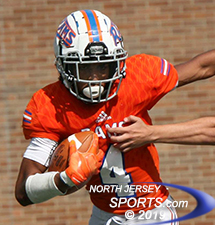 Chris Diaz caught one of three Lodi touchdowns that came courtesy of flea flicker plays.
It took just one play for Garfield to move into Rams' territory with Nakie Graham taking a wide receiver screen from Jason Hawes and going 45 yards. Five plays later, Matias bulled his way up the middle for a four-yard TD.
Lodi forced a fumble and recovered near midfield. Just two plays later though the Boilermakers were able to double their lead. Michael Alfonso was the catalyst on both sides of the ball. He forced and recovered a fumble before throwing a devastating block that opened up a huge hole for Matias to run through on his way for a 45-yard TD to make it 12-0.
Lodi had trouble running the ball all game and used a bit of trickery to stir things up. On what looked to be a reverse running play for the wide receiver, the ball was flipped back to Rams' QB Joe Velardi. He heaved up the left sideline for Aaron Marovick, who outleaped a defender for the 50-50 ball and came down with it for a 30-yard TD catch to get Lodi on the scoreboard.
Matias answered with a 20-yard TD run to stretch the lead back to double-digits only to see the Rams answer back late in the first half. On an identical play to the first flea flicker play minutes earlier, Velardi dropped a dime to Marovick. He made an over-the-shoulder catch and went 59 yards to paydirt with 1:02 left in the half as Lodi stayed within striking distance, down 18-15.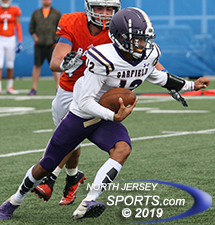 Jason Hawes and Garfield got new head coach Pete Santacroce his first career win.
"We weren't happy that Lodi got back in the game, we had to stay focused and dominate up front," said Reyes. "We talked at halftime that if we kept putting up points that it would be hard for them to keep up with us. Our focus had to be on staying physical in the second half."
Garfield came out determined to make a statement in the second half. They did just that by dominating the interior line on both sides of the ball. Charles Davis, Omar Reyes, and Alfonso used their strength to their advantage and the rest of the team followed suit.
Zachary Cook broke off a 19-yard run and Matias raced into the end zone from 17 yards out on the next play to cap a 6-play, 54-drive to open the second half. Nakie Graham hauled in the two-point conversion to make it 26-15.
Cook had a strong second half as his fumble recovery on the ensuing Lodi possession gave the Boilermakers a short field. Matias cashed in with his fifth TD run of the day. Early in the fourth quarter, Maxwell Drakeford delivered a huge hit to force a fumble with Cook recovering it for a scoop and score that put to rest any hopes of a miraculous comeback.
Hawes threw just four passes but completed three of them for 91 yards in the win for Garfield (1-0), its sixth straight over Lodi. Half of the Boilermakers' possessions started in Rams' territory.
Chris Diaz had a TD reception from Velardi for Lodi (0-1). In an incredibly rare occurrence, all three of the Rams' touchdowns came off of flea flickers. Velardi was efficient completing 7 of his 9 passes for 111 yards and three touchdowns.
Garfield will look to keep its winning ways going in its home opener next week against Glen Rock before a showdown the following week with Rutherford. While the Boilermakers are happy with win No. 1 they know a lot of adjustments have to be made if they going to make a run at NJIC and state tournament playoff berths.
"This is a big win for us. We have to build off this and keep our intensity up for (Glen Rock)," said Reyes.
FOR MORE PHOTOS FROM THIS EVENT PLEASE CLICK HERE. TO BUY A COLLECTOR'S PRINT OF THIS STORY PLEASE VISIT 4-FeetGrafix.com.