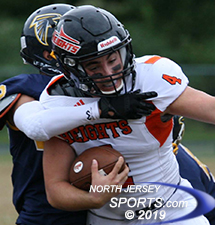 Hasbrocuk Heights QB Spencer Lee completed 6 of 8 passes for 109 yards and a touchdown lead an efficient offense to a 47-15 win at Saddle Brook on Saturday.
SADDLE BROOK – Over the past two years, the Hasbrouck Heights' football team has had to deal with just about every conceivable pressure situation with the exception of one: How to respond after a loss. A season-opening defeat against Cresskill last week snapped a 15-game win streak and was the Aviators' first setback since 2017. With doubts about whether this was the year Hasbrouck Heights would finally take a step back toward the pack the Aviators could not wait to get on the field again. With plenty of senior leadership on and off the field, they refused to let one loss define their season.
Senior quarterback Spencer Lee rushed for two first-quarter touchdowns and fellow senior Michael Robertson also found the end zone twice, the latter of those coming on an 80-yard kickoff return to open the second half, as Hasbrouck Heights dominated from start to finish in a 47-15 win over Saddle Brook on Saturday.
"We came into this week a little sad about what happened against Cresskill but we had to deal with adversity and get past it," said Lee. "Adversity is going to come during the course of a football season but you have keep working to get over those humps."
Saddle Brook caught a tough break with the Aviators' week 1 loss, knowing that they would be out for redemption. Another tough break came less than two minutes into the game when the Falcons' best playmaker, quarterback Dereck Muoio, got sacked and was knocked out of the game with a groin injury.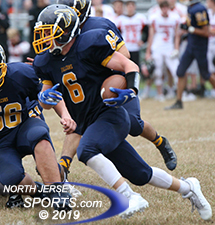 Saddle Brook averted a shutout on a TD run by Jason Muoio
The Aviators had good field position all game long and took advantage of it. Lee quickly led them down the field on a five-play, 58-yard drive capped by his own 15-yard touchdown run.
A pass interference penalty put the Falcons in Hasbrouck Heights' territory but not for long. A delay of game penalty stalled the drive and a short punt set up the Aviators again with good field position. Robertson did the heavy lifting on the drive before Lee bulled his way in from four yards out before hitting Zai'heer Jenkins for the two-point conversion and a 14-0 lead.
"We came out with a lot of intensity today and that starts up front," added Lee. "We were physical but we were also disciplined. It came down to executing each play, limiting our mistakes, and just everyone doing their job."
Turnovers were an issue in the first half for the Falcons and Hasbrouck Heights cashed in. Two plays after Lee's second TD, a Saddle Brook snap was fumbled.  Aviator linebacker David Morgan picked it up and went 38 yards to the house. Then on the next series, junior Rocco Minichiello picked off a pass then was rewarded on the other side of the ball. He caught a quick slant on a third-and-10 and went 26 yards to paydirt to make it 28-0.
After Robertson rushed for an eight-yard scoring jaunt, Hasbrouck Heights had several chances squandered several chances in the second quarter to get the necessary 35-point lead in order for the clock to run but as the teams went to halftime the lead was 34.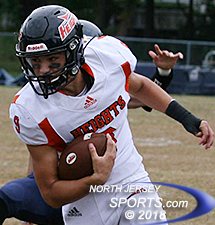 Heights' Rocco Minichiello set up his own TD that made it 28-0 by picking off a pass.
That all changed on the second half kickoff as Robertson essentially put the finishing touches on the win by splitting two huge blocks in the middle of the field and going untouched 80 yards for the touchdown and a 40-0 lead.
Understated in the win for Hasbrouck Heights (1-1) was how its defense was equally as dominant. The Aviators allowed just one first down over the Falcons' first seven offensive series. Lee completed 6 of 8 passes for 109 yards and a touchdown. Mohammed Assaf added a rushing TD for the Aviators, who, as a team, averaged over 6.2 yards per carry for the game.
Saddle Brook (0-2) averted a shutout on a TD run by Jason Muoio. John Hacker hauled on a 45-yard scoring strike from Max Cue on the final play of the game with Muoio running in for the two-point conversion.
Now with the stinging feeling of the Cresskill loss in the rear-view mirror, the Aviators will turn their attention towards a dangerous Becton squad. 
"We feel pretty good about how hard we worked all week and we want to have another good week of practice before we play (Becton)," said Jenkins. "We moved the ball all game and our defense had 11 guys going to the ball. I think we were humbled by the loss to Cresskill. But we feel pretty good about getting back on track and getting back to playing Heights football."
FOR MORE PHOTOS FROM THIS EVENT PLEASE CLICK HERE. TO BUY A COLLECTOR'S PRINT OF THIS STORY PLEASE VISIT 4-FeetGrafix.com.