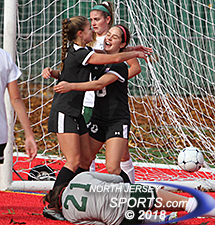 Elizabeth Peebles (right) celebrates the opening goal of Northern Highlands' 3-0 win over Ramapo in the North 1, Group 3 state sectional final on Saturday.
ALLENDALE – A high-level soccer between two of the state's best teams is going to come down to the little things, and in this case it was the size of the left shoe of Northern Highlands senior Claudia Dipasupil.
"I wear a 9-and-a-half men's in cleats," said Dipasupil, the senior who is in her final week of high school soccer before heading off to the University of Tennessee.
It was with that 9-and-a-half sized boot that Dipasupil served up two first half goals in Northern Highlands' showdown with Ramapo in Saturday's North 1, Group 3 state sectional final. That was more than enough for the Highlanders, who won their eighth straight state sectional championship with a 3-0 victory in Allendale and also avenged a rare regular season loss in the process.
"I am so happy. I am so proud of how they came out and played, especially for our seniors, in a sectional final like this against Ramapo. This was like a state final to some degree," said Northern Highlands head coach Tara Madigan. "I think with the way we played today we have a lot to be proud of."
You could pick the All-State team with the array of talent run out there by the two sides so any mistake was going to be magnified. A perfectly placed corner kick by Dipasupil midway through the first half put Ramapo under the spotlight and Elizabeth Peebles was the beneficiary. Dipasupil put the ball on the same plane as the crossbar and a few yards out in front of the post. When the service was not handled cleanly, Peebles got a shoulder and then a foot on the ball in the middle of a mad scramble to give Northern Highlands the lead for good with 19:38 left in the first half.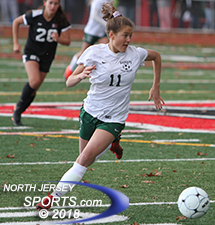 Mary Claire Langan's work in the midfield led to some of Ramapo's best chances.
Ten minutes later Dipasupil hit the target again, this time through the run of play. Working the left touchline and advancing toward the corner flag, she sent in the perfect service to the back post where senior Katie Murray was making her usual backside run. Murray got her body between the ball and the defender to give herself a free header and then squeezed her shot between the keeper and the post to make it 2-0 with 9:22 left in the first half.
"It's tough to play catch-up. They came out at their strongest and we took a little too long to get going," said Ramapo head coach Sarah Franchini. "We never caught up."
Highlands with a two-goal lead is a layup, even against a Ramapo team that kept after it. The Green Raiders had a chance to cut their deficit just before the half when Ava Vignone got into a race with Highlands keeper Sara Ghorashi and created enough of a commotion to cause the ball to squirt free. Dani Zerbo ran on, took one dribble to the left to create space and then put a shot the net that had been emptied of its keeper. Highlands defender Grace Smiechowski was right where she was supposed to be, however, and headed the ball off the line to keep the two-goal advantage heading into the intermission.
Playing behind the stout Highlands back line, Ghorashi, a first team All-County keeper as a junior last season, is never going to be called upon to dive all over the place to keep her team in games. Her contribution is more subtle, but important. She has the instinct of when to leave her line and she does so with conviction to pick off through balls that could become dangerous without decisive intervention. Ghorashi works the edges of her area to cut off trouble before it can materialize.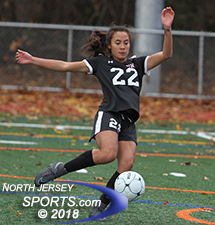 Claudia Dipasupil had two assists for Northern Highlands, which will play Middletown North in the Group 3 state semifinals on Tuesday.
"Ramapo is a very direct team and they transition up the field really quick and I know I have to be focused because anything could come my way at any time," said Ghorashi. "When I know I am going to step I don't hesitate and when I know I am going to stay back I just try to read where the play is going and keep my eyes on the ball."
That is not to say that Ghorashi cannot make the spectacular save when the opportunity arises. After a Ramapo own goal with 25:01 to play in the game gave Highlands a 3-0 lead, Ghorashi made foiled what turned out to be the Raiders' best chance to deny the Highlanders a shutout. In a pretty piece of work, Ramapo's Mary Claire Langan worked a give-and-go combination with Mary Cochran, which got Cochran in position to send in a cross from the right corner. Kelly Heffernan used her first touch to sweep a shot on target from close range, but Ghorashi held her line and made her best save of the game with 19:24 remaining.
The loss was the end of the road for Ramapo, whose season highlights included the regular season, overtime win over Highlands and trips to the Bergen County Tournament semifinals and the section final.
"This one game doesn't define our season. We have had an incredible season, we have an incredible group of girls," said Franchini. "Honestly, I will miss them all."
Highlands now heads back to the round where it season ended last season, the Group 3 state semifinals. The Highlanders, who have won six of the last nine outright Group 3 state championships, will play Middletown North at Livingston High School on Tuesday night with a 7:30 p.m. start time.
"We are back on the field tomorrow and all in for Tuesday," said Dipasupil. "That is our next focus."
FOR MORE PHOTOS FROM THIS EVENT PLEASE CLICK HERE. TO BUY A COLLECTOR'S PRINT OF THIS STORY PLEASE VISIT 4-FeetGrafix.com.