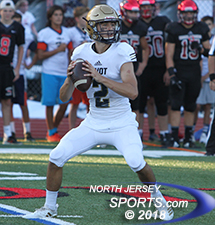 Drew Dippolito's first pass as varsity starter went for a 36-yard TD and Old Tappan rolled from there in a 35-14 win over Northern Highlands in the season opener for both teams on Thursday night.
ALLENDALE – To be the starting quarterback for Old Tappan's football team requires not only the obvious athletic tools, but also the ability to be patient. A lot of signal-calling talent has come through the Northern Valley over the past decade plus and opportunities to assume the starting role are not easy to come by. Drew Dippolito, like Nick McNerney, who led the Golden Knights to a state sectional championship last season, had to wait until his senior season to get his shot.
He was obviously well prepared.
With his first throw in his first game as a varsity starter and on Old Tappan's first offensive snap of the 2018 season, Dippolito snapped off a 36-yard touchdown pass to Johnny Lohrer. The Golden Knights, despite heavy graduation losses, picked right up where they left off after last year's undefeated state championship campaign with a 35-14 win over Northern Highlands in Allendale on Thursday night.
"Coming out here I was obviously a little nervous. It was my first varsity start, but I got the jitters out in the pregame and we were ready to go to work right from the first play," said Dippolito. "I just had to stick to the stuff we practiced all week. I saw the coverage, I saw that Johnny [Lohrer] matched-up against their corner and I just put the ball out to him and let him go get it."
Old Tappan got up to speed quickly and did not slow down until it built a 35-0 lead by halftime. Dippolito was 14-for-19 passing for 203 yards in the first 24 minutes and threw touchdown passes to Lohrer, Will Andresen (6 yards) and John Caracciolo (23 yards) without throwing an interception.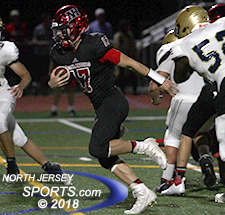 Jack Stephen scored both of Highlands' TDs on fourth quarter runs of 17 and 34 yards.
"[Dippolito] did a great job. He's got good composure. He stands tall back there, he knows when to tuck the ball and go. He had some pressure on him a couple of times and had a couple of big runs when he took off and got into the open field," said NV/OT head coach Brian Dunn. "He is a bright kid. It is his first year starting, but he has played the position for four years. He knows the routes and he knows the reads. He is just letting his skill take over now."
Chris D'Amico ran for a nine-yard touchdown and Lohrer scored on a one-yard plunge as Old Tappan displayed it new arsenal of weapons before pulling as many starters as it could in the second half where the clock ran unabated for the entire third quarter and most of the fourth. Sophomore Daniel Hwang also made all five of his point-after-touchdown attempts.
For Lohrer, a senior and one of the few holdovers from last year's undefeated team, it was business as usual even though there are many new faces in the starting lineup on both sides of the ball.
"It feels good to start off with a win. Everybody thought it was going to take us a while to reload, everybody thought we lost everything to graduation, but this is how our program is. We keep building, new guys come up, they get better, the coaches bring us together and we win," said Lohrer. "Once the game started and we got a feel for it, I knew it was going to go pretty good and that we were going to get this win."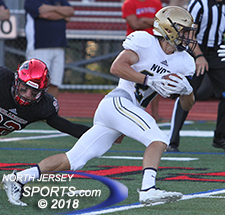 Senior Johnny Lohrer scored twice in the first half for Old Tappan, which did all of its damage in the first half.
Old Tappan also did it on the defensive side with junior Jake Piccinich picking off Northern Highlands' first pass attempt of the season to set up the Knight's first touchdown. Highlands went three-and-out on its second drive and its third ended when junior Anthony Pizzi picked off a pass near midfield.
Highlands broke up the shutout late in the game when starting quarterback Jack Stephen ran for a 17-yard score with 5:47 left in the fourth quarter and was in the game long enough to run for another, a 34-yard jaunt with 1:37 left on the clock. Sebastien Tasko was true on both of the Highlanders' PAT attempts.
Northern Highlands (0-1) will try to get on track next week when it pays a visit to Clifton, while Old Tappan will try to run its overall winning streak to 14 games when it host Ridgewood to start a three-game gauntlet. A visit to Wayne Hills looms on September 14 with Ramapo coming into town the week after. Throw in Pascack Valley after that and the revamped Knights will get to see exactly where they stand against fellow public school elites in the first month of the season.
"Regardless of physical skill, we expect the same type of effort, toughness and physicality. That is what we are looking for and if we can do that the score will take care of itself," said Dunn. "Hopefully we execute well enough to be successful."
FOR MORE PHOTOS FROM THIS EVENT PLEASE CLICK HERE. TO BUY A COLLECTOR'S PRINT OF THIS STORY PLEASE VISIT 4-FeetGrafix.com.