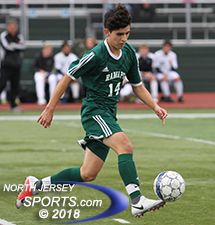 Senior Matthew O'Shea had two assists for Ramapo, which controlled the midfield from start to finish in a 6-1 win over West Milford in the opening round of the North 1, Group 3 state sectional playoffs.
FRANKLIN LAKES – It is not too often that the Ramapo boys soccer program heads into the state tournament as somewhat of an unknown entity. Having won the Bergen County and league titles in each of the last four seasons, the Green Raiders had an earlier than expected exit this year and have had to wait a while to reestablish themselves as a postseason threat.
They got the chance on Monday and they made the most of it. Ramapo, the No. 2 seed in the North 1, Group 3 state sectional tournament, opened the scoring just nine minutes into its opening round match against No. 15 West Milford, added three more goals before halftime and cruised into the quarterfinals with a 6-1 victory in Franklin Lakes.
"We have stayed focused and worked really hard. After the loss to Waldwick [in the county tournament], we've put our nose to the grindstone and kept after it. It showed today and I am proud of this team for the effort today," said Ramapo's Chris Heffernan. "We have taken the same approach. In past years we were not the underdog, maybe this year we are, but we just trust the way that Ramapo plays and we know that we are capable of anything."
The Raiders were certainly capable of stretching the West Milford defense from the out-set. They forced the Highlanders into retreat and used the pressure to create scoring chances from both the run of play and on restarts of various sorts. Ramapo nearly got on the board Aidan Bennett-Jones connected on a header off a free kick, but it was waved off for off-side in the eighth minute. Just over a minute later, Bennett-Jones got another chance off a rolling cross from the right played in by Liam Nelson and this time the goal stood for the 1-0 lead.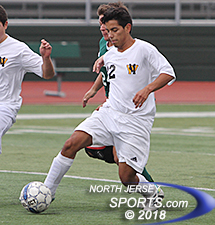 Justin Pinedo and West Milford wrapped up a 7-10-2 season.
Heffernan then volleyed in a Griffin Reda corner kick at the midway point of the first half to make it 2-0 and put Ramapo in firm control.
"This is a group that keeps at it. We are constantly getting better. Did we start at a different point than we did last year? For sure, but I am just proud that they have been into it and working hard to become a better soccer team," said Ramapo head coach Evan Baumgarten. "We have to bring it every time. We talk about not cheating the game. You have to work at it and everything else will take care of itself."
Ramapo (12-3-1), whose three losses all came against teams that made it at least as far as the Bergen County Tournament semifinals, kept working with its starting 11 right through the first half. Less than one minute after West Milford had its best scoring opportunity of the game to that point on a free kick from the middle of the park that went wide off the foot of Mike Ribarczek, Andrew Kraus made a spirited run up the right hand side and finished the counterattack with a shot back across the face of goal and in to make it 3-0 with exactly 11 minutes to play in the first half.
Senior Matthew O'Shea, who controlled the tempo and possession from his spot in the central midfield, set up the Raider's fourth goal with a deft first touch. He took down a ball with his toe and kept his forward momentum going, which pulled the defense toward him. That opened space for Nelson to run into and he used his first touch to finish and make it 4-0 heading into the halftime break.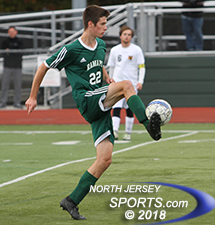 Chris Heffernan and Ramapo will host seventh-seeded Roxbury on Thursday in the North 1, Group 3 quarterfinals.
All the while, Ramapo's defense kept right on winning balls and limiting the traffic in front of senior goalkeeper Jeremy Andreoli, who touched the ball only a few times in the opening 40 minutes before giving way to junior Michael Ferro.
"I thought the whole team gave maximum effort. We prepared well and got the job done," said Rob Chesney, Ramapo's central defender. "We are just being ourselves and working as a team. Today we moved the ball very well and we finished our chances. It was a good effort by everybody on the team."
Bennett-Jones poked home his own rebound just a minute-and-a-half into the second half and John Christopul added the last Ramapo tally with 19:52 left in regulation. West Milford avoided the shutout when sophomore Alex Lange finished after a scramble in front of the net for the Highlanders final goal of the season.
With the first step in the state playoffs now out of the way, Ramapo heads to the quarterfinals where it will host seventh-seeded Roxbury, which beat No. 10 Tenafly, 2-1 in overtime. That game will be on Thursday also in Franklin Lakes.
"I think there are six or eight teams that could win [the bracket]," said Baumgarten. "All eight teams that make it to Thursday are all going to feel like they could win it and we are happy to be included in that group."
FOR MORE PHOTOS FROM THIS EVENT PLEASE CLICK HERE. TO BUY A COLLECTOR'S PRINT OF THIS STORY PLEASE VISIT 4-FeetGrafix.com.