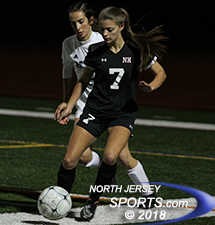 Katie Murray's goal 12 minutes into the second half was the difference as Northern Highlands won its fourth straight Bergen County title with a 2-1 win over Ramsey.
ORADELL – Teams that align themselves with inflated numbers in the back looking for an occasional counterattack or praying for 100 minutes of scoreless soccer while absorbing Northern Highlands' relentless pressure is eventually going to succumb. A defensive stance is not going to cut it, so in Friday night's Bergen County Tournament championship match, Ramsey was not interested in defending while under duress for long stretches.
Ramsey's intent was obvious as left fullback Olivia Molinari was miles away from her own endline when she ran onto a loose ball on the left flank and had a go. The result was a twisting floater that fit in the space between the gloves of Highlands keeper Sara Ghorashi and the crossbar and a lead for Ramsey 15 minutes into the county final, a rematch of last year's game that Highlands won by a comfortable five-goal margin.
This time around, it was game on.
"I thought Ramsey was fantastic. Their game strategy, their high-pressure defense and the long balls…they made us panic," said Northern Highlands head coach Tara Madigan. "They took us out of game plan."
This being Northern Highlands, however, there is always a Plan B. The Highlanders have not ascended to national prominence by being a one-trick pony. The panic was short-lived as they caught Ramsey with 15 minutes left in the first half, got a mucker's goal from Katie Murray 11 minutes into the second half and then saw out a 2-1 victory in a high-level high school girls soccer match. Highlands has now won four straight Bergen County championships and seven in the last eight years.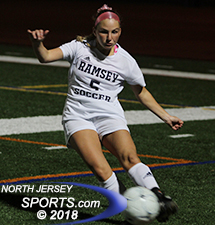 Junior defender Olivia Molinaro scored from 40 yards out to give Ramsey a 1-0 lead in the 15th minute.
Ramsey came up with a good strategy, stuck to it, had the lungs to go 80 hard minutes, played up to its highest capability and narrowed the gap from a five-goal spread last year to a one-goal loss this time. That being said, it just is not easy to beat Northern Highlands.
"Last year when we walked off this field I told the girls that there was a lot we needed to do. Tonight there is nothing I can say to them. I asked them for 100-percent of their effort for 80 minutes and I got it," said Ramsey head coach Kevin Sabella. "We were a little star-struck last year, including myself, coming into a county final. I don't care how long you have been doing this, when you get into a county final against one of the best teams not in the county, but in the nation, sometimes it gets caught on you. That was not the case this year. We were ready to go; we just came up one goal short."
Instead of staying compact and easing into the match, Ramsey forced the issue. The Rams wanted to get the ball into wide areas and apply pressure and it was an even split before Molinari, the junior defender, turned the game on its ear with her goal from 40 yards out with 25:07 showing on the first half clock.
It did not take long for Highlands to reestablish itself as, just two minutes later, Ramsey needed a tough save out of senior goalkeeper Katie Sylvester to keep out Claudia Dipasupil's effort from inside the area. Reagan Klarmann almost drew the Highlanders even in the 24th minute when she made a diagonal run toward the middle, received the ball in stride and missed just wide right.
Dipasupil, the senior speedster who will play at the University of Tennessee next season, put an end to the near misses when she won a ball in the midfield, raced across the surface from right to left and then booted the equalizer into the opposite side of the net with 15:39 to go in the first half.
There were no more goals before the intermission, but the action continued end to end. Sylvester made a do-or-die save at her left post to deny Carly Riembauer's redirect of a Dipasupil serve in the 29th minute. Myranda Sims almost became the second Ramsey defender to score from distance when her floater sailed just above the crossbar with 3:48 to go in the first half and Highlands had a Mary Claire Flynne tally waved off by the offsides flag 2:38 before the break.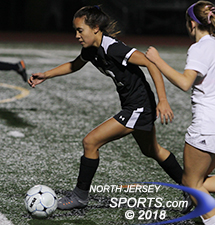 Claudia Dipasupil had a goal and assist for Highlands, which will open the North 1, Group 3 state sectional playoffs on Tuesday against Roxbury.
Twelve minutes into the second half, Murray broke the deadlock. By staying wide and maintaining her spacing, Murray was right where she needed to be as she entered the fray through the back door on the right side of the field. Sylvester, who was outstanding between the pipes for Ramsey all game long, made the initial save, but Murray stuffed the rebound as it spun near the goal line.
"Claude D(ipasupil) crossed it across the box and I just started sprinting in. I hit it, the goalie tapped it and I just kept running and hit it in. It was on the line and it was almost over, but I wanted to make sure," said Murray, a senior and also a lacrosse standout. "It's a team game and I give my teammates all of the credit, but it felt really good to score [the game-winning] goal."
Ramsey's last real look came with just under 20 minutes to go and it was another sign that the Rams would find no comfort in just staying close. Helene Tyburczy, a true two-footed player who is performing at a first-team All-County level despite the fact that she is just a freshman, spent most of the game organizing the back from the middle of the Rams' defense. Down a goal with only a half of a half left to go, Tyburczy raced forward and nearly got on the end of a rolling through ball, but Ghorashi was quick off her line and cleared away the trouble with a well-timed slide.
The final 10 minutes could have been a little more comfortable for Highlands as it nearly netted two insurance goals. In the 71st minute, Dipasupil's corner kick was spit back out and her second service was punched away by Sylvester. Klarmann's second-chance header then clanged off the crossbar. Klarmann was also on target with a rip in the 76th minute, but Sylvester parried it over the bar.
"Ramsey gave us a really good game and towards the end we were just thinking that we had to win this. We had to keep the ball," said Highlands senior Elizabeth Peebles, who did a lot of the dirty work in the corners to help see out the win. "We could hear coach saying 'Corners, corners!'. Okay, maybe she raised her voice a little, but it was important. We could not give them any time on the ball."
Ramsey will head off in the North 1, Group 2 state sectional tournament where it is the top seed and one of the favorites to win not only a section title, but an outright state title as well. The journey starts on Monday against 16th-seeded Dumont.
Highlands is the No. 1 seed in North 1, Group 3 and will host Roxbury on Tuesday. Roxbury is the No. 16 seed, but it also the program that took Highlands to the wire before falling in penalty kicks in the section final. Because the county final was moved up a day because of impending weather, Highlands has an extra 24 hours and the head coach might even allow a couple of them to be used for celebrating another county title, the 15th in program history and the ninth under Madigan.
"It is a testament to the players we have had come through the program and the leaders that we have had that have maintained the expectations and standards that we have here. I think I am fortunate with my coaching staff and my players and, year after year, I think it is quite an honor and a privilege to be here. To capture [the county title] again is certainly something special," said Madigan. "I can't believe that the states are just a couple of days away and that we are going to play a team that we played in the second final last year. It certainly will not be an easy group and for now it is one game at a time and we will refocus for Tuesday," said Madigan."
FOR MORE PHOTOS FROM THIS EVENT PLEASE CLICK HERE. TO BUY A COLLECTOR'S PRINT OF THIS STORY PLEASE VISIT 4-FeetGrafix.com.