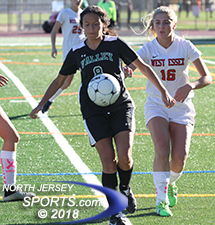 Arianna Quevedo's goal in the 31st minute stood up the rest of the way in Pascack Valley's 1-0 win over West Essex in the opening round of the North 1, Group 3 state sectional tournament.
HILLSDALE – The bracket includes two of the best teams in the state and one that was, at one time this season, ranked No. 1 in the country. It is going to be awfully hard for any team not named Northern Highlands, the four-time Bergen County champion and defending sectional champ, or Ramapo, the only team to beat Highlands this season, to win North 1, Group 3.
Pascack Valley, the No. 7 seed, is in the chase pack and put itself in position to really shake things up with its 1-0 win over No. 10 West Essex on Tuesday in Hillsdale. Pascack Valley will next play No. 2 Ramapo in the quarterfinals on Friday and, for a team that lost so much to graduation from a year ago, the Indians have already made their mark.
"To play like we did today and get to where we are going on Friday, I would say that I am already proud of everything that this team has accomplished already this year," said Pascack Valley head coach Amy Lombardo. "You are talking about a team that graduated nine starters, nine good players and we were up against a team [in West Essex] that was not really a 10 seed. They play a rough schedule, their conference is brutal and they are a good side. We are in a loaded bracket, so to be moving on is an accomplishment."
The first 20 minutes were played mostly between the 30s as each team tried to find the exploitable points in the other's defense. There were few as neither goalie was really tested and traffic was generally light inside the respective penalty areas. A peek at what a breakthrough might look like came 25 minutes in when PV's Amanda McGlone headed Paige Skene's corner kick just wide left.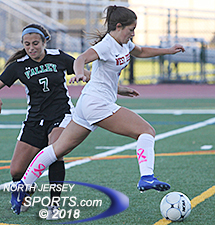 Samantha Balzamo had one of West Essex's best chances on this run with five minutes left in regulation.
That was a practice run for the game's lone goal as, in the 31st minute, Skene sent another corner kick in from the right side and the ball barely cleared the gloves of West Essex keeper Georgia Tarullo, McGlone got her herself involved again and this time it was not a clean connection. Instead, she got a piece of the ball and kept it alive at the back post long enough for Arianna Quevedo to line it up. Quevedo popped it in with 9:22 left on the first half clock.
"I knew I had to stay in that spot. Usually [Skene] kicks it to the edge of the box and I knew I had to be there even if it didn't come right away. I was hoping it would bounce off someone and it did," said Quevedo, who was a first team All-County midfielder last season as a junior. "It was a whole team effort and I was just lucky enough to be in the right spot to put it in the back of the net. The feeling is like…you can't even explain it and I am just happy that I was able to help my team advance on to the next round."
West Essex had a chance to tie the game before halftime on a hard run up the left side by Vivian Onembo, but her shot hit the outside of the side panel and Pascack Valley got a taste of what was to come in the second half. Trying to protect a one-goal lead in a state tournament game against a quality opponent meant that Carli Piretra and the rest of the Indians' back line was going to have to absorb a lot of pressure.
"They definitely put the pressure on us, but defending is a team effort and we stayed together and worked hard," said Piretra. "We lost a lot of good players from last year, but we are trying to live up to the legend. We have injured players right now and we are playing tough competition, but we do our best and most of the time our best has been good enough."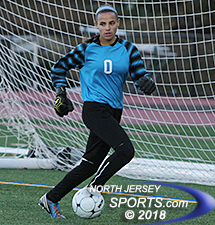 Julia Spadafino kept a clean sheet for Pascack Valley, which will visit Ramapo in the quarterfinals on Friday.
West Essex was granted most of the possession in the second half and kept probing, but PV was dangerous enough on counterattacks to keep the Knights honest. Midway through the second half Alexandra Spadafino chased a long ball and got close enough to earn a corner kick, but there was no connection on the restart. In the 67th minute, Samantha Ingannamorte stood over a free kick from in deep near the left touchline. She lined one into the box and the ball bounced out to Skene, whose shot finished just wide of the post to the left.
Inside the final 10 minutes West Essex abandoned all caution. Samantha Balzano took on a host of defenders, beat two of them and was close to getting off a shot from inside the area before Olivia Jones swooped in from the weak side to clear away the trouble. With just over five minutes to play PV keeper Julia Spadafino made a steady save of an Onembo shot and West Essex was not really able to challenge again.
Pascack Valley improved to 12-5-1 heading into Friday's quarterfinal in Franklin Lakes. The Indians lost both regular season matches against Ramapo, but crazier things have happened in state tournament play.
"We are going to go against Ramapo for the third time and it is going to be tough. We know that, but our girls should already feel accomplished," said Lombardo. "I think that we have played well all season and this is really icing on the cake at this point."
FOR MORE PHOTOS FROM THIS EVENT PLEASE CLICK HERE. TO BUY A COLLECTOR'S PRINT OF THIS STORY PLEASE VISIT 4-FeetGrafix.com.