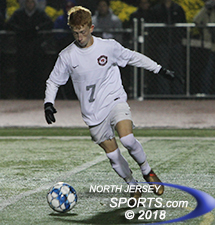 Ben Zakowski scored twice in the first half for Glen Rock, which won its first-ever Bergen County boys soccer title with a 3-0 win over Ramsey on Saturday night.
OAKLAND – When a small public school comes out of the play-in round to win the Bergen County Boys Soccer Tournament for the first time, the stereotypical story would be about an underdog side that came out of nowhere to rewrite history.
To write that story, however, would be doing a disservice to Glen Rock, the aforementioned small public school that beat Ramsey, 3-0, on Saturday night at Indian Hills High School to claim its first-ever county championship in boys soccer. From the moment this tournament began, actually from the moment it ended for the Panthers last year in the semifinals, Glen Rock played with the confidence and purpose of a team that expected to wind up with the trophy all along.
The Panthers are wholly deserving of their new-found status as the best team in Bergen County. This was no fluke.
"Our guys thought that as well. They did not need any motivation from us. They had their own motivation to get here. I am proud of them," said Glen Rock head coach Casey Schick, whose postgame demeanor was like that of a guy who just found 30 cents in the couch cushions rather than one who just led his alma mater to its first-ever county title. "It might hit me later. We just have to make sure that we are poised so the boys see that as well. We want them to win like champions and just be composed. I will be excited once it hits me."
This year's tournament was as wide open as it has ever been. Three of the four teams that made the Final 4 came through the out-bracket, the four-time defending champion went out in the Round of 16, the last Non-Public school went out in the quarterfinals and the final was made up of two Group 2 public schools that very well could see each other again in two weeks in the state sectional final.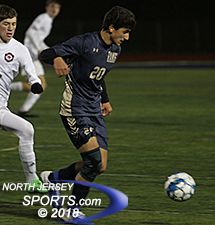 Lucas Souza had one of Ramsey's best scoring chances, a rebound chance in the 75th minute that was kicked away by the keeper.
Glen Rock played the lead role in tipping the apple cart and it basically ripped through the field. The Panthers outscored their opponents by combined 16-2 in five games, including wins over Don Bosco Prep on the road and top-seeded Northern Valley/Old Tappan at a neutral site and it took less than 15 minutes for Glen Rock to take control of the county final.
Just less than 12 minutes in, Josh Kim rolled up from his left fullback position and put a charge into a shot from distance that forced Ramsey keeper Justin Sigel into action as he parried the shot high and wide. Four minutes later, Glen Rock added a dash of trickery to its hard work and scored the game's first goal.
The sequence started along the left touchline where Mark Buckel won the battle to keep the ball in play and then played a square ball to Nick Rogers, who quickly played in Ben Zakowski, who was running in behind. Next up were not one, but two patented moves by the senior striker as he drove the edge of the box.
"It's the Benjamin Fake. I always use that as a shot fake and it usually works and once I pull it off a second time it usually works again because it is not expected," said Zakowski. "After I beat them I just tried to finish it. I got lucky and it went under the keeper."
Zakowski, who scored the lone goal in Glen Rock's 1-0 win over Paramus in the semifinals, was not done. With just over 16 minutes to go in the first half he doubled the Panthers' lead when he chipped the keeper after winning the race to a through ball near the top of the area to make it 2-0.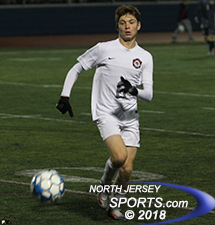 Ryan McCarthy had the last goal for Glen Rock, which outscored its opponent 16-2 in its five county tournament wins.
It was a physical first half as Glen Rock was shown two yellow cards and Ramsey almost halved its deficit in the 34th minute when Brian Miller received a pass from the right side and cracked one on target. Glen Rock keeper Noah Beverin punched the ball away to preserve the Panthers' 2-0 lead heading into the intermission.
Glen Rock kept up the pressure in half No. 2 as Rogers' dipping blast barely cleared the crossbar eight minutes in and Jason Kapiloff's foray forward up the left side drew the keeper before his shot went high and wide in the 56th minute. '
Ramsey, the No. 2 seed, started to throw numbers forward as desperation set in and had its chances. Zach Peters' free kick was headed on by Kieran Francis, but Beverin was in the right place to close it down before Glen Rock put the game away. Siegel made the initial save on a Zakowski shot, but Ryan McCarthy was right there to walk in the rebound with 12 minutes left. Beverin made one more standout save as he stoned a rebound attempt with his feet five minutes before time to keep the clean sheet.
"The chemistry of defense is tight. We are a tight group of guys, communication is real easy and everyone moves around well. We shift over and I truly believe that we can lock down any team in the state," said Glen Rock senior defender Owen Corry. "We have been playing together for 12 years. We were prepared for anything."
There is a straight line backwards inside the Glen Rock boys soccer program and it was a satisfying night for all involved. Schick played for Paul Cusack, the Panthers' previous head coach who is now in charge of the freshman team. Cusack is also a Glen Rock alum and who was his coach on the freshman level at Glen Rock? Carl Johnson, who is a varsity assistant and has been around the program for 34 seasons.
Needless to say, Saturday night's win was special for the Glen Rock soccer lifer.
"I played here and I started coaching here before I even graduated from college. I took a year off from college and coached the freshman team that Cusack played on in '88 then I went back to college, came back here and have been with them ever since," said Johnson. "This is monumental. It is historical. The program had only been to the final once before and we never won it until tonight. It is a huge milestone and the kids are tremendous. They are very talented, but they also work very hard."
FOR MORE PHOTOS FROM THIS EVENT PLEASE CLICK HERE. TO BUY A COLLECTOR'S PRINT OF THIS STORY PLEASE VISIT 4-FeetGrafix.com.