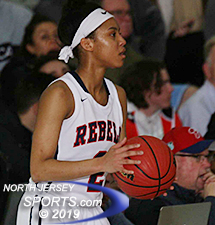 Saniah Caldwell made three free throws after the first quarter buzzer to put Saddle River Day back on track in a 79-67 victory over Trenton Catholic in the Non-Public B state final on Saturday in Toms River.
TOMS RIVER – With the pedigree it has earned over the past few years and Division 1 talent all over the floor, Saddle River Day's chances of winning a girls basketball have rarely come down to catching a break. However, in their most important game of the season and after a lackluster first quarter against Trenton Catholic the Rebels needed just that to start moving in the right direction.
So when Saniah Caldwell was fouled on a desperation three-point attempt as the first-quarter buzzer sounded it opened the door for a comeback. Michelle Sidor proceeded to kick that door off its hinges.
Sidor, Bergen County's all-time leading scorer, scored 12 second-quarter points and added another 14 in the fourth quarter as Saddle River Day won a second straight Non-Public B state title with a 79-67 victory over Trenton Catholic at the RWJ Barnabas Health Arena in Toms River.
"The start we had today was uncharacteristic of us and I knew that we could clean it up," said Saddle River Day head coach Danny Brown. "I felt like we were overdribbling and there wasn't enough movement off the ball, which made our offense stagnant. Once we used all five players on a possession by possession basis things started to go our way."
Trenton Catholic presented a dangerous matchup for the Rebels with their athleticism and ability to hit shots from the outside. Both were on display early with nearly every Rebel turnover in the first quarter being converted into points. Leianya Massenat hit both of her three-point attempts along with a pair of free-throws as the Iron Mikes built a six-point lead. It appeared that would be the lead heading into the second quarter when Saniah Caldwell raced downcourt in the final seconds of the quarter before heaving an off-balance three-point attempt from well beyond the three-point line.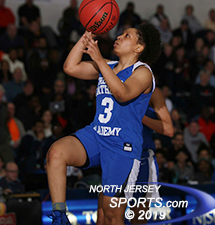 Maniya Custis had 17 points for Trenton Catholic, which finished the season with a 25-4 record.
The shot was way off the mark as the buzzer sounded, but Caldwell was fouled on the play giving her three foul shots with no time remaining. Caldwell, a freshman, showed a ton of poise by calmly knocking down all three free throw attempts to cut Trenton Catholic's six-point lead in half going into the second quarter, 21-18.
"There wasn't much time left and I just had to be aggressive," said Saniah Caldwell. "With Michelle, Jaida, Sydnei, and Jenna getting so much attention from other teams, I have to be ready to step up when I have the chance. It came down to little things and sticking to the gameplan."
The momentum shift carried over into the second quarter. The Rebels started the second quarter with a 16-3 run, half of those points coming from Sidor, to build a double-digit lead. Saddle River Day was far from in the clear though as star forward Jaida Patrick picked up her third foul in the second quarter and the Iron Mikes trimmed the lead to six at halftime, 43-37.
Patrick came back on the floor in the third quarter and made an immediate impact with consecutive buckets to stretch the lead to 12. Once again, the Iron Mikes refused to go away. Patrick picked up her fourth foul and Maniya Custis' floater in the lane capped an 8-0 run to slice the lead down to four, 49-45. Saniah Caldwell answered with three-pointers from each corner on the next two possessions to bump the lead back up to 10.
The Iron Mikes showed resolve throughout with a basket from Wisdom Maddox making it a one-possession game, 61-58. Sidor answered with a driving layup to kickstart a run that put the game away. Sydnei Caldwell, Jenna Jordan, and Saniah Caldwell all scored on drives to the basket during the 13-2 spurt that secured a second consecutive trip to the Tournament of Champions for the Rebels.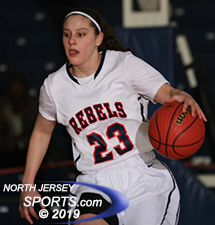 Michelle Sidor, Bergen County's all-time leading scorer, finished with 30 points for Saddle River Day, which is heading to the Tournament of Champions for the second straight season.
"We all knew we had to step it up but we can't afford to have the start we had today in the T of C," said Sidor, who will play at the University of Michigan next year. "We were trying to force things too much early instead of just playing the game. When we worked together both offensively and defensively things just click for us."
Sidor had a game-high 30 points for Saddle River Day (27-2). Saniah Caldwell had 20 points, her second-highest total for the season, along with five assists, three rebounds, three steals, and three blocks. An unsung hero was the play of senior forward Jaayden Lafontant. The senior came off the bench and provided a spark with her tough defense. She led all players with 10 rebounds.
Naomi Shorts and Custis each had 17 points to lead Trenton Catholic (25-4).
Saddle River Day will now wait to see what seed it will receive for next week's Tournament of Champions. A No. 2 seed will give the Rebels a bye into the semifinals, while a No. 3 seed will mean the Rebels play a first-round game on Tuesday in Toms River. Regardless of what seed the Rebels receive the goal remains the same. It is the same goal they have had since falling to eventual champion Manasquan in the T of C semifinals last year. To get back to the Tournament of Champions and be the one team in New Jersey left standing when all is said and done.
"It's been a great journey but this is just another step towards where we really want to be," said Sidor. "We're really excited to be state champs again but in the end we don't just want to be state champs, we want to win it all."
FOR MORE PHOTOS FROM THIS EVENT PLEASE CLICK HERE. TO BUY A COLLECTOR'S PRINT OF THIS STORY PLEASE VISIT 4-FeetGrafix.com.