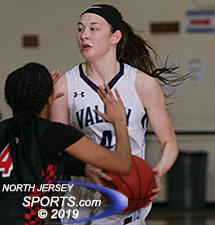 Stephanie LaGreca scored 7 points in the final 25 seconds of the third quarter to turn the game in the favor of Wayne Valley, the defending champion that defeated Kennedy, 49-46, in the Passaic County Tournament semifinals on Saturday.
PATERSON – As defending Passaic County champion and second-seeded Wayne Valley was about to head into the fourth quarter of the Passaic County semifinals on Saturday it just seemed like one of those games where nothing was going right. Facing Kennedy on its home floor, the Indians were facing a nine-point deficit inside the final minute of the third quarter. Needing some sort of spark, Wayne Valley's senior point guard Stephanie LaGreca was there to provide one.
She was instrumental on both ends of the floor; scoring seven points over the final 25 seconds of the third quarter to tie the game. The Indians tacked on the first seven points of the fourth quarter then held off the Knights in a wild final two minutes for a 49-46 victory over No. 3-seeded Kennedy in Paterson.
"We knew we had to focus on two key players and we stuck together even when we were down," said Wayne Valley forward Brianna Neary. "Our defense really picked it up and things started going our way."
Foul trouble was an issue for Kennedy throughout with its 1-2 scoring punch of Taniesha Gilbert and Jimmirah Johnson each having two fouls with 5:45 to go in the first half. The Knights stuck to their gameplan and weathered the storm with a late three by Taylor Yancey giving Kennedy a 23-19 halftime lead.
The first half was a carbon copy of last year's PCT semifinal game between the same two teams on the same court. In that game, the Knights turned the ball over on their first three possessions of the second half and never recovered. It looked to be a different story this time around as the Knights came out on fire to start the third quarter with Johnson scoring inside to double their lead to 10. With 48 seconds left in the third quarter and the Knights still up nine, an unfortunate bounce led to their unraveling.
Taniesha Gilbert had a solid stat line of 19 points, six rebounds, four assists, and four steals for Kennedy.
If the Knights were able to secure the free-throw they would have held for the last shot of the quarter and had a sizable lead going into the final eight minutes. Instead the ball bounced of the hands of Paterson Kennedy player and went out of bounds. The Indians then forced three more turnovers with all of them leading to points. LaGreca scored on a conventional three-point play before making an even more difficult play. With 3.9 seconds remaining and the Indians inbounding the ball 60 feet from the basket, LaGreca got a running start and took three dribbles before getting off a baseline floater that dropped through at the buzzer to improbably knot the score at 40.
"Our offense wasn't clicking so we had to turn our defense into offense," said LaGreca. "No matter what the score is we try to keep our intensity up. We felt like if we could force a few turnovers and cut into their lead that we had a good chance to win the game."
While LaGreca, Neary and Co. have been working together for years in closing out games together, the X-factor proved to a freshman that flew so far under the radar that she did not play in the first half and was not even listed in the PCT semifinal program.
Hailey Cabanas not only played spectacular defense on one of North Jersey's premier scorers (Gilbert) but she also knocked down a huge three from the wing to cap the 16-0 run and give Wayne Valley a 47-40 lead.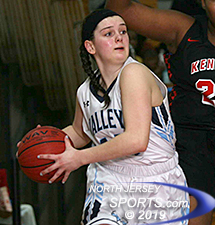 Brianna Neary finished with 16 points and 10 rebounds for Wayne Valley, which will play DePaul for the Passaic County title next weekend.
"When I first got in the game I was a little nervous but I just tried to block it out of my mind," said Cabanas. "I just love the game and I was going to keep hustling no matter what. I knew (Gilbert) was a really good player and I just tried to keep her in front of me the best I could."
While the fourth quarter was the lowest scoring of the four quarters there were still plenty of twists and turns down the stretch. Both teams left a lot of points on the charity stripe but the game was still within striking distance when Wayne Valley's Carson Thomas came up with two big steals in the final two minutes. The Knights kept coming down five in the final seconds and had a legitimate chance to force overtime.
LaGreca picked up her fifth foul with 13.9 seconds left with Gilbert hitting the first free-throw to  make it a one-possession game. The 6-foot-3 Johnson pulled down the offensive rebound and immediately fed Gilbert, who got fouled before a pair of simultaneous bad breaks proved to be the Knights undoing. Gilbert's layup rimmed out and Johnson went down with what appeared to be a serious knee injury. The Knights never got off a game-tying three-point attempt as Wayne Valley survived and advanced.
Few players in North Jersey stuff a stat sheet in every category the way LaGreca does for Wayne Valley (16-5). Not known for looking her shot, the senior point guard was one point of her career-high with 18 points to go along with 10 rebounds, five assists, four steals, and two blocks. Neary had a strong second half to finish with 16 points and 10 rebounds.
Gilbert had a solid stat line of her own with 19 points, six rebounds, four assists, and four steals for Kennedy (15-7). Johnson had a nice game in the post with 14 points and a game-high 16 rebounds.
After going 41 years without a Passaic County title, the Indians will now hit their home court in search of back-to-back county championships. They were expected to get a shot at rival Lakeland. That will not be the case as fifth-seeded DePaul upset the Lancers in the other semifinal. Regardless of the opponent, the Indians are salivating at the thought of taking holding onto their crown.
"With have a lot of experience and we made some smart decisions when we needed them," said Wayne Valley head coach Kathy Sinram. "We go over all types of situations in practice and we executed today in one of those situations. Defense helps you win games and we grinded it out just like we did in the counties last year. Hopefully we'll have a similar result come next Saturday."
FOR MORE PHOTOS FROM THIS EVENT PLEASE CLICK HERE. TO BUY A COLLECTOR'S PRINT OF THIS STORY PLEASE VISIT 4-FeetGrafix.com.