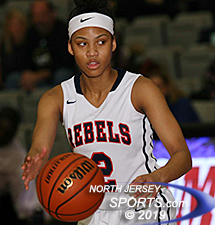 Sydnei Caldwell scored 11 points for Saddle River Day, which advanced to the Bergen County final for the fourth straight year with an 82-52 win over Paramus Catholic.
MAHWAH – Part of being a defending county champion is becoming that measuring stick that all programs measure themselves against. Saddle River Day knows every time it steps on the court that they are going to get their opponents' best effort. Such was the case in the Bergen County semifinals when Paramus Catholic made it clear early that it was not going to roll over. That forced the Lady Rebels to turn up the defensive intensity in order to take control of the game.
They forced three straight turnovers to start the third quarter and all three led to layups as top-seeded and three-time defending champion Saddle River Day advanced to a fourth straight Bergen County Tournament final with an 82-52 win over fourth-seeded Paramus Catholic on Sunday at Ramapo College in Mahwah.
Paramus Catholic was a heavy underdog coming into the game, but put its best foot forward in the opening period. The Paladins broke the Saddle River Day press over and over, then slowed it down and ran through their offense before getting the shot they wanted. They shot over 60% in the first quarter with Julianna Kascic's baseline jumper giving PC a 16-15 lead heading into the second quarter.
"I thought we were frustrated in the first quarter and Paramus Catholic was simply more engaged than we were," said Saddle River Day head coach Danny Brown. "When we held ourselves accountable and started to work together on defense in a supportive then we got back to playing our style, which is fun to watch."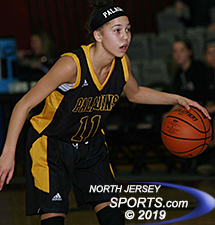 Aria Myers had a solid overall performance for Paramus Catholic with 19 points, six rebounds, and five assists.
The Paladins lost the lead but were still within striking distance when point guard Janel Moore picked up her second foul with 5:28 to play and was relegated to the bench for most of the second quarter. Jaida Patrick was the lone bright spot for the Rebels in the first half, hitting 7 of her 9 shots as Saddle River Day took a ten-point lead into halftime, 34-24. Although the Rebels felt comfortable with the double-digit lead they were far from satisfied.
"We did not play with the energy we needed to in the first half," said Saddle River Day's 3,000-point scorer Michelle Sidor. "They destroyed our press to the point where we had to get out of it. We can't afford to do that from here on out or it's going to bite us in the butt. This is the most important time of the season and we have to figure it out soon. It starts with executing on defense and having that help create our offense."
Paramus Catholic got the ball to start the third quarter and had a chance to cut the lead back to single-digits. But by the time the Paladins got up their first shot of the second half, the Rebels created some distance and cruised from there. The Rebels forced three turnovers with all three becoming baskets on the other end. More importantly it got Sidor, who was held in check throughout the first half, on track. She hit consecutive layups as the Rebels needed just 25 seconds to go on a 6-0 burst en route to a 29-point third quarter.
"We saw in the first quarter what we are capable of when we executed, but when we turned the ball over like we did in the third quarter we saw how quickly it can go the other way," said Paramus Catholic head coach Sean Pekarsky. "Saddle River Day is a very talented. They sprinted back on defense and they just outworked us in the second half. When we put 32 minutes together we feel like we can be a really dangerous team but we didn't get that done today."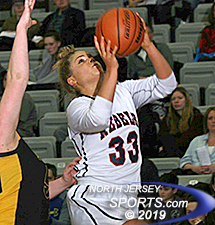 Jenna Jordan and Saddle River Day, the top seed and 3-time defending champ, will play No. 2 IHA in the championship game on Sunday at Ramapo College.
Sidor scored 21 of her game-high 30 points in the second half for Saddle River Day (20-2). Patrick added 21 points and Sydnei Caldwell added 11. Jenna Jordan and Saniah Caldwell each chipped in with eight points.
Aria Myers had a solid overall performance for Paramus Catholic (15-4) with 19 points, six rebounds, and five assists. Kascic finished with 10 points and eight rebounds.
Saddle River Day will look to become just the team in the 45-year history of the Bergen County Tournament to win at least four straight titles. It is not lost on the Rebels their place in Bergen County Tournament lore. With a senior-laden squad filled with Division 1 talent, they hope this is the first of multiple championship trophies won this season.
"With two kids breaking into the starting lineup in the past few weeks, we're still a work in progress and still trying to jell," added Brown. "It takes time to develop that chemistry. That said, this is crunch time and we need to be a tighter unit on both ends of the floor. That's my job to get us there. We know we're only going to get really tough teams from IHA right through the state tournament. This is the time we all need to support each other and play the way we're capable of playing."
FOR MORE PHOTOS FROM THIS EVENT PLEASE CLICK HERE. TO BUY A COLLECTOR'S PRINT OF THIS STORY PLEASE VISIT 4-FeetGrafix.com.