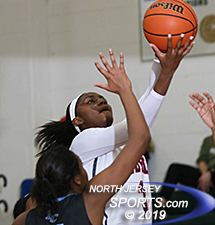 Jaida Patrick is back in the lineup for Saddle River Day, which advanced to the Bergen County semifiunals with a 92-37 win over Immaculate Conception.
HILLSDALE – Saddle River Day's roster is jam-packed with Division 1 signees and is likely the most individually talented team to lace them up in Bergen County. To reach their lofty goals set in the preseason jelling together is of the utmost importance. With a lot of moving parts from injuries to transfers meshing with existing players in the program, the Rebels are in the puzzling position of knowing they are one of the state's best teams but also still trying to make all the pieces fit in order to have another championship-filled season.
If the Bergen County quarterfinal game against Immaculate Conception was any indication, the Rebels look to be back in full force. Duke-bound Jaida Patrick played well in her first extended minutes, Arizona State commit Sydnei Caldwell showed why she is one of the state's top guards, and Michelle Sidor continued her four-year scoring spree with seven points in a 17-0 first quarter as top-seeded Saddle River Day rolled to a 92-37 win over No. 8 seed Immaculate Conception at Pascack Valley High School.
"We have to play smart at all times no matter the other team on the court is," said Patrick. "As a team we're still trying to find a rhythm and progress every game. We'll be a pretty successful team if we play defensive like we did in the first quarter today."
Immaculate Conception initially tried to slow the pace down. For a few possessions the Blue Wolves were able to run clock and get good shots. However, those shots did not fall and the Rebels responded by playing lights out in the first quarter. Sidor nailed a pair of threes from the corner and before IC knew what hit them they were staring at a 24-2 deficit.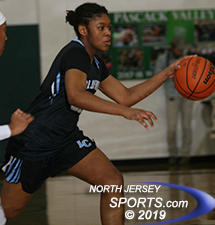 Jariah Patterson scored 9 points for Immaculate Conception.
Less than a decade ago it was Saddle River Day that was on the wrong end of lopsided scores on a regular basis. However the program has grown by giant leaps and bounds throughout the past several years. Now the opposite is happening on the regular basis with a roster filled with Division 1 recruits.
"We're trying to find our way with our chemistry but we're all in to getting better each day," said Caldwell, a transfer from Gill St. Bernards. "The coaches put us in an amazing position and we work really hard. It is just about executing when the time comes for those big games."
Still working her way back from a shoulder injury, Patrick made her impact felt on both ends of the floor. Although she has had limited action this season the 6-foot guard seemed to be in mid-season form.
"I'm still trying to get back to where I was but I'm feeling stronger every day and this was the first game where I really felt comfortable," added Patrick.
Sidor had a game-high 24 points for Saddle River Day (17-2). Patrick and Sydnei Caldwell each pumped in 17 points. Saniah Caldwell added 10 points. Jordan Janowski had seven points, Jenna Jordan and Jayden Lafontant added six points apiece. Grace Swords and Bella Garabo rounded out the scoring with three and two points, respectively. Elanor Robinson and Patterson each had nine points for Immaculate Conception (11-7).
With the Rebels all in for the stretch run and the rotation coming into shape they are turning their focus to winning a fourth straight Bergen County title.
"The biggest thing for us is how close we are off the court we have to be that on the court as well," said Patrick. "Having that family atmosphere on the court like we do off the court will make us an even stronger team. Once we do that I think we're going to be unstoppable."
FOR MORE PHOTOS FROM THIS EVENT PLEASE CLICK HERE. TO BUY A COLLECTOR'S PRINT OF THIS STORY PLEASE VISIT 4-FeetGrafix.com.