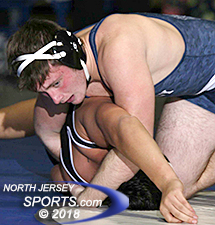 Selim Maksut's pin at 195 pounds was a turning point in Wayne Valley's comeback that saw the Indians come from 28 points back to beat PCT, 40-28, on Wednesday.
WAYNE – After losing the pre-match coin flip, Wayne Valley head coach Todd Schroeder knew certain things would have to break the Indians' way if they were going to hang in there with  defending North 1, Group 5 section champ Passaic County Tech. Things did not go according to plan through the first matches. Before the Indians knew what hit them, they were in a 28-0 hole.
Despite the large deficit, Schroeder made sure his team stayed focused. With the meat of the lineup still on deck in the upper weights, the Indians felt there was still a glimmer of hope. After being on the wrong end on the coin flip it was time for the Indians to make their own breaks.
Selim Maksut pulled off a huge pin at 195 to get the Indians within striking distance. Two matches later, heavyweight Jordan Botero then scored a takedown with 11 seconds left to win his match and clinch the victory for Wayne Valley, which won the final nine matches to score a 40-28 road win over Passaic County Tech on Wednesday night.
"We had to make some moves and a couple of guys stepped up for us in pivotal matches," said Schroeder. "This match could have gone either way but those wins at 195 and heavyweight were huge. We were mentally tough and everyone has a job to do. When everyone does their job the entire team feeds off of it."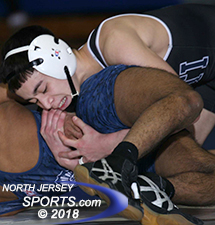 Ryan Perez's pin at 120 pounds helped Passaic County Tech get off to a fast start.
Passaic County Tech has been red-hot all season, having won 14 of its 15 matches coming into Wednesday night's tilt. It seemed business as usual early on as Alex Vertador and Ryan Perez scored third-period pins at 113 and 120 to get the ball rolling. When Dylan Toy scored a 60-second pin at 138, PCT (14-2) held a commanding 28-0 lead through five matches.
The tide turned quickly with Wayne Valley standouts Nick Duncan and Reid Colella scoring first-period pins at 160 and 170 pounds, respectively. After a major decision win by Danny Murphy at 182, the Indians trimmed the lead down to six points heading into an important swing match at 195. The hope was to possibly squeak out a close decision, but Maksut had other ideas. He came out aggressive and recorded a pin in 1:49 to knot the match at 28-all.
"We were starting to pick things up and I had to keep that momentum going," said Maksut. "As soon as I saw an opportunity to make something I went for it."
Nick Trani maintained his undefeated record at 220 pounds with a second-period pin to give the Indians their first lead of the match. However, they would still need a victory in one of the final two bouts to secure the upset.
Reid Colella's pin at 170 pounds kicked Wayne Valley's comeback into high gear.
Jordan Botero took a cautious approach in the heavyweight bout against PCT's Joshua Garela. Neither wrestler took a shot the entire match with only an escape by each wrestler providing the points until late in the third period. The bout seemed destined for overtime until Botero seized an opportunity and scored a takedown with 11 seconds left to lift Wayne Valley to its most important win of the season both in terms of power points and for the confidence of the team.
"I wrestled conservatively the whole match and I was just waiting for that one opportunity," said Botero. "I knew there wasn't a lot of time left so I took a chance it worked out."
Matt Jiminez and Attila Valy also won by decision for Wayne Valley (14-4). With the Passaic County and state team tournaments both right around the corner, the Indians feel they are peaking at the right time.
"This win really opened our eyes," added Maksut. "We showed we could face adversity against a tough team and still come out with the 'W'. We feel like we're capable of even more than we showed tonight. It's a big win and it's something to build off for the rest of the season."
FOR MORE PHOTOS FROM THIS EVENT PLEASE CLICK HERE. TO BUY A COLLECTOR'S PRINT OF THIS STORY PLEASE VISIT 4-FeetGrafix.com.