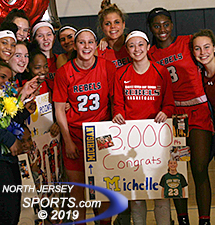 Senior Michelle Sidor became the first player in Bergen County history to score 3,000 career points. She hit a 3-pointer from the wing in the second half of Saddle River Day's 72-27 win over West Scranton.
SADDLE RIVER – As Michelle Sidor walked through the halls of the Saddle River Day School she tried to treat February 5, 2019 just like she would any other day. However, that was nearly impossible with teammates and friends coming up to wish her luck as she approached a milestone never before seen in the history of Bergen County girls' basketball.
As the game against West Scranton (PA) was about to begin, Sidor felt a rare case of nerves. Just 21 points from 3,000 points for her career, Sidor had time throughout the day to reflect her four stellar years in a Saddle River Day uniform. But after the opening tip it was business as usual for the University of Michigan-bound guard.
Sidor scored the first seven points of the game and had 13 in the first quarter alone. Needing just three points early in the third quarter to reach the magical milestone, Sidor swished a deep three-pointer from the wing to become the first Bergen County player ever to score 3,000 points, finishing with a game-high 23 in a 72-27 victory over West Scranton (PA) on Tuesday in Saddle River.
"She has been the foundation for the program and she is a total team player," said Saddle River Day head coach Danny Brown. "She's also very appreciative of the teammates she's had around her and how they've allowed her the freedom to grow as a player. If you asked her how many points she needed to get to a certain milestone, she'd have no idea. She works extremely hard. It's all about competing, all about winning for her."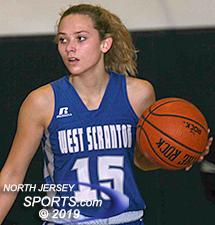 Tatum Repshis was the lone bright spot for West Scranton (9-10) with 16 points, including 4-of-7 from three-point range.
Sidor got going early with a three from the corner and a pair of layups in the first two minutes. Saddle River Day was in complete control throughout with its full-court traps smothering the Invaders into a slew of turnovers.
As Sidor ran the offense throughout the first half it was Duke signee Jaida Patrick who took over on the opposite end of the court in the second quarter. She had four steals, all of which turned into baskets, including a three-point play from Sidor to put the Rebels firmly in control by halftime, 30-8.
Having already scored 16 points by halftime the only mystery left in the game was exactly when Sidor would net her next five to join the exclusive 3,000-point club. It did not take long as she scored on a transition layup then lined one up a few feet behind the three-point line from the wing and drilled it. The game was stopped as teammates, coaches, and family came onto the court and the crowd gave her a standing ovation. With that three-pointer Sidor became just the fourth female from New Jersey to score 3,000 points for her career and the first to do it since Monica Johnson of Wildwood achieved the feat back in 2002.
"It was in my head all day but I had to play my game and just let the game come to me," said Sidor. "After my sophomore year I knew getting to this point was possible. It really means a lot to make a name for myself. I worked really hard every day and I sacrificed a lot of things over the years to be the player I am. It really means a lot to me."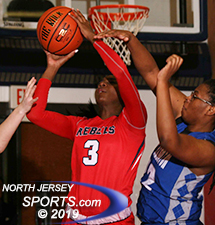 Jaida Patrick had 10 points for Saddle River Day, which is now 18-2 on the season.
Sidor added another bucket to finish the evening with 3,002 career points for Saddle River Day (18-2). Jaida Patrick stuffed the stat sheet as usual with 10 points, eight rebounds, seven steals, three assists, and three blocks. Sydnei Caldwell and Jenna Jordan had 14 and 10 points, respectively, with each pulling down eight boards.
Tatum Repshis was the lone bright spot for West Scranton (9-10) with 16 points, including 4-of-7 from three-point range.
With the legendary milestone now in hand Sidor will continue on with the Rebels' quest for a fourth straight Bergen County title, a second straight Non-Public B state title, and an elusive Tournament of Champions crown.
"Now it's back to focusing on winning a fourth straight Bergen County championship, another state title, and then the T of C," added Sidor. "It's full force about being all in and playing team basketball."
FOR MORE PHOTOS FROM THIS EVENT PLEASE CLICK HERE. TO BUY A COLLECTOR'S PRINT OF THIS STORY PLEASE VISIT 4-FeetGrafix.com.