Junior Lexi Vonderleith scored 17 of her 21 points in the second half for Park Ridge, which held off rival Midland Park, 53-44, in the North 1, Group 1 state sectional semifinals on Saturday afternoon.
PARK RIDGE – When two teams that are league rivals meet in the state tournament there is a common knowledge shared by players and coaches alike. So it was evident going into the North 1, Group 1 semifinals that Midland Park was going to try and limit Park Ridge's standout forward Shannon Burns by constantly double-teaming her.
The strategy worked with the teams tied going into halftime. For Park Ridge to keep its season afloat, someone had to pick up the slack in both scoring and rebounding. Burns' frontcourt mate, fellow junior Lexi Vonderleith, did that and then some.
Vonderleith netted 17 of her season-high 21 points in the second half, including four big free throws in the final 1:05, as second-seeded Park Ridge held off a stern challenge from No. 6 seed Midland Park and pulled away in the final minute to earn a berth in the North 1, Group 1 final with a 53-44 victory on Saturday afternoon at Park Ridge High School.
"We haven't been this far in a long time and it feels good to be on the run we're on right now," said Park Ridge's Chloe Collister. "We needed to relax and play our game, it took awhile but we did that a lot better in the second half. It started with the little things, like getting our hands in the passing lane and communicating on defense."
Midland Park used a strong second half to upset No. 3 seed North Warren in the quarterfinal round. That momentum carried over into this game with freshman point guard Avery Kasbarian doing most of the damage early. Her second three-pointer of the period put the Panthers up by four after one quarter. A layup by Alyssa Genao bumped the lead up to six but the Lady Owls fought back.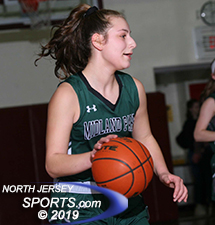 Avery Kasbarian scored 9 points for Midland Park, which finished its season with a 17-10 record.
Collister was steady at the point all afternoon. She knocked down a big three-pointer and Kerry Perez added one of her own in the final minute of the first half as the teams were deadlocked at 23 heading into the locker room.
The Panthers made a concerted effort to get the ball inside and found success early in the third quarter. Tess Olson scored followed by consecutive bank shots from Gillian Luberoff to quickly forge a six-point lead. As quickly as they built was about as quickly as it evaporated.
After shooting primarily three-pointers in the second quarter the Owls switched things up by driving the ball to the basket and crashing the boards. Vonderleith had eight points during a 12-0 run to push Park Ridge back in front, 39-35, going into the fourth quarter.
"We're a young team and sometimes we made some young mistakes in that third quarter," said Midland Park head coach Sean O'Connor. "Turnovers killed us but I'm so proud of how hard we worked not just today but all season. Definitely a huge improvement from where we were at the beginning of this season and we have most of our team coming back."
Midland Park cut the lead two points on three separate occasions, but each time that happened the Owls scored on the ensuing possession. Baskets by Burns, Vonderleith, and Collister helped push it back to a four-point lead. With time winding down the Panthers were forced to foul. Twice in the final 65 seconds of regulation Vonderleith stepped to the foul line for a one-and-one. It was a pressure packed situation, but the junior forward never flinched. Her high-arcing shot was true on all four attempts to help put the game away.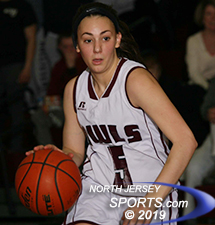 Chloe Collister and Park Ridge will face Cresskill in the North 1, Group 1 state sectional final..
"Midland Park was sticking on (Burns) like glue, so I had to work harder," said Vonderleith. "We got our nerves out in the first half and I knew I had to execute what we were trying to do in the second half. The game was close the whole way. When I got to the line I just had to stay focused on hitting those free-throws and block everything else out."
Vonderleith was everywhere on both ends of the floor for Park Ridge (22-4). She led all players with 21 points to go with 10 rebounds, and two blocks. Collister had a solid over all performance as well with 12 points, four steals, three assists, and three rebounds. Madden added nine points.
Luberoff had a game-high 17 rebounds and team-high 15 points for Midland Park (17-10). Kasbarian and Olson chipped in with 10 and 9 points, respectively.
Park Ridge advances to the North 1 Group 1 final for the first time in ten years. There the Owls will travel to face top-seeded Cresskill, a 36-16 winner over Emerson in the other semifinal on Saturday. The Owls lost both regular-season meetings with Cresskill. With a title on the line and nothing to lose they feel they will put their best foot forward in the biggest game in the program's history.
"We lived on the boards in the second half and we'll have to do that again when we play Cresskill," said Park Ridge head coach Ryan Dennis. "Cresskill is an excellent team with five great players, but we've played some tough competition all season and we've battled every time we step on the court. We've played them twice this season so they know us as well as we know them. It will be a tough job ahead of us on Monday. We will play hard and our girls are excited for the chance to play for a section title."
FOR MORE PHOTOS FROM THIS EVENT PLEASE CLICK HERE. TO BUY A COLLECTOR'S PRINT OF THIS STORY PLEASE VISIT 4-FeetGrafix.com.