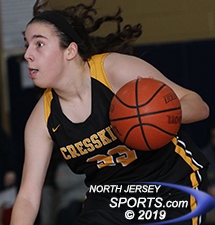 CRESSKILL'S COLEEN MCQUILLEN
North 1, Group 1
Seeds: 1. Cresskill 2. Park Ridge 3. North Warren 4. Cedar Grove 5. Emerson 6. Midland Park 7. Butler 8. Wood-Ridge 9. Wallkill Valley 10. Waldwick 11. Passaic Charter 12. Hasbrouck Heights 13. Pompton Lakes 14. Saddle Brook 15. Boonton 16. Hopatcong
Player to Watch:
Colleen McQuillen, Cresskill
McQuillen showed her ability to come up clutch in big games last year when she knocked down the winning free-throws in the final second of the North 1 Group 1 final. The sophomore guard has raised her level of play this season to become one of the elite point guards in North Jersey. She is a treat to watch regardless of the opponent.
Dark Horse:
Midland Park
Under head coach Sean O'Connor, the Lady Panthers have either won the section title or made deep runs in recent years. Even in a new underdog role and led by senior forward Gillian Luberoff the expectations are still the same.
Biggest First-Round Upset:
No. 10 Waldwick over No. 7 Butler
We love head coach Frank Clark, we know nobody from Butler. Easy pick.
First-Round Winners:
Cresskill, Wood-Ridge, Cedar Grove, Emerson, North Warren, Midland Park, Waldwick, Park Ridge
Quarterfinal Winners:
Cresskill, Emerson, Midland Park, Park Ridge
Final:
Cresskill, Park Ridge
Champion:
Cresskill
The defending champ is chock full of experience. Besides having the best player in the section, Jennifer Garcia and Sophie Green are also scoring guards who can fill it up on any given night. Courtney Madison is also a steady presence in the post. Cresskill pulls away in the second half against a pesky Park Ridge squad, 51-41.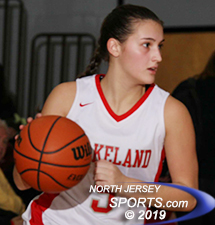 LAKELAND'S KEIRA MARKS
North 1, Group 2
Seeds: 1. Westwood 2. Newton 3. Northern Valley/Demarest 4. Hawthorne 5. Lakeland 6. High Point 7. Lenape Valley 8. Manchester Regional 9. Glen Rock 10. Dumont 11. Kittatinny 12. Ramsey 13. Pascack Hills 14. Mahwah 15 Jefferson 16. Vernon
Player to Watch:
Keira Marks, Lakeland
Marks is a classic combo guard who handles the ball, shoots well from the outside, and defends equally as well. Just by being on the floor the junior gives the Lancers a good chance against any team this section.
Dark Horse:
Dumont
Yakira Rosa is a player who can heat up in a hurry and with a team like the Huskies that loves to shoot threes, a hot night gives them a puncher's chance to make some noise in this section. Plus, nobody more entertaining to talk to than head coach Dave Cieplicki.
Biggest First-Round Upset:
No. 13 Pascack Hills over No. 4 Hawthorne
Pascack Hills has some size and posted an eight-game winning streak recently. This one will go right down to the wire but the Cowgirls pull off the upset.
First-Round Winners:
Westwood, Manchester, Lakeland, Pascack Hills, Demarest, High Point, Dumont, Newton
Quarterfinal Winners:
Westwood, Pascack Hills, High Point, Dumont
Final:
Westwood, High Point
Champ:
Westwood
Rachel Bussanich and Katy Gashler provide a 1-2 punch inside that few small school teams can match. Meghan Riedel and Hannah Jackson are steady guards who don't turn the ball over and control the pace. Head coach Charlie Collis knows how to circle the wagons come state tournament time and the Cardinals will finally get past their most recent state tourney nemesis, 39-36.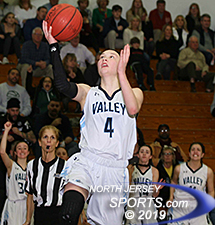 WAYNE VALLEY'S STEPHANIE LAGRECA
North 1, Group 3
Seeds: 1. Northern Valley/Old Tappan, 2. Pascack Valley 3. Wayne Valley 4. Northern Highlands 5. Ramapo 6. River Dell 7. West Essex 8. Montville 9. Indian Hills 10. Morris Hills 11. Sparta 12. Roxbury 13. Tenafly 14. Wayne Hills 15. Teaneck 16. West Milford
Player to Watch:
Stephanie LaGreca, Wayne Valley
LaGreca is a pass-first point guard who uses her length to create havoc in passing lanes defensively. She is the one player in this section who can make her impact on the game without scoring.
Dark Horse:
Montville
They're out of our coverage area. They're good.
Biggest First-Round Upset:
None
First-Round Winners:
Old Tappan, Montville, Ramapo, Northern Highlands, Wayne Valley, River Dell, West Essex, Pascack Valley
Quarterfinal Winners:
Old Tappan, Ramapo, Wayne Valley, Pascack Valley
Final:
Old Tappan, Pascack Valley
Champ:
Old Tappan
These two rivals will meet again in the section final just as they have in the previous two years. This time Old Tappan will be the favorite and playing on its home court. Jackie Kelly is a lights out shooter and Noelle Gonzalez is the perfect complement to her at the other guard spot. The Golden Knights use a big fourth quarter to defend their title with a 51-43 win.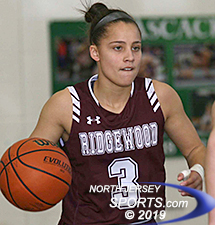 RIDGEWOOD'S JACKIE WOLAK
North 1, Group 4
Seeds: 1. West Orange 2. Ridgewood 3. Randolph 4. Livingston 5. Bloomfield 6. Morristown 7. Paterson Kennedy 8. Fair Lawn 9. East Orange 10. Morris Knolls 11. Hackensack 12. Kearny 13. Mount Olive 14. Passaic County Tech 15. Union City 16. Bergen Tech
Player to Watch:
Jackie Wolak, Ridgewood
Wolak may not be the best player in a section filled with talented individual stars, but she is in the conversation and she is certainly the most valuable to her team's success. Few, if any, guards in this section can match her quickness. If she can stay away from turnovers and out-of-control shots the Maroons will be a tough out.
Dark Horse:
Morristown
See Montville above.
Biggest First-Round Upset:
None
First-Round Winners:
West Orange, Fair Lawn, Bloomfield, Livingston, Randolph, Morristown, Paterson Kennedy, Ridgewood
Quarterfinal Winners:
West Orange, Bloomfield, Morristown, Ridgewood
Final:
West Orange, Morristown
Champ:
West Orange
Penn State-bound Mya Bembry is a matchup nightmare that no team in this section will be able to match up with. Mountaineers win, 60-49.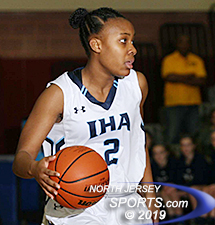 IHA'S ELIYA HERRIOT
Non-Public North A
Seeds: 1. Immaculate Heart Academy 2. Pope John 3. Paramus Catholic 4. Hudson Catholic 5. Kent Place 6. Mother Seton 7. DePaul 8. Oak Knoll 9. Holy Angels 10. St. Dominic Academy 11. Mount St. Dominic
Player to Watch:
Eliya Herriott, IHA
Anna Morris and Emma Matesic are two post players that can cause problems for any opponent. However, it is the outside shoot of Herriott that will allow those two room to operate in the paint. If she can knock down shots and spread out an opposing defense the Blue Eagles become much, much tougher to guard.
Dark Horse:
DePaul
Fresh off an upset-laden run to win the Passaic County Tournament title the Spartans are trying to have that roll over into the state tournament. Deziah Gonzalez is a wildly underrated point guard and Ava Peiser has been shooting the lights out lately. If they catch fire like they did in the PCT final win over Wayne Valley, they can make some noise and possibly get to a section final.
Biggest First-Round Upset:
No. 11 Mount St. Dominic over No. 6 Mother Seton
Why? More like why not? This computer knows nothing about either team.
Quarterfinal Winners:
IHA, Hudson Catholic, Paramus Catholic, Pope John
Final:
IHA, Pope John
Champ:
IHA
While this year will be more of a challenge to be sections champs as its been in previous years, the Blue Eagles are too talented and too deep, 57-46.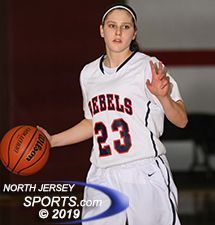 SADDLE RIVER DAY'S MICHELLE SIDOR
Non-Public North B
Seeds: 1. Saddle River Day, 2. Morris Catholic 3. Morristown-Beard 4. Montclair Immaculate 5. St. Elizabeth 6. Immaculate Conception 7. Marist 8. Patrick School 9. Villa Walsh 10. Newark Academy 11. St. Mary's (Rutherford) 12. Eastern Christian 13. Benedictine 14. Montclair Kimberley Academy
Player to Watch:
Michelle Sidor, Saddle River Day
Sidor, the only 3,000-point scorer ever to play in Bergen County, is the state's best perimeter shooter and she is nearly impossible to slow down with a great supporting cast around her. Enjoy this last run with Sidor, you might not see another player of her caliber in Bergen County.
Dark Horse:
Patrick School
Do not let the seed fool you, this team took Saddle River Day (albeit not at full strength) to overtime earlier this year. Former Queen of Peace point guard Asonah Alexander leads the way for the Celtics.
Biggest First-Round Upset:
None
Quarterfinal Winners:
Saddle River Day, St. Elizabeth, Morristown-Beard, Morris Catholic
Final:
Saddle River Day, Morristown-Beard
Champ:
Saddle River Day
This team filled with star power is still trying to jell but this computer has a hunch they will do just that with their backs against the wall. Watch for a big state tourney from Duke-bound swing Jaida Patrick. They roll in the final, 74-52.
TO BUY A COLLECTOR'S PRINT OF THIS STORY PLEASE VISIT 4-FeetGrafix.com.