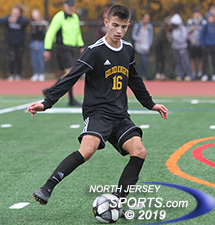 Sophomore defender Max Caunedo scored the equalizing goal for Old Tappan, which went on to a two-overtime, 2-1 win over Tenafly in the first round of the North 1, Group 3 state sectional playoffs.
OLD TAPPAN – After 80 minutes of regulation and then the 10 that made up the first overtime and then three more in the second extra session, it seems counterintuitive to report that the end came quickly, but it certainly did happen fast. One moment Tenafly had possession near the right touchline in its defensive third and, a blink of an eye later, the Northern Valley/Old Tappan contingent had spilled out of its dugout in pursuit of sophomore David Oh to celebrate a 'Golden Goal.'
It started with Dylan Pak's smart step in front of the intended target of a clearance and continued with Pak's play of a short through ball to Oh, who was sprinting to his left on a diagonal run started in the middle of the field. With a defender closing quickly from his right, Oh let one rip with his left foot and earned the result.

The ball skipped off the top of the boot of the lunging defender and took a high arc as it cleared the head of the goalkeeper and bounced in.
"Dylan [Pak] played me in and I just turned and I saw a path," said Oh, a sophomore striker. "I shot it and I don't really know what happened after that. I saw it ended up in the back of the net, so why not celebrate it?"
Oh's goal gave Old Tappan a 2-1 win in the opening round of the North 1, Group 3 state sectional playoffs. The Golden Knights, the No. 3 seed, will host No. 6 Ramapo, a 6-3 first round winner over Wayne Valley, on Friday in the quarterfinals.
"I was pretty sure that it was going to go into penalty kicks. I think we are very similar to Tenafly, I think we are two teams on the same level and I think at times we have been a little toothless, both of us. I don't think either of us are as desperate in the box as we need to be," said Old Tappan head coach Mark Torrie. "We got that ball to David's feet and he turned. His right foot is good, his left foot is deadly and he managed to stick it away and we move on. Happy for the lads."
Tenafly defender Kamal Segui heading home the game's opening goal.
That Old Tappan (12-6-2) was still around with a chance to win it in a second overtime was a testament to the play of its keeper, senior Kieran McElduff, in the first half when Tenafly had its attack rolling. With Omer Magen, in his first game back after a recovering from a broken clavicle, orchestrating from the middle of the field and Eita Nakagawa making repeated spirited and physical runs, Tenafly had plenty of chances to do better than the 1-0 lead it settled for at halftime.
The most glaring example came 10 minutes into the game when McElduff made two saves for sure, and might have been credited with a third upon a further review, on the same sequence. Nakagawa entered the area on a diagonal to the right, gained a step and an open lane and hit a skidder on the wet turf that McElduff kicked away. The NVOT keeper than scrambled back in time to turn away Ishai Yuval's rebound attempt and survived the resulting scrum for the third ball.
The only time the Tigers were able to slip one past came on a no-doubter, a thumping header by Karmel Segui, the imposing defender who came up to take a whack at Liam Yair's corner kick in the 33rd minute. McElduff preserved the one-goal deficit with a sliding stop of a Daniel Joung half-chance in the 39th minute and then headed to the sidelines to disperse some blunt advice.
With plenty of chatter between the teams and even between teammates, McElduff did his bit to refocus energies on the task at hand.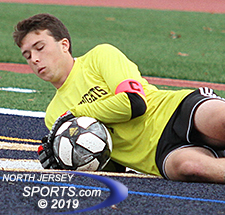 Senior Kieran McElduff made a host of tough saves for Old Tappan.
"I give Tenafly a lot of credit. They are a good team, they kind of dominated the first half, they had possession a lot and we had to step up to the challenge," said McElduff. "Torrie was trying to tell us from the start to just play and stop all the talking. I kind of yelled at the guys at halftime. We had to get our minds in the right spot and settle down."
McElduff made one more acrobatic save just over a minute after halftime when he parried Nakagawa's volley over the bar and after that his team started to find its form. The equalizer came in the midst of a heated one minute span that started when Old Tappan's Jack Jaeger picked up a yellow card for a tackle from behind with 26:05 left in the second half. Wearing the captain's armband, Jaeger did not return, but his teammates ably filled the void. On the counter attack after Tenafly's free kick came to nothing, a foul set up Pak for a free kick from about 30 yards out of the right side and his delivery targeted the head of Old Tappan's own mountain of a defender. Sophomore center back Max Caunedo came up to flick home the game-tying goal with 25:03 left in regulation.
"At one point they just got fired up and it was right when that kid got the yellow card," said Tenafly head coach Bill Jaeger, the uncle to Jack Jaeger, 'the kid who got the yellow card.' "Then they played with a little more heart, they came at us a little bit harder and I don't know if we responded to that quite as well as we should have. Despite that, we had two or three great opportunities to win the game."
Each team had one more dandy look in regulation. Just inside the 10 minute mark, Jon Mangano served in a corner kick that was left for dead and as it sizzled past the second post. Senior Devin Usal chased the ball anyway and went airborne to send a brilliant cross back in from the right and it was heading right for an uncovered Robert Kim before Tenafly keeper Frank Kim intervened.
The Tigers found themselves in a fortuitous circumstance in the 73rd minute when a miscommunication in the ball let the ball drop onto the foot of Yair alone in the box, but his shot went high and a wide of the mark.
Seven minutes and 35 seconds later the teams headed off for a quick regrouping before the first overtime and 7:55 later Tenafly (7-9) had its next legit scoring opportunity when, off the first kick of the first overtime, Nakagawa got in on the left, dropped a pass for Yuval and watched McElduff snuff out the chance with a dive toward his right post.
Penalty kicks definitely seemed like a viable option before Oh shook himself free and tallied the goal that gave Old Tappan its spot in the sectional quarterfinals and gave Torrie the 100th win of his high school head coaching career.
"In my first three years at Demarest I learned a lot about coaching high school kids, not so much about running training sessions, but about using soccer as a vehicle, as a tool for teaching life lessons to young men," said Torrie. "It's been a good journey and I hope it keeps going."
FOR MORE PHOTOS FROM THIS EVENT PLEASE CLICK HERE. TO BUY A COLLECTOR'S PRINT OF THIS STORY PLEASE VISIT 4-FeetGrafix.com.