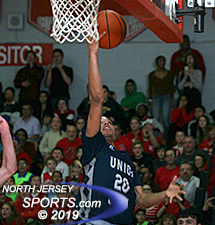 Senior Josue LaBeet scored a season-high 21 points for Union City, the Hudson County champion which earned a spot in the North 1, Group 4 final with a 62-57 win over Fair Lawn in a packed gym on Friday night.
FAIR LAWN – After winning the Hudson County Tournament title, Union City's players might have figured that that was the pinnacle of their high school basketball experiences, but as the Soaring Eagles took the floor 40 minutes before the opening tip of the North 1, Group 4 state sectional semifinals at Fair Lawn High School, it took only needed a few seconds for it to register that this game was going to be unlike one that they have ever played before. The crowd was already at full capacity, singing along with the warm-up music with the opposing fans exchanging chants back and forth. They knew that one way or the other this would be a game they would never forget.
That was especially true of Josue LaBeet. Known for doing the dirty work for Union City over the past two seasons, LaBeet picked an awfully good time to show that he can score when needed.
LaBeet had a season-high 21 points, including a go-ahead three-pointer in the fourth quarter. Fellow senior Elijah Sparkman knocked down four huge free throws in the final 59 seconds to lift third-seeded Union City into the North 1, Group 4 final with a wild 62-57 triumph over No. 2 seed Fair Lawn on Friday night.
"These are the games we live for and it was great to be a part of it," said Sparkman. "We knew this was going to be a tough game between (Fair Lawn) being really good and playing at their place. We've been down before in big games and our mentality to keep pushing no matter what."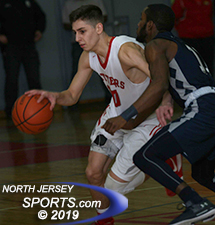 Darius Sohikish scored a game-high 24 points for Fair Lawn, which finished its season with a 22-4 record.
To say that the crowd was a loud one was an understatement. That led to an adrenaline-filled, fast-paced start. Sparkman scored six first-quarter points with the Soaring Eagles holding a 14-12 lead after one quarter.
The second quarter was one of runs by both teams. Darius Sohikish's slashing drive to the hole put Fair Lawn in front. Union City then embarked on a 9-1 run with a Wilmer Garcia three putting Union City ahead by seven. In a game of this magnitude, momentum can shift in a matter of a few possessions. A pair of forced shots and three turnovers allowed the Cutters to get back on track. Sohikish scored half of their points during a closing 12-0 run that put Fair Lawn in front at the half, 30-25.
"We scouted them but I think maybe we underestimated their length and how they got into our passing lanes," said Union City head coach Drew Morano. "They attacked us and got us in foul trouble. Fair Lawn is an excellent defensive team and give them the credit for really taking it to us at the end of the half there. We just had to go in and regroup. Our two teams are very similar but we were still confident. This team has some moxie and we've now won 11 in a row. We were down but we stayed confident and stuck to our gameplan."
The Cutters' lead was three, 47-44, going into the fourth quarter. However, just 36 seconds later the Soaring Eagles were back in front on a steal and a reverse layup from freshman Maurice Odum. That was the first of six leads changes during the fourth quarter. With each passing basket the Fair Lawn gymnasium got louder to the point where the players could not even hear their own coaches calling out plays from the sideline.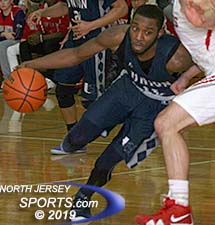 Elijah Sparkman and Union City will host Hackensack in the section final.
LaBeet was on fire throughout the second half and hit the big shots when his team needed them. He knocked down six of his seven second-half half shot attempts, the last of which coming on a corner 3 to put Union City ahead, 52-51.
"We always find the open man and I had to take shots when I was open," said LaBeet.
Fair Lawn had a chance to grab the lead on a three-point attempt with just over a minute to play but it was off the mark and it led to Sparkman going to the charity stripe for a one-and-one with 59 seconds left. A miss could potentially put his team's season in jeopardy but that thought never entered Sparkman's mind. He calmly stepped to the line and swished both free-throws to make it a two-possession game. Just seconds later there was Sparkman in the same position, at the foul line trying to ice the game. The senior showed his leadership by once again not touching the rim on either free throw, swishing them both as Union City pulled off the win and the rare storming of a court on the road.
"We had to stay composed, get stops, and hit our free-throws," said Sparkman. "If we went up-and-down with them it would have been a nightmare and it's a game that either team could have won. We were more consistent in the second half and we got stronger in the fourth quarter."
LaBeet had 15 of his season-high 21 points in the second half for Union City (22-6). Sparkman finished with 17 and Odum added 11.
Sohikish had a game-high 24 points and John Burek netted 16 points for Fair Lawn, which finished the season with a 22-4 record.
Union City will look to notch its second major title in as many weeks when it hosts the North 1 Group 4 final on Monday night. The Soaring Eagles will take on ninth-seeded Hackensack, who pulled a third straight road upset with a 72-68 win over Ridgewood in the other semifinal. After winning a Hudson County title and playing in the ultimate basketball atmosphere in this win, head coach Drew Morano feels his team is ready for just about anything heading into Monday's section final.
"We've been marking down this game going back to the last day of our season last year," said Morano. "Winning the county championship just kind of happened with upsetting Hudson Catholic then beating Marist. We've been focused on winning a section title from day one. It's not going to be easy but we'll be at home and (Hackensack) will be getting our best shot."
FOR MORE PHOTOS FROM THIS EVENT PLEASE CLICK HERE. TO BUY A COLLECTOR'S PRINT OF THIS STORY PLEASE VISIT 4-FeetGrafix.com.