Ryan Connolly was a part of a first quarter 3-point barrage that gave Wood-Ridge control in a 66-55 win over Emerson in the North 1, Group 1 quarterfinals on Thursday.
WOOD-RIDGE – Playing in front of a loud crowd and feeding off that energy are what players like Liam Winslow and Ryan Connelly live for. Playing in the last home game of the season for Wood-Ridge against a tough Emerson squad, the guard combo set the tone by bombing away from three-point range. It was a start better than the Blue Devils could have possibly imagined and it provided all the momentum they needed to keep their season going.
In the first quarter alone, Winslow and Connelly combined to go 7-for-8 from beyond the arc as fourth-seeded Wood-Ridge grabbed control of the game early and never looked back in a 66-55 victory over fifth-seeded Emerson in the North 1, Group 1 state sectional quarterfinals on Thursday night at Wood-Ridge High School.
Against a stingy Emerson defense the Blue Devils were at their best early by staying patient and moving the ball around the perimeter. Before the Cavos knew what hit them when the buzzer sounded to end the first quarter, both Winslow and Connelly were in double-digits in the scoring column and the Blue Devils, who nine of their first 11 shots, held a 26-13 lead.
"Our crowd is great and that energy helped us get off to the start we did," said Winslow. "Everyone made impact on the game. Our bench stepped up and did a an amazing job and we knocked down our free-throws. We all stuck together as a team from how we started the game, to how we played when we got in some foul trouble, to how we finished.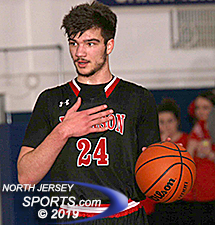 Senior JohnDime led all players with 25 points and 12 rebounds for Emerson, which finished the season with a 17-10 record.
The Blue Devils' most explosive player, sophomore Moshe Wilson, picked up his third foul on the first possession of the second quarter. It was a chance for the Cavos to trim that deficit. That was not the case for two reasons. One, the Blue Devils got solid play off the bench with threes from Stephen Crandall and Niko Giglio. The other was a more pressing issue that plagued the Cavos all game. They hit just two of their 10 free-throw attempts in the first half and 6 of 20 (30%) for the game overall as Wood-Ridge padded its lead going into halftime, 38-22.
Trying to get back in the game Emerson looked to its leader and he delivered. Senior forward John Dime hit five of his six third-quarter shots to slice the deficit down to a manageable single-digit margin, 47-38.
A putback by Dime got Emerson within seven with just over a minute to play but the Cavos never got any closer. Ryan Sarver, Giglio, and Connelly all hit key free-throws down the stretch as the Blue Devils advanced to the North 1 Group 1 semifinals.
Liam Winslow finished with 17 points for Wood-Ridge, which will visit Bogota in the semifinal round on Saturday.
Connelly led the way with 23 points for Wood-Ridge (18-9). Winslow finished with 17 points and Sarver added 14. Dime led all players with 25 points and 12 rebounds for Emerson (17-10).
Wood-Ridge will travel on Saturday to take on top-seeded Bogota, a 72-50 winner over Wallington on Thursday night. The two teams met in the opening round of the Bergen County Jamboree with Bogota leading wire-to-wire in a 73-37 romp over the Blue Devils. After playing admittedly their worst game of the year, the Blue Devils are eager to show that they are a much different, much better team than they were a month ago.
"We definitely learned something from that game and now we have a fresh start," said Connelly. "We've got a lot of confidence and a lot of momentum going into that game. Bogota is a good team and a tough team. But it's going to be great game and we'll be ready."
FOR MORE PHOTOS FROM THIS EVENT PLEASE CLICK HERE. TO BUY A COLLECTOR'S PRINT OF THIS STORY PLEASE VISIT 4-FeetGrafix.com.