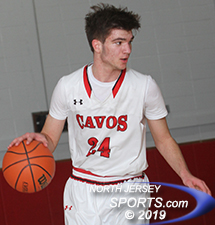 EMERSON'S JOHN DIME
North 1, Group 1
Seeds: 1. Bogota 2. Wallkill Valley 3. Paterson Charter 4. Wood-Ridge 5. Emerson 6. Hasbrouck Heights 7. Cresskill 8. Wallington 9. Boonton 10. Cedar Grove 11. West Caldwell Tech 12. Midland Park 13. Saddle Brook 14. New Milford 15. Butler 16. Waldwick
Player to Watch:
John Dime, Emerson
Kid can flat out play. Always roll with a basketball player whose last name is Dime.
Dark Horse:
Midland Park
Dave Kruis is one of the best players in the section. He can fill it up both slashing to the basket and from three-point range. The Panthers recently lost by a point to Emerson, who also happens to be their first-round opponent in the states.
Biggest First-Round Upset:
No. 13 Saddle Brook over No. 4 Wood-Ridge
Saddle Brook lost to Wood-Ridge twice during the regular season and the Blue Devils are always tough to beat on their home court. In both meetings a poor third quarter was the difference. If the Falcons can put four quarters together they have the pieces, led by Ricardo Rosa, to pull the upset.
First-Round Winners:
Bogota, Wallington, Emerson, Saddle Brook, Paterson Charter, Hasbrouck Heights, Cresskill, Wallkill Valley
Quarterfinal Winners:
Bogota, Emerson, Paterson Charter, Wallkill Valley
Final:
Bogota, Paterson Charter
Champ:
Paterson Charter
A huge, convincing win over Hawthorne coming into the states bodes well for this talented squad. Expect a nailbiter in the final, 69-67.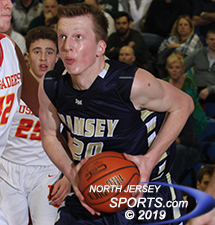 RAMSEY'S SEAN HANSEN
North 1, Group 2
Seeds: 1. Ramsey 2. Hawthorne 3. Mountain Lakes 4. Westwood 5. Jefferson 6. Mahwah 7. Dumont 8. Glen Rock 9. Pequannock 10. Manchester Regional 11. Elmwood Park 12. Kittatinny 13. Pascack Hills 14. Kinnelon 15. Morris Tech 16. Lenape Valley
Player to Watch:
Sean Hansen, Ramsey
Hansen is a 6-foot-8 player who can dominate on both ends of the floor. Blocking shots, grabbing rebounds, post moves, threes, setting hard screens to set up teammates for open shots, Hansen does it all and does it well.
Dark Horse:
Dumont
Dumont has won six of out of its last seven. The inside-outside combo of John Ahkao and Domenick Barlow is a tough one to slow down. The Huskies always play hard for head coach Ken Martoral and will be a tough out.
Biggest First-Round Upset:
None
First-Round Winners:
Ramsey, Glen Rock, Jefferson, Westwood, Mountain Lakes, Mahwah, Dumont, Hawthorne
Quarterfinal Winners:
Ramsey, Jefferson, Mountain Lakes, Hawthorne
Final:
Ramsey, Hawthorne
Champ:
Ramsey
Hansen is a shining star but he's just one guy. For the Rams to repeat as section champs they will need the other starters to play as they have all season. Jaden Quinerly is a quick point guard who can handle any type of pressure. Steven Turk can fill it up from beyond the three-point arc. The Rams have been a great team all season and that will continue through the states, 62-51.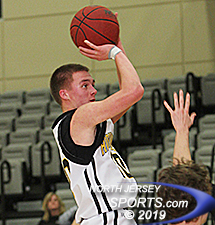 WEST MILFORD'S JOSIAH BASKET
North 1, Group 3
Seeds: 1. Sparta 2. Wayne Hills 3. Ramapo 4. Teaneck 5. Wayne Valley 6. West Milford 7. Dwight Morrow 8. Tenafly 9. Garfield 10. Dover 11. West Essex 12. Morris Hills 13. Northern Highlands 14. Montville 15. Pascack Valley 16. Indian Hills
Player to Watch:
Josiah Basket, West Milford
Basket is a matchup headache for opposing teams for three reasons. He is a 6-foot-4 two-guard and moves well without the ball. Most importantly, he has the quickest release of any player in North Jersey on his shot. If his shot is on (which it often is) he is absolute zone buster and nearly impossible for one player to guard.
Dark Horse:
Tenafly
After being left out of the Bergen County Jamboree, the Tigers took it personally. It has fueled them to a late-season surge in which they have won nine out of their last 10 games. Johnny Angbazo can score inside and Eric Berschadsky is a heady guard that makes the Tigers a tough team to put pressure on.
Biggest First-Round Upset:
None
First-Round Winners:
Sparta, Tenafly, Wayne Valley, Teaneck, Ramapo, West Milford, Dwight Morrow, Wayne Hills
Quarterfinal Winners:
Sparta, Teaneck, Ramapo, Dwight Morrow
Final:
Sparta, Ramapo
Champ:
Ramapo
Ramapo can match up size wise with any team in New Jersey, led by 6'11" center Neal Quinn. KC Hunt and Max Pernetti can also go off for big scoring performances. It will be the depth that will be the difference in this one. After losing a heartbreaker on their home court to Northern Valley/Demarest in the section final, the Green Raiders will return the favor by taking the top seed, 52-47, to win the section title.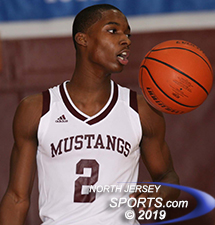 CLIFTON'S ARMANI BRINSON
North 1, Group 4
Seeds: 1. Clifton 2. Fair Lawn 3. Union City 4. Ridgewood 5. Paterson Kennedy 6. Montclair 7. Bergen Tech 8. Livingston 9. Hackensack 10. Bloomfield 11. West Orange 12. Passaic County Tech 13. North Bergen 14. Memorial 15. Randolph 16. East Orange
Player to Watch:
Armani Brinson, Clifton
Brinson has good size for a point guard with athleticism and shooting touch to match. After battling through foul trouble in a loss to Paterson Kennedy in the Passaic County final this past Saturday, the senior will be ready to return to form for state tournament play.
Dark Horse(s):
Passaic County Tech, Memorial
Although their record is below .500 coming into states, the Bulldogs have wins over top seed Clifton and No. 2 in North 1 Group 2 Hawthorne, along with a one-point loss to Wayne Hills and a double overtime loss to Ridgewood. Simply put, they will not be intimidated by any opponent.
Memorial already has a win over this year's Hudson County champion Union City, with whom the Tigers happen to play in the first round. If they notch an upset there, this team has a shot of going all the way.
Biggest first-round upset:
11. West Orange over No. 6 Montclair
Two neighboring towns to Richie Ballgame's hometown of Glen Ridge. Good lunch spots in both towns.
First-Round Winners:
Clifton, Hackensack, Paterson Kennedy, Ridgewood, Union City, West Orange, Bergen Tech, Fair Lawn
Quarterfinal Winners:
Clifton, Paterson Kennedy, Union City, Fair Lawn
Final:
Paterson Kennedy, Fair Lawn
Champ:
Fair Lawn
For all the talent in this section that includes two county champions Fair Lawn the one team (even as a No. 2 seed) that is flying under the radar. With a balanced scoring attack and playing in front of raucous home crowds look for the Cutters to make good on their namesake by cutting down the nets come March.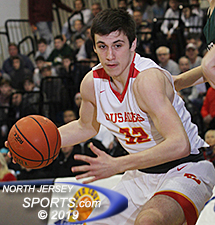 BERGEN CATHOLIC'S ZACH FREEMANTLE
Non-Public North A
Seeds: 1. Bergen Catholic 2. St. Joe's (Montvale) 3. Union Catholic 4. Don Bosco Prep 5. Dwight-Englewood 6. St. Peter's Prep 7. Seton Hall Prep 8. Delbarton 9. Paramus Catholic 10. Pingry 11. Pope John 12. Oratory Prep
Player to Watch:
Zach Freemantle, Bergen Catholic
The 6-foot-8, Xavier-bound forward is a steady double-double machine. Post moves, baseline jumpers, athleticism to get to the rim and to the foul line makes him extremely difficult to guard.
Dark Horse:
St. Peter's Prep
Led by one of the state's top freshman, guard Mark Armstrong, the Marauders are a live dog. A challenging schedule, both league and non-league,  has prepared them for a brutally rough bracket.
Biggest First-Round Upset:
No. 9 Paramus Catholic over No. 8 Delbarton
PC in our coverage area, Delbarton isn't.
Quarterfinal Winners:
Bergen Catholic, Don Bosco Prep, St. Peter's Prep, St. Joe's (Mont.)
Final:
Bergen Catholic, St. Joe's (Mont.)
Champ:
Bergen Catholic
St. Peter's-bound Doug Edert has had big games in big spot for the Crusaders. Matt Zona at 6'9" gives them another inside presence but it's the emergence of freshman Will Richardson that has taken this team to another level. They can beat a team playing any style offensively and can mix it up defensively as well. Too much talent, well-coached, BC wins the crown, 63-50.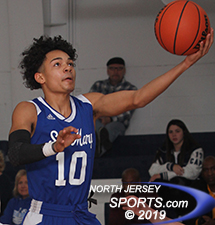 ST. MARY'S NICK BOYD
Non-Public North B
Seeds: 1. Roselle Catholic 2. Gill St. Bernard's 3. Saddle River Day 4. Patrick School 5. Hudson Catholic 6. Montclair Immaculate 7. St. Mary's (Elizabeth) 8. Marist 9. DePaul 10. Newark Academy 11. St. Mary's (Ruth.) 12. Koinonia 13. Morris Catholic 14. Hawthorne Christian 15. Cristo Rey 16. Morristown-Beard
Player to Watch:
Nick Boyd, St. Mary's (Ruth.)
Boyd is the state's leading scorer at 29 points per game. He has been lighting up the scoreboard all season with 14 games of at least 30 points, including a pair of 40-point performances. He has scored at least 24 points in 22 of the Gaels' 25 games. In a section full of teams that love to play a fast-paced game, we could see another monster performance or two from the senior guard.
Dark Horse:
Hudson Catholic
After their long reign as Hudson County champ came to a close this year the Hawks will be motivated to make up for that in the state tournament. FDU-bound forward Danny Rodriguez is a workhorse in the paint and he will need to be a leader if the Hawks can navigate their way through New Jersey's toughest section.
Biggest First-Round Upset:
None
First-Round Winners:
Roselle Catholic, Marist, Hudson Catholic, Patrick School, Saddle River Day, Montclair Immaculate, St. Mary's (Elizabeth), Gill St. Bernard's
Quarterfinal Winners:
Roselle Catholic, Patrick School, Saddle River Day, Gill St. Bernard's
Final:
Roselle Catholic, Gill St. Bernard's
Champ:
Gill St. Bernard's
The state's two best players will go head-to-head here. Kentucky-bound Khalil Whitney of Roselle Catholic will be matched up with versatile forward Paul Mulcahy, who is headed to Rutgers. Roselle Catholic is loaded with Division 1 talent but GSB is no slouch by any means. The winner of this game will be the favorite to win the Tournament of Champions. The Super Computer is going with the upset, GSB takes down Roselle Catholic, 71-70.
TO BUY A COLLECTOR'S PRINT OF THIS STORY PLEASE VISIT 4-FeetGrafix.com.