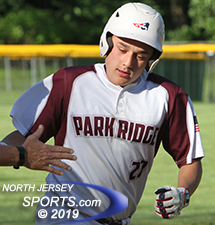 Sophomore Jim Brazofsky rounding third after his 11th-inning home run finally brought to a close Park Ridge's 8-5 victory over Wood-Ridge in the opening round of the North 1, Group 1 state sectional tournament on Tuesday.
PARK RIDGE – The elevated right field fence has stood its ground all season at the Sulak Lane Field in Park Ridge. It's a good looking fence with a banner showing the home team's name and chosen colors, it is located not all that far from home plate and, when used properly, can be an integral part of Park Ridge's home field advantage. This season, however, the fence has pretty much gone unnoticed.
"Nobody has hit the ball over that fence all year. Not one…" said Park Ridge head coach Pete Crandall. "Not one until today."
By "today" Crandall meant Tuesday's North 1, Group 1 state sectional tournament playoff opener and that was when sophomore Jim Brazofsky broke in the short port. Brazofsky dropped one over the barrier for a two-run home run in the bottom of the sixth inning to start Park Ridge's comeback from a five-run deficit and. Five innings later, Brazofsky put an end to a postseason marathon with a three-run homer to almost the same spot.
When Brazofsky crossed the plate at the end of his second trot around the bases, eighth-seeded Park Ridge, which made it all the way to the Group 1 state final last season with an almost entirely different cast of characters, opened defense of its section title with a classic 8-5, 11-inning victory that puts the Owls in the North 1, Group 1 quarterfinals where they will visit top-seeded Wallkill Valley on Thursday in Hamburg.
"I was just trying to take the ball the other way, get on top of it and drive it to right [field] instead of striking out or popping up like I have been doing too much. In both of those at bats I just wanted to make something happen," said Brazofsky, who was 0-for-2 in his first two at bats before going 3-for-4 with two homers, two runs scored and five RBI over the final six innings. "Right field on this field is always a good approach to try to go that way. You don't need too much power to get it over there and if you hit it just right the ball can go for a while."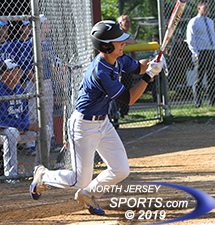 Lucas Leone had four hits, an RBI and a run scored for Wood-Ridge.
The mob scene at home plate when Brazofsky stepped on it for the final time was just the last turn in a wild game that was all Wood-Ridge early, a stalemate in the extended middle and then a walkoff finish well more than three hours after the first pitch.
Wood-Ridge got right to work. Eric Drotos (2-for-4, 2 RBI) and Ryan Connolly (3-for-5, RBI) each drove in first inning runs, Drew Packen (3-for-6, 2 R, RBI) singled home a run in the top of the second to make it 3-0 and back-to-back two-out singles by Lucas Leone (4-for-6, R, RBI) and Drotos in the top of the fourth gave the Blue Devils a seemingly commanding 5-0 lead.
Crandall certainly did not see any signs that a comeback was in the offing as Park Ridge managed just four hits against Wood-Ridge starter Liam Winslow (6 2/3 IP, 5 R, 4 ER, 8 H, 7 K, BB, 2 HBP), the junior right-hander who needed just 68 pitches to get through five shutout innings.
"At 5-0 I did not feel like we had a comeback in us. I did not hear a word from the bench and we were kind of dead in the water," said Crandall. "All of sudden we got some runners on, we got a couple of big hits and then it was like, 'Wow, we have a tie ballgame here.' I did not see it coming."
The first crack in the Wood-Ridge armor came on a misplayed groundball that allowed Vinny Pinto to reach base leading off the bottom of the sixth inning. The next hitter was Brazofsky, who deposited his first home run into the woods beyond the right field fence to get the Owls to within 5-2. Winslow steadied himself and retired the next three hitters in order with two strikes and then got the first out of the seventh inning before hitting Zack Lewis, Park Ridge's leadoff hitter, to spark another Owls rally.
Brendan Hughes (3-for-5, 2R) doubled Lewis to third and Tommy Ryan's (3-for-6, R, RBI) infield single pushed Lewis across to make it 5-3. Pinto was then hit by a pitch to load the bases before Winslow recorded his final out, an infield pop-up that left it up to Michael DiRenzio, who came up with the bases still loaded and two outs. DiRenzio (2-for-4, 2 RBI) delivered a two-run single to the opposite field to tie the game at 5 and it stayed that way for quite a while.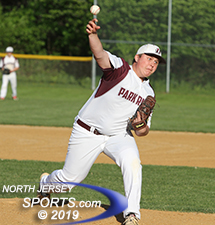 Sophomore Ryan Spies threw 2 2/3 innings of scoreless relief to pick up the win for Park Ridge, which will play top-seeded Wallkill Valley in the quarterfinals.
It is not like Wood-Ridge ever stopped hitting after it early offensive outburst, it just stopped scoring. The Blue Devils compiled 19 hits in the game and 15 off of Hughes (8 1/3 IP, 5 R, 4 ER, 15 H, 2 K, BB), Park Ridge's sophomore right-handed starter who limited damage all game long and lasted into the top of the ninth inning before running up against his pitch limit.
Wood-Ridge had a runner trying to score from second base on a fourth-inning single cut down at the plate by PR centerfielder Tyler Marsh, who threw a seed to Pinto, the Owls catcher who slapped on the tag. Marsh also got an assist on an 8-5-4 putout in the top of the 10th with a rocket throw to third base that stopped a runner in his tracks before he was tagged out in a rundown.
Wood-Ridge had two hits in each of the ninth, 10th and 11th innings but could not push anything across against Ryan Spies (2 2/3 IP, 0 R, 0 ER, 4 H, 2 K, 0 BB), another sophomore right-hander, who gave Park Ridge exactly what it needed in relief.
When the season began, being the pitcher of record on the long side of an 11-inning playoff classic was probably the last place that Spies expected himself to be in.
"I thought I would be the bottom starter, the one that would pitch against all of the worst teams. I thought that was where I would start and then work my way up," said Spies, who is now 5-0 on the season for a team whose overall record is now 12-8. "I did not really see myself pitching the state playoffs, didn't really see it at all."
Anthony D'Amico was effective in relief for Wood-Ridge as he hung up three scoreless frames, including the eighth where the Devils stayed alive with one brilliant defensive play that included many moving parts. With two outs and Lewis on first, Hughes crushed a double to straight away centerfield. Leone had his back to home plate and he tracked down the rolling ball near the fence before whirling and firing in to Packen, the cutoff man who took the throw well into the outfield grass. Packen, the senior who will play next season Caldwell College, spun and threw a strike to Drotos, the catcher, who slapped on the tag to keep the Blue Devils' season alive for at least a couple more innings.
D'Amico (3 2/3 IP, 3 R, 3 ER, 5 H, 4 K, 2 BB) worked out of a two-on, one-out jam in the bottom of the ninth, Spies wiggled out of a bases loaded two-out situation in the top of the 10th and D'Amico worked a 1-2-3 bottom of the frame to send the came into the deciding 11th inning.
Connolly led off the top half with a single, but was the runner cut down by Marsh's strong throw while trying to move up two bases on Jake Colon's single. A bunt for a base hit turned into just a sacrifice and the second out as Colon moved over to third before Spies got a called strike three on a 3-2 pitch to the final Wood-Ridge hitter of the game.
Hughes drew a walk to set up Park Ridge's final rally, Pinto drew a one-out walk and then Brazofsky ended the festivities with his second home run of the game, the walkoff that sends Park Ridge into the quarterfinals.
"It's all kind of like a blur when I think back on it now," said Brazofsky. "I know it was fun and I know I got a little hype when I was rounding the bases. What a great feeling."
FOR MORE PHOTOS FROM THIS EVENT PLEASE CLICK HERE. TO BUY A COLLECTOR'S PRINT OF THIS STORY PLEASE VISIT 4-FeetGrafix.com.