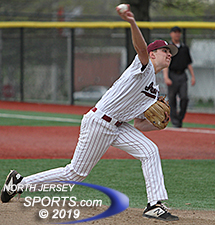 Kevin Jaxel worked a 1-2-3 seventh inning for Don Bosco Prep, which won for the seventh time in its last eighth games when it beat Pascack Hills, 3-0, in Ramsey.
RAMSEY – It is weird when a public school team occupies the visitor's dugout at Don Bosco Prep's home field and it is actually the home team that feels like it has something to prove. It was Pascack Hills that had a Bosco-like season last year and even beat the Ironmen in the Bergen County Tournament final on the way to a state championship and a No. 1 state ranking.
While Tuesday's contest could not be considered a county championship rematch because of roster turnover, it was an indicator of where each team stands as the hunt for 2019 trophies is just about to begin.
"It was just a good victory for us. As far as the whole redemption/payback and things like that, it is a little overrated. A large group of our players were not rostered last year and now they are the ones out there competing and [Pascack Hills] obviously lost some players," said Don Bosco Prep head coach Mike Rooney. "It really just comes down to a regular season win and we probably needed it more than them, honestly."
Don Bosco Prep was the team with momentum heading into the matchup and it was the same after the last pitch was thrown as the Ironmen won for the seventh time in their last eight games behind John Modugno (6 IP, 0 R, 0 ER, 3 H, 6 K, 4 BB). The lanky right-hander threw six innings of three-hit, no-run baseball and pitched himself out of trouble the couple of times he pitched himself into it in a 3-0 victory in Ramsey.
"I was really working on just staying through the ball [pitching] coach Jim [Wladyka] is all over me with that stuff in the bullpen before the game and I just had to concentrate on that," said Modugno. "Last year we lost to [Pascack Hills] in the [county] final and the 2018 team really wanted to win that. This year we just came out here and got them. It does not make up for last year, but it feels good."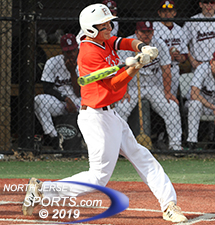 Mike Rodriguez had two of Pascack Hills' three hits.
With a number of pro scouts, radar guns at the ready, sitting behind the backstop, Modugno hooked up in a pitcher's duel with Pascack Hills senior southpaw Ryan Ramsey. It was obvious early that neither team was going to be able to sustain a rally by stringing multiple hits together, so it was always going to come down to the timely hit or capitalizing upon mistakes.
Pascack Hills stranded a runner in scoring position in each of the first four innings and missed some chances to give Ramsey (4 1/3 IP, 3 R, 0 ER, 2 H, 2 K, 2 BB) a lead to work with. Ramsey set the first six batters he faced in order before his defense let him down in the bottom half of the third. An outfielder fell down while chasing CJ Wensowicz's flyball, which fell untouched for a leadoff double and Jake Brazzano got the sacrifice bunt down in front of No. 9 hitter Griffin Gonzalez, who was also called upon to bunt. Pascack Hills botched the coverage at first base and Gonzalez scooted all the way to second base before Jon Cohen drew a walk to load the bases with one out.
Pascack Hills' defense cracked again with a dropped flyball that allowed Wonsowicz to score and Charlie Granatell followed with a single to the opposite field that made it 2-0 in Bosco's favor with both runs unearned. The Cowboys got two more on in the bottom of the fourth inning when Spencer Berson singled with one out and Christian Kim followed with a walk, but Modugno buckled down again and got a called strike three and a ground ball to end Pascack Hills' last threat.
Modugno retired 8 of the final 9 hitters he faced before giving way to Kevin Jaxel, who hurled a 1-2-3 seventh inning with two strikeouts to pick up the save while handing Pascack Hills its second loss of the season. The Cowboys (8-2) dropped a league game to Mahwah last week as they seek that magic that carried them through last season, which ended in a celebratory dog pile after the Group 2 state final in Trenton.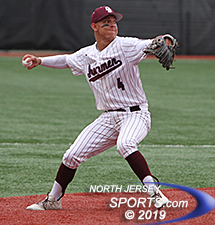 Bosco shortstop Daniel Helfgott drove in two runs and also made a standout defensive play deep in the hole to end the top of the sixth inning.
Pascack Hills stranded eight runners in the game, five of them in scoring position, went down in order for the final 2 2/3 innings, committed three errors on the defensive side and did not make a couple of other plays that were makeable.
"They were better than us today. They executed when they needed to. We had guys on in scoring position in each of the first five innings and got nothing out of it. They got guys on the in the third and we made some defensive miscues. They put pressure on us and we did not respond," said Pascack Hills head coach Kevin Kirkby. "Last year we lost to Bergen [Catholic in a regular season independent game] and that was kind of the turning point for our season. I am hoping this loss today can be the same thing."
Don Bosco Prep is now 7-5 on the season, but that is deceiving. The Ironmen lost four games out of state when they opened their season at an elite event, the Bishop Gorman Tournament in Nevada that included a host of nationally ranked teams that already had a bunch regular season games under their belts.
Bosco has yet to play Bergen Catholic or St. Joseph Regional this season, but has to now be considered the front-runner for the No. 1 seed when the Bergen County Tournament field is selected next Monday night.
"I have not thought much about that yet, to be honest. I just focus on the next game. That [No. 1 seed] is a little bit out of your hands, but becomes closer to your grasp the more you win," said Rooney. "That is all we are looking to do."
FOR MORE PHOTOS FROM THIS EVENT PLEASE CLICK HERE. TO BUY A COLLECTOR'S PRINT OF THIS STORY PLEASE VISIT 4-FeetGrafix.com.