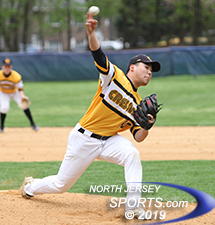 Senior Ohjiro Motoki threw a complete game and made a standout defensive play to lift Cresskill to a 3-2 win on the road at Ramsey in the opening round of the Bergen County Tournament.
RAMSEY – At the time Cresskill's Ohjiro Motoki thought he was just getting started. He was a freshman in 2016 when he was the starting pitcher against River Dell in the opening round of the Bergen County Tournament. He threw well in a loss and gained valuable experience that he figured he would be able to use in all of his subsequent county tournament outings. A baseball career, however, is rarely smooth ride on a straight line.
Injuries meant Motoki would not see the mound in Bergen County's premier baseball event in either 2017 or 2018 and his start on Wednesday in the play-in round on the road at Ramsey was his last chance to make his mark.
"It's been a roller coaster for sure," said Motoki, a hard-throwing right-hander who will play at High Point University (NC) next season. "I wanted to redeem myself from that River Dell game in my freshman year. I remember that game like it was yesterday and that experience, even though it was a while ago, probably helped me. My approach today was to just throw strikes and trust the defense behind me."
Motoki threw plenty of strikes, the last one on his 111th pitch of the afternoon. With the tying run in scoring position and facing his final hitter whether he got him out or not due to pitch count rules, Motoki snapped off a breaking pitch and got a swinging strike three to put the wraps on Cresskill's historic victory.
Although official records were in short supply right after the game, Cresskill's 3-2 as the No. 17 seed over No. 16 Ramsey is the first Bergen County Tournament win for the Cougars in a long time.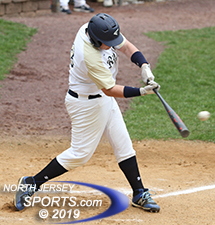 Danny Cantor had two of Ramsey's four hits in the game.
"We had a tough game last night at Boulder's Stadium. We lost, but I told the kids that today they had a chance to make history," said Cresskill head coach Donnie Merritts. "We have not won a county game since I have been here either as a head coach or as an assistant before that. If Cresskill has ever won a county game, it happened a long time ago."
Motoki (7 IP, 2 R, 2 ER, 4 H, 6 K, 3 BB) not only pitched gem, but he also made the game's standout defensive play in the bottom of the sixth inning with his team clinging to the one-run lead. Ramsey had runners on the corners with one out and Will Kennedy at the plate. On the second pitch of the at bat, Kennedy got down a bunt and left Motoki with a do-or-die play at the plate.
"As soon as they took that time out I knew that a bunt was coming. First pitch, no bunt so I knew the second pitch had to be a bunt so as soon as I threw it I started creeping up. As soon as he got it down I knew I was not going to first [base for the out], I am going home with it," said Motoki. "I grabbed the ball and I didn't have time to transfer it into my hand. I had it in my glove and I just flipped it right to [catcher] Matty Naccarella. He put the tag one and we got out of it."
The Ramsey baserunner got an assist for not sliding on the play at the plate, which made the tag easier for Naccarella and getting that out and keeping the lead probably changed the game's trajectory for good.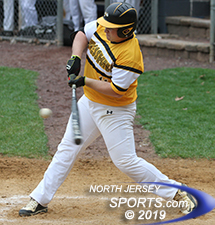 Jason Naccarella had the game-winning RBI for Cresskill, which will get a shot at top-seeded Don Bosco Prep in the Round of 16 this weekend in Ramsey.
"Not only did [Motoki] pitch lights out, but he made pretty much the play of the game to keep the lead on the flip on the bunt," said Merritts. "The kid doesn't slide, it is a bang-bang play and that changed the whole game. If they score there [Motoki] might have to come out. Instead, he got to finish the game out right on the number."
Ramsey had taken the early lead when Ben Bibergall's groundball scored the pinch runner for Danny Cantor, who led off the bottom of the second inning with a clean single up the middle. Cresskill went in front for the first time by piecing together a two-out rally against Ramsey starter Steven Turk (4 2/3 IP, 3 R, 2 ER, 5 H, 5 K, 1 BB) in the top of the fourth.
Jason Naccarella (2-for-3, RBI, R) got it started with a single, Kenny Spadaccini (1-for-3, R) followed with another base hit and Kiel McGee (1-for-2, BB) drew a walk to load the bases. Matt Naccarella was then hit by a pitch for an RBI the hard way and an error allowed the second run to score to put the Cougars up 2-1.
Ramsey got even in the bottom of the fifth with some good work by the bottom of its lineup. Raul Carnejo, the Rams' No. 8 hitter, beat out an infield single, went to second on an errant pickoff throw, to third on a wild pitch and then scored on John Creegan's groundball to shortstop that made it 2-2.
Cresskill scored the go-ahead run with two outs as well as Jason Naccarella's single to center scored Kyle Henderson (1-for-4, R), who put himself with in scoring position with a double to rightfield with one out in the top of the fifth. Ramsey got back even
Motoki left runners stranded in scoring position in both the sixth and seventh inning to close out the win and send Cresskill through to the Round of 16 where it will play on the road in Ramsey again, this time at the home of top-seeded Don Bosco Prep on Saturday.
Kiel McGee will get the start for Cresskill, which has already put a historic win in the bank and a chance for another in two days' time.
"Ohjiro is our No. 1 and Kiel McGee is like our 1A. That is how we have been going all year…with those two guys. We have beat Emerson twice, we beat Ramsey today and we have already beat one non-public in DePaul this year and maybe we can get another one," said Merritts, whose team is now 10-4 on the season. "David slayed Goliath and you are looking at David right here. We are going bring our slingshots to Bosco and see what we can do."
FOR MORE PHOTOS FROM THIS EVENT PLEASE CLICK HERE. TO BUY A COLLECTOR'S PRINT OF THIS STORY PLEASE VISIT 4-FeetGrafix.com.