Senior Ashley Bernardo went the distance in the circle and also had an RBI for River Dell, which improved to 4-1 in the season with a 7-5 win at Pascack Valley.
HILLSDALE – River Dell's softball team has it goals. The Golden Hawks want to make a run at a league title and they want to make some noise in tournament play whether it is in the county or state section or, preferably, both. Much like every team with competitive players, River Dell uses every game as an opportunity to prove itself in a crowded field of quality teams in Bergen County.
And there is another reason that the Hawks want this season to go on for as long as possible.
"There are five us that have been on varsity together since freshman year – me, Ashley [Bernardo], Emily Gamper, Cat [Sattely] and Ashley [Gardener] – and we have all grown so close over the four years. We know this is our last go-round and we don't want it to end," said River Dell senior shortstop Bridget 'Bird' Cahill. "We are having so much fun together and we are trying to get a lot of wins, especially today because this was a league game."
River Dell was on the road in Hillsdale and carried a 7-1 lead into the bottom of the seventh inning before Pascack Valley made it more interesting than the Hawks might have liked. Pascack Valley scored two runs in the bottom of the sixth, two more in the bottom of the seventh and had the winning run at the plate in its last licks before Cahill fielded the game's final ground ball to close out a 7-5 victory that moves River Dell to 4-2 on the season.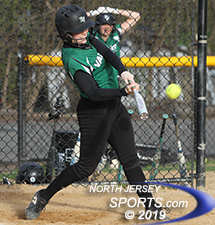 Cara McMahon hitting the second of her two homers, a two-run shot in the bottom of the seventh that got PV close.
"It got a little stressful. I thought I had the one batter [Julia Spadafino] struck out in the seventh, I didn't get the call and then she got a base hit," said Bernardo, River Dell's right-handed starting pitcher who went the distance. "The next girl [Cara McMahon] hit a home run after that and the game got really close."
McMahon, whose batting average is hovering right around .500 for the season, hit home runs in each of her two final at bats. She led off the bottom of the sixth with a solo shot to left center and then took it out in the same vicinity with two outs in the bottom of the seventh to keep the game alive. Kriselle Bellini and Julianna Dunne added back-to-back two out hits to put the tying runs on base, but Bernardo induced the final ground ball, Cahill handled the chance and River Dell built up some confidence that it could win a close game, even one that a was not that tight through the first six-plus innings.
"The last inning was tough, but we fought through it and the girls did a good job. They hit some balls hard, but we made some plays when we got a chance and it was good to see them stick to it," said River Dell head coach Mike Garibell. "Ashley [Bernardo] threw strikes, we threw a girl out at the plate and overall it was a good job. This shows we can win a close game. We lost to Tenafly 1-0, it was 6-5 against North Bergen before that game was suspended due to weather and then we had this one and we came out on top. It was good to see us win a close one."
River Dell raced out to an early lead as the game's first two batters came around to score. Gamper singled leading off the game and Cahill doubled (3-for-4, 3 R, SB) before both scored on a throwing error. McMahon, PV's senior starting pitcher, settled down after that and retired the next seven batters in a row, nine of the next 11 and 12 out of the next 15 to keep her team to within 2-0 heading into the bottom of the fourth.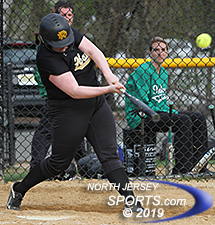 Junior first baseman Izzy Simon had a hit, an RBI and scored a run for River Dell.
Bernardo stranded four runners through the first three innings, but Dunne (2-for-4, R) led off the bottom of the fourth with a single and scored on Ashley McKenna's double two batters later to get PV on the board. It was in the top of the fifth that River Dell built its cushion with as it took advantage of some defensive miscues to put up four unearned runs against McMahon (7 IP, 7 R, 1 ER, 10 H, 7 K, 4 BB), who pitched in some tough luck.
Cahill reached on an error with one out and the bases empty and stole second before an Izzy Simon (1-for-4, RBI, R) single back through the box made it 3-2. Singles by Gardner (2-for-3, R) and Kate Wilhelm (2-for-4, R, SB) and back-to-back bases loaded walk drawn by Sattely (0-for-2, 2 BB, RBI) and Charley Paul (0-for-2, RBI, SAC) pushed the River Dell lead back up to 6-1. Bernardo made it 7-1 with a two-out knock in the top of the sixth and had only six more outs to get from inside the circle, but PV did not make it easy.
Both of McMahon's homers in the final two frames were no-doubters and the Indians raked for five of their 11 total hits in the bottom of the seventh, but River Dell played a near error-free game and got the final out it needed to hang on for its fourth win of the season.
"I am definitely bummed about the loss, but the energy shift that we were able to pull off in the bottom of the seventh inning was something we can learn from. If we can play with that type of energy from the start of games we have a chance to be a really good offensive team," said Pascack Valley head coach Lauren Bacsik, whose team fell to 4-5 on the season. "McMahon has been great for us as the plate and her teammates are coming around behind her. We have been hitting, we just have to put it all together and be more consistent and we have the potential to do that."
River Dell put another game between itself and the .500 mark and hopes that the upward trend continues.
"A league title is our biggest goal and we know that we pretty much have to win out now to get there because we have already lost two games," said Cahill, who will play basketball next year at Ramapo College. "I have faith in every player on this team that we can do it and we are going to work hard to try to get there."
FOR MORE PHOTOS FROM THIS EVENT PLEASE CLICK HERE. TO BUY A COLLECTOR'S PRINT OF THIS STORY PLEASE VISIT 4-FeetGrafix.com.