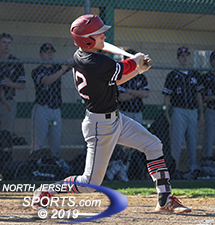 Liam Roy had two hits, including a two-run homer and a run-scoring double, for Northern Highlands, which snapped Ramapo's 9-game winning streak with a 13-3, 5-inning victory in Franklin Lakes.
FRANKLIN LAKES – Northern Highlands was doing just fine. The Highlanders have beaten the teams they supposed to, put a couple of games between themselves and .500 and had put themselves in a position to qualify for the Bergen County Tournament with a solid week. What Highlands did not have yet was that one win that could put an exclamation point on its postseason resume.
That chance came on Wednesday afternoon in Franklin Lakes when Highlands visited league rival Ramapo, a team on a nine-game winning streak that had not lost since dropping a season-opening series against Ridgewood. The Highlanders certainly rose to the occasion.
The first two hitters of the game, CJ Minchin and Ken Suzuki, drew walks and, although neither came around to score in the opening inning, the tone was set as Northern Highlands drove of Ramapo starter David Ring's pitch count and made it clear that they would not help him out by swinging at pitches out of the strike zone.
It was in the second inning that the Highlanders' game plan paid dividends as they sent 10 hitters to the plate, scored eight times and went on to a 13-3, 5-inning victory. With three games left before the county tournament cutoff, Highlands improved to 7-4 on the season to help bolster its case.
"We haven't had a signature win yet and we haven't really had a signature loss, but this is definitely a signature win against a program like Ramapo that is top-notch every year," said Northern Highlands head coach Paul Albarella. "We looked at the schedule this week and we had Ramapo, Ramapo, Pascack Valley and Mahwah heading into the county cutoff. There are no gimmies and at some point you are going to have to start beating teams that you might see in the county tournament, so this was definitely a signature win for our guys."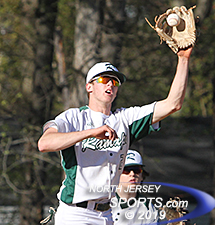 Senior KC Hunt was 3-for-3 and broke Ramapo's career hits record. He now has 115 and counting.
Liam Roy's first at bat was a quality one in a game full of them for the Highlands leftfielder. He drew a walk to kick off the second inning rally that lasted a while. Isaac Springer singled Roy into scoring position before Ben Johnson drove in the game's first run with a groundball to the right side. That was just the start as Jason LoCasio (1-for-3, RBI, R), Thai Morgan (2-for-2, 3 RBI, 2 R, SB), Nick Marconi (3-for-4, 3 RBI, 2 R) and Roy (2-for-2, HR, 3 RBI, 2R), who batted twice in the frame, all drove in at least one run in the 8-run outburst.
Roy's second at bat in the second inning was a two-run blast to straight away centerfield, his second home run of the year.
"It was a 3-2 [pitch], there were two outs and we had a guy on second. We had a lot of good moral, our energy was high, so with two strikes I just shortened up and got a good piece of it," said Roy, who also had an RBI double in the top of the fifth inning when Highlands scored its other five runs. "A couple of games ago we did not have good at bats against Wayne Hills, but the last couple of games we have been having good at bats. Our first two batters walked, we had guys on all day and our confidence is growing more and more as the season goes on."
All of the early run support made it a rocking chair kind of outing for junior right-hander Michael Ruggieri, who faced just one hitter over the minimum over the first two innings. Senior shortstop KC Hunt, the senior heading to Mississippi State University next season, had a first inning single, the 113 hit of his career, which tied the all-time record at Ramapo. Hunt, who went 3-for-3 on the day, established the new record of 115 and counting, passing 1995 graduate Rob Miano, who went on to play at the University of North Carolina.
That was one of the few highlights for Ramapo as Ruggieri did not allow a run through the first four innings.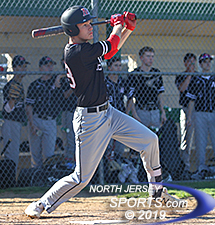 Nick Marconi and three hits and 3 RBI for Northern Highlands, which improved to 7-4 on the season.
"We had the bats going so that put me in the position to go out and throw strikes. I felt good out there on the mound," said Ruggieri, who has already committed to play at the United States Military Academy at West Point. "I felt like I was pounding the zone, my offspeed I was locating and I felt good overall. They are very solid team, so it is always big to beat Ramapo. We play them again tomorrow, so we have to be ready because they are going to bring everything they have."
Highlands put the mercy rule into effect in the top of the fifth when it struck for five more runs. Johnson started the rally by drawing a leadoff walk, Morgan hit a two-out, two-run single, Marconi drove in two more with a double down the rightfield line and Roy added his second extra base hit of the game, a run-scoring double to deep left center.
Ramapo nearly extended the game with a fifth inning surge started by a leadoff triple by Jack Hagan. Ring (2-for-3, RBI, R) stroked a one-out double to push across Ramapo's first run. The last two came on Hunt's two-run bomb to right-center for career hit No. 115. Hunt and Ring combined for five of Ramapo's six hits in the game.
Having used up his three-run cushion, Ruggieri (5 IP, 3 R, 3 ER, 6 H, 6 K, 1 BB) settled back in and got two groundballs to end the game and Ramapo's nine-game winning streak. The Green Raiders have the return leg against Highlands on Thursday in Allendale and a Friday game against Wayne Valley before the cutoff for the Bergen County Tournament. The Raiders have already clinched a bid and will prime up for the start of tournament play with a competitive week that will include games against Demarest on Monday and then DePaul, St. Peter's Prep and St. Joseph Montvale next Wednesday through Friday.
This is a unique Ramapo team. There is only one non-senior on the roster, sophomore Dean Ferrara, who made his varsity debut on the mound on Wednesday. The other 21 players that suit up are from the Class of 2019, the same class Ramapo head coach Mickey Hunt's son is a part of and a group of kids that he has known since they were knee-high to a grasshopper.
"I have known these guys since they were 7 of 8 years old, most of them. It is kind of weird because we know that this is the last go-round," said Mickey Hunt. "They are a great group. There are 21 seniors and it is tough getting everyone in the game. They understand that, they understand that they are all not going to play every game, but they all pull for each other and they are great teammates."
FOR MORE PHOTOS FROM THIS EVENT PLEASE CLICK HERE. TO BUY A COLLECTOR'S PRINT OF THIS STORY PLEASE VISIT 4-FeetGrafix.com.