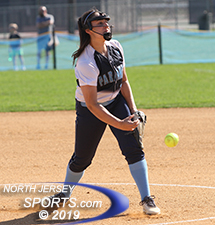 Sophomore Katie Koutros went the distance and allowed just two earned runs for the Paramus, which handed Ramapo its first loss of the season, 11-4, in Paramus.
PARAMUS – Ramapo was one the standard bearer for public school softball programs in Bergen County. Ramsey has a chance to win its third straight Bergen County Tournament championship this season, but until/if the Rams do it next month, Ramapo is still the only public school to accomplish that particular bit of history (2006-08) and some of the best players of the last 20 years in North Jersey have come through Franklin Lakes.
The last few years have been on the lean side, so when the Green Raiders broke out of the gate this season with seven straight wins powered by an impressive array of freshmen and sophomores, the buzz returned and the local softball community took notice. Paramus, a proud program in its own right with a solid track record of county and state tournament success under head coach Brian Hay, certainly knew who it was that was paying a visit to the Spartans' home field on Wednesday afternoon.
"We have heard about Ramapo and we knew that they were going to come in here very confident, but our team this year is very bonded and we came into this game really wanting to give our best," said Paramus catcher Hailey Kaiser. "We are a very good offensive team and we feel like we can rock any ball thrown by any pitcher. We can hit top to bottom in the lineup and we wanted to prove that today."
Paramus did indeed show its prowess with the bats as every hitter in the lineup reached base at least once. By repeatedly putting the ball in play and always looking to take the extra base, Paramus applied the pressure from start to finish and ended up on the long side of an 11-4 final score. The Spartans improved to 6-2 on the season while Ramapo fell to 7-1.
Sophomore Mary Eglinton-Manner had a hit and an RBI for Ramapo, which fell to 7-1 on the season.
"We have been kind of inconsistent through the early season, but one of the things that got us motivated today was having a good team come in here with an undefeated record. That was definitely on our girls' minds," said Hay. "We talk to the kids all the time about getting the ball in play, especially with two out and runners in scoring position. If you can the ball in play you put the pressure on the defense. We did that all today and that was nice to see."
Ramapo is young. Its starting lineup on Wednesday included six freshmen, including right-handed starting pitcher McKenna Lont (6 IP, 11 R, 4 ER, 8 H, 3 K, 5 BB), three sophomores and one senior, but their youth does not keep the Green Raiders from being extremely aggressive at the plate. All of them are looking to cut the ball in half and they got on the board first when, in the top of the second inning, freshman Victoria Cunningham (2-for-3, RBI, R) smoked a double to the opposite field that scored freshman Jenna DeLuccia (1-for-3, 2 R) all the way from first base for a 1-0 Ramapo lead.
That run was unearned and that would become a theme as neither defense really ever settled in and Paramus went in front for good with a key two-out hit in the bottom of the second. An error and a two-out walk put Lont in a bind when she faced one of the best hitters in the county, Samantha Settecasi (1-for-5, 3 RBI, 2 SB), with the bases loaded and Paramus' leadoff hitter took advantage by stroking a bases-clearing triple that made it 3-1 in favor of the home team.
Ramapo got an unearned run back in the top of the third on a Mary Eglinton-Manner (1-for-4, RBI) single, but Kaiser (2-for-3, 3 RBI, 3 R) restored the two-run cushion in the bottom of the frame with a two-out, opposite field single that scored Gianna Egbert (1-for-1, 3 R).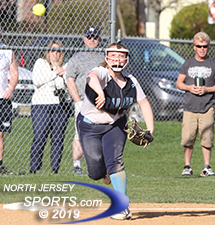 Gianna Egbert reached base in 3 of her 4 plate appearances, scored 3 runs and played a solid third base for Paramus, which is now 6-2 on the season.
Neither pitcher worked a 1-2-3 inning in the game, but Paramus sophomore Katie Koutros (7 IP, 4 R, 2 ER, 8 H, 1 K, 5 BB) battled hard and faced just one of the minimum in both the fourth and fifth innings before her offense provided her with some added wiggle room in the bottom of the fifth courtesy of three more unearned runs. Gianna Cantone (1-for-2, 3 RBI, R), the Spartans' centerfielder and No. 9 hitter,  drove in the last two runs of the three-run inning with a two-out single up the middle to make it 7-2.
Ramapo got back to within touching distance with two runs in the top of the sixth, but Paramus exploded again for four in the bottom of the inning to put it out of reach. Kaiser had the big blow there, too, as, after Ramapo elected to walk Katie Murray (1-for-3, 2 R) intentionally, she cracked a two-run double that broke the game open.
Ramapo loaded the bases with two outs in the top of the seventh to keep things sort of interesting, but Koutros got the final hitter of the game to ground out to second baseman Brooke Rennar to close it out.
"I came into the game with a lot of respect for Ramapo and I knew that I had to hit my spots and work my pitches because they have a really good lineup," said Koutros, a right-hander. "I have a really good defense behind me and I have complete trust in them. Ramapo can hit and that is part of the game. I had to put the ball over the plate, let them put the ball in play and let my defense work behind me and they were good enough at doing that today."
The pecking order in Bergen County softball is starting to take shape here a couple weeks out from the start of the county tournament. IHA and Ramsey seem to have separated themselves from the pack a bit, Immaculate Conception, which went all the way to the Tournament of Champions final last year, is probably the solid No. 3, but after that there is a logjam of quality teams, including the two that played on Wednesday and others like Indian Hills, Ridgewood, etc.
"There are those top tier teams then there is everybody else in that range where anybody can win or lose each day," said Hay. "It would be a nice [county] tournament if we could get those top two out of there and let everybody else play because who knows who would win."
Ramapo has put itself in the conversation and this is just the start of the success that head coach Frank Baldino saw coming when he took over a program in complete rebuild mode three years ago.
"I don't think it was hype. We have played well and earned what wins we have had; it was just a matter of Paramus being better than us today. We had some defensive breakdowns and they capitalized on them. They had some defensive breakdowns and we did not capitalize enough. That was the difference," said Baldino. "I am an old school coach that believes that every time we step on the field that we can win the ballgame, but this is a game of failure and losses are going to happen. Losing is final, but never fatal. I am not happy about losing, but I do know that this group of kids is very competitive and [softball] is very important to them. There is no doubt about that and from a coaching standpoint that is all that I can ask."
FOR MORE PHOTOS FROM THIS EVENT PLEASE CLICK HERE. TO BUY A COLLECTOR'S PRINT OF THIS STORY PLEASE VISIT 4-FeetGrafix.com.