Freshman Olivia Cataldo hit a three-run homer for NV/Old Tappan, which is heading for the Bergen County Tournament quarterfinals for the first time since 2010 after a 6-3 win over Paramus on Tuesday.
PARAMUS – Playing in a county tournament game as a freshman can go one of two ways. Either the pressure will become too much and the moment too big or the player may not even realize how big the occasion is and just play the game. The latter was the case for Northern Valley/Old Tappan freshmen Olivia Cataldo and Raegen Germano. Facing a tough Paramus team on the road, both came up huge in big spots to lift the Golden Knights to new heights.
Cataldo set the tone with a three-run homer and Germano wiggled her way out of several late-inning jams as ninth-seeded Northern Valley/Old Tappan advanced to the Bergen County quarterfinals for the first time since 2010 with a 6-3 win over No. 8 seed Paramus in the Bergen County Tournament's Round of 16 on Tuesday.
"This is an important win for us and it was a team effort," said Old Tappan senior Gabriella Ramundo. "Team work makes the dream work. Our team is a very supporting team and that definitely helps when we play in big games like this."
Paramus pitcher Katie Koutros cruised through the order the first time around, but the Golden Knights made an adjustment that showed immediate returns. Ramundo got things started with a single and Rebecca Clyde followed with one of her own to bring Cataldo to the plate. She wasted no time as she jumped on the first pitch and slugged a three-run shot to left-center to put Old Tappan in front.
"I knew after my first at-bat that I had to lay off the high pitches and look for something lower in the zone," said Cataldo. "I got the pitch I wanted on the first pitch and I just went after it."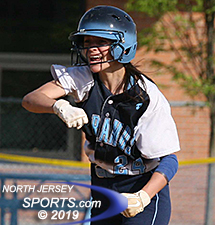 Samantha Settecasi had two hits and two RBI for Paramus, which fell to 13-5.
The Golden Knights tacked on two more runs in the fourth inning with Ramundo and fellow senior Rebecca Clyde delivering back-to-back RBI doubles for a 5-0 lead.
Paramus got those two runs back in the bottom half of the inning on a double by Samantha Settecasi. The inning could have been worse for Old Tappan with runners on second and third but Germano got a pop-up to Clyde at short to end the threat. Another scoring threat loomed in the fifth with the Spartans pushing another run across to cut the deficit to 5-3 and having the tying run in scoring position. In a carbon copy of the previous inning Germano bore down and changed speeds effectively to induce another inning-ending pop-up to Clyde to maintain the Golden Knights' tenuous lead.
Old Tappan added an insurance run in the sixth with the Nos. 8 and 9 in the batting order doing the damage. Carolyn Goodman singled and came around to score on a double to right-center by Ramundo to make it 6-3.
The Spartans made one last stand in the sixth by loading the bases with one out. Germano got out of it with a force out at the plate and a deep fly ball that centerfielder Megan Weis caught to avert trouble. Things went more smoothly in the seventh with third baseman Sinead Albelli, who made a fantastic bare-handed grab and throw to first back in the fifth inning, whizzing one over to first for the final out of the game as the Golden Knights had a long-awaited celebration.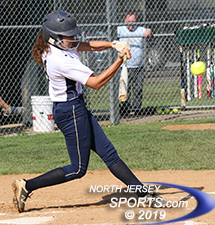 Rebecca Clyde and ninth-seeded Old Tappan will face No. 17 Bergen Tech, an upset winner over top-seeded IHA, in Saturday's quarterfinal round.
"I tried to adjust to each batter and mix up my pitches," said Germano. "My catcher (Cynthia Gordon) kept me calm and made sure I was focused on every pitch. I was just following her lead and throwing to the spot where she had her glove."
Ramundo picked the perfect time to have the best offensive performance of her varsity career for Northern Valley/Old Tappan (14-8). She went 3-for-3 with two RBI and two runs scored. Germano scattered seven hits to pick up her fourth win of the season. Calista Zahos also had three hits for the Golden Knights.
Settecasi paced the offense with two hits and two RBIs for Paramus (13-5).
The Golden Knights will get a surprise opponent in the Bergen County quarterfinals. No. 17 seed Bergen Tech pulled off the most shocking upset in Bergen County Tournament history with a 1-0 win in 10 innings over top-seeded and previously undefeated IHA. The Golden Knights will face Bergen Tech for a berth in the BCT semifinals on Saturday at Overpeck Park in Leonia with the first pitch at 10:00 A.M. After alternating wins and losses over their last seven games the Golden Knights hope the win (and the newly wide-open left side of the bracket) give them even more confidence to take this journey through the Bergen County Tournament one step further.
"Our team is as confident as we've been all season," added Ramundo. "We came into the season wanting to play these kinds of games and we want more. We feel like we have a shot at making a run here so let's take it."
FOR MORE PHOTOS FROM THIS EVENT PLEASE CLICK HERE. TO BUY A COLLECTOR'S PRINT OF THIS STORY PLEASE VISIT 4-FeetGrafix.com.